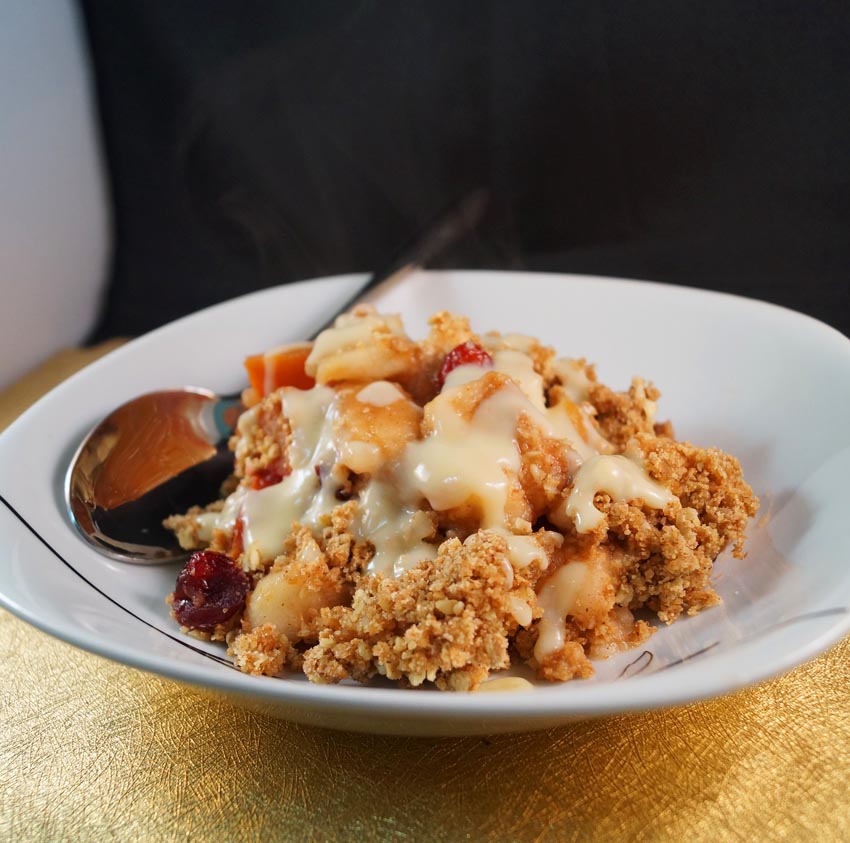 I made a crumble the other day for dessert and decided to forego the traditional apple crumble, so I threw in some other delicious fruits that I had in the kitchen, which happened to be Plums and Cranberries. As it's winter and it's getting cool, the colours of the plum and cranberries brought warmth and coziness to the pudding, making it look and taste beautiful. I made up a quick batch of vanilla custard to pour over the top and it was a real comforting and might I add very filling dessert. Quite possibly a Christmas Day contender!
We're putting up the Christmas tree today in preparation for the inlaws arrival tomorrow night, we even bought some new fairy lights to drape along the stairs to give a little extra winter wonderland look to the place, feeling so very festive now! I bought (yes I know, I don't make it myself) Christmas Mincemeat and will be making some pies either later today or tomorrow afternoon, depending on when I have some spare time. Nothing says Christmas cheer better than a mince pie and a hot chocolate (perhaps with a dash of amaretto in there too!)
Tis the season to be jolly, so this next couple of weeks I want to work on more festive style recipes, incorporating all the delicious winter veggies, herbs and spices. I might even try another roulade recipe before Christmas day. I'll also need to make some more brandy balls, petit fours and whatever else I can think of.  The list is piling up here!
Apple, Plum & Cranberry Crumble (vegan with gluten free option)
MyInspiration Feel the Difference Range
Serves 4 – ready in 40 minutes
For the filling
2 large cooking apples, peeled, cored and chopped

2 plums, chopped

¼ cup cranberries

1 tsp vanilla extract

½ tsp cinnamon

2 tbsp maple syrup
For the crumble
1 cup wholewheat flour (for GF use GF brand of all purpose)

½ cup oats

½ tsp cinnamon

2 ½ tbsp vegan margarine

2 tbsp demerara sugar
Method
Preheat oven to 180 degrees celcius (356 degrees Fahrenheit) and prepare a casserole dish

Add the chopped apple, plums and cranberries to a saucepan along with 2 tbsp water and over a medium heat cook for 10 minutes until it starts to soften, remove from heat and stir through the vanilla and maple syrup.

Now make the crumble topping – In a mixing bowl combine the flour, oats, cinnamon and sugar then add the margarine and using your hands rub the mixture together until it resembles large breadcrumbs.

Pour your cooked fruit into the casserole dish then sprinkle over the crumble topping, pop in the oven for 20 -25 minutes and serve hot.  (Or cold, we ate half on Thursday, popped the other half in the fridge and had it on the Saturday) Delicious hot or cold. Serve with vegan custard or some vegan ice cream.