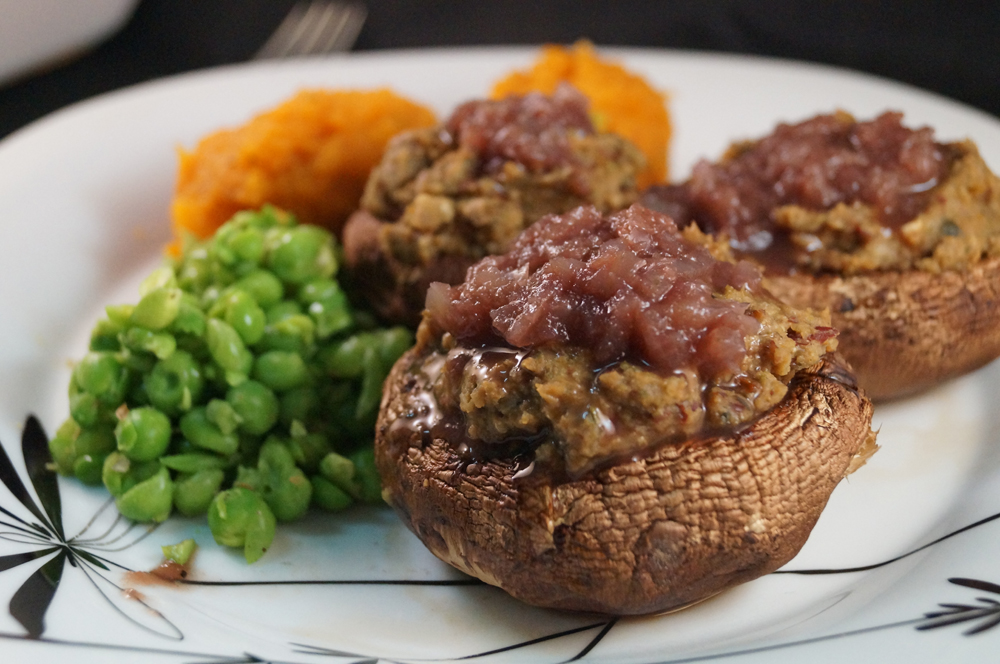 Do you think you can get tired of eating Portobello Mushrooms….. me thinks not. I was worried that I'd been using them too often in my recipes, but they work so well with such a wide range of accompaniments, so I'm gonna keep using them whenever I get the notion! And just like the avocado aioli from the burger recipe last week, the vegetable pate in this recipe is scrummy. Martin wants me to make it so we can eat it on toast and use as a spread, so keep that in mind if you've any leftovers. I know there seems like a lot of different steps in the recipe, but they're all very straight forward and don't take up too much of your time, so don't be intimidated.
I'm contemplating practicing the Gangnam Style dance today before my Sh'Bam class in the morning, my footwork was all over the place and I hate getting things wrong, so a quick practice just to see the feet and I'll feel a bit better…
Vegetable Pate Stuffed Mushroom with red wine reduction, Sweet Potato Mash and Crushed Peas (Vegan & Gluten Free)
MyInspiration Feel The Difference Range
Serves 2 – Ready in an hour
For the Vegetable Pate
2 carrots, peeled and chopped
1 courgette, chopped
1 small aubergine, chopped
1 garlic clove, finely sliced
1 small onion finely sliced
1 tbsp pumpkin seeds
1/2 cup gram flour (chickpea flour)
1 tbsp dried thyme
1 tbsp dried basil
1/2 tbsp dried sage
1 tsp black pepper
2 tsp english mustard
1 tbsp nutritional yeast (optional)
1/2 tbsp balsamic vinegar
For the mushrooms
4 large portobello mushrooms (or 6 – 8 small ones)
1 tbsp red wine
Black pepper
For the red wine reduction
1 small onion
3/4 cup of red wine (if you don't want to use wine, then add 1 cup of vegetable stock)
1/2 cup vegetable stock
1/2 tbsp balsamic vinegar
1 tsp dried rosemary
Black pepper to season
For the Mash
2 large sweet potatoes, peeled and chopped
Black Pepper to season
1 tsp dried Thyme
For the peas
2 cups frozen peas
Black pepper to season
1/2 tbsp oregano
Method
1. Preheat oven to 180 degrees celcius and line a 9″ square tin with parchment.
2. To make the Pate, pop all the ingredients apart from the gram flour into a large saute pan along with 2 tbsp water and cook for 8 minutes, then transfer to a food processor and pulse until smooth, then stir through the gram flour and pour the mixture into the lined tin and bake in the oven for 35 minutes.
3. For the mushrooms, remove the stalks and spoon out the gills, give them a wash and pop in a large baking tray, then add 1 tsp of red win into the middle each mushroom and sprinkle with black pepper and pop in the top shelf of the oven for 20 minutes (use a spatula every 5 minutes or so so make sure the bottoms don't stick to the pan).
4. For the Potatoes, add the chopped potatoes to a pan of boiling water and cook for 12 – 15 minutes, until tender, drain and mash with the thyme and black pepper.
5. For the peas, cook the peas from frozen in a pan of boiling water, reduce the heat and simmer for 6 minutes, drain and sprinkle over the oregano and black pepper and use a potato masher to crush the peas.
5. For the red wine reduction, heat a saute pan over a medium heat, add the vegetable stock, then the onions and cook for 3 minutes before adding in the remaining ingredients and simmering until the liquid has reduced by half, then add to a food processor and blitz until almost smooth.
6. To serve, spoon a heaped dessert spoon of the pate into the centre of the mushroom and top with the red wine reduction and accompany with the sweet potato mash and crushed peas.