I was on cloud nine on Sunday, I was named "Blog of the Week" on Vegan Recipes it was fantastic. I'm still a relative newbie at cooking, even more so when it comes to vegan food, but I do love creating in the kitchen and this has given me even more motivation in coming up with more and more tasty dishes.
That being said, last night I thought I'd give Soba Noodles a go. I spotted them in the supermarket and I'd recently read about them for Gluten Free diets, and was intrigued when I saw they were made from buckwheat, which I love, so I was interested in how they would taste. They are more expensive than your normal run of the mill noodles, but I think they're worth it, I really enjoyed them, far more than  rice noodles plus they look fabulous! Plus, the sauce I made was heavenly (even if I do say so myself) it had a serious kick to it which went well with the aubergine.
Our trip out on Sunday was great, we took a few tours through some of the local villages, scary biscuits when you're on a very narrow road and a 4×4 comes flying towards you!! Got some great photos and ideas for some hikes later on this year, so glad we ventured out there.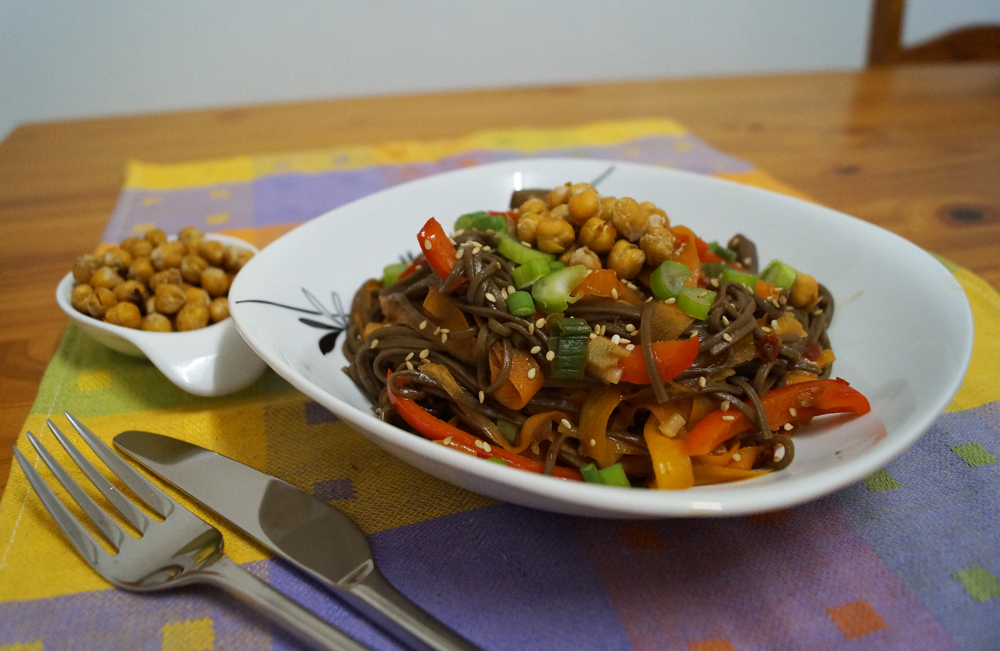 Stir Fried Sweet Chili Aubergine with Soba Noodles & Roasted Wasabi Chickpeas (Vegan & Gluten Free)
MyInspiration Feel The Difference Range
Serves 2
For the Wasabi Chickpeas
1 can chickpeas, drained and rinsed (or one cup of dried beans, soaked for 4 hours and cooked)
1/2 tbsp wasabi paste
1 tbsp apple cider vinegar
1 clove garlic, minced
Method
1. Whisk together the wasabi paste, vinegar and garlic in a bowl then add the chickpeas, stir to coat them all and pop in the fridge for 30 minutes.
2. Turn the grill to medium/high and spread the chickpeas over a lined baking tray and pop under the grill for half an hour, shaking the tray every 5 minutes to make sure they are evenly roasted.
For the Stir Fry
2 small aubergines, chopped into chunks
2 carrots, peeled into long strips
2 red peppers, cut into long strips
2 Spring onions finely chopped
1 tsp sesame seeds for garnish
1 tbsp red chili flakes
180g Soba noodles (The brand I had did have wheat added to them, so just check the packaging for Gluten Free)
For the sweet chili sauce (hot)
1 clove garlic, minced
1/2 tbsp fresh chopped garlic
1/2 tbsp natural brown sugar
1 1/2 cups vegan stock
2 tbsp rice wine vinegar
2 tbsp soy sauce
1 tbsp red chili flakes
1 tsp paprika
1/2 tbsp tomato puree
1 tsp cornstarch (GF brand) mixed with 2 tbsp water
Method
1. Add all the ingredients of the sweet chili sauce (apart from the cornstarch) into a sauce pan and bring to the boil, reduce heat to a simmer and allow to cook for 10 minutes before adding in the cornstarch and stirring thoroughly until the sauce thickens just slightly.
2. In a wok or large saute pan, add 2 tbsp water and throw in the aubergine wedges and stir fry for 3 minutes before adding in the carrots, red pepper and chili flakes (at this point I took 1/4 cup of my sauce.. while it's still cooking… and poured it over my veg mix) then added a 1/4 cup of water as well and just let the vegetables cook for a further 8 minutes, stirring frequently.
3. While the veg is cooking prepare the soba noodles. The ones I had directed me to add the noodles to a pan of boiling water, reduce heat and simmer for 3 minutes, drain and add straight into my stir fry pan along with the vegetables for the last 2 minutes. At this point you want to add in your spring onions (reserve some for garnish) and the sauce you have prepared, giving everything a good stir to ensure it's all well coated, then serve in a bowl, top your stir fry with sesame seeds, spring onion and a pile of the roasted wasabi chickpeas and enjoy!