I went for a little bit of fusion cooking last night, I had initially decided on my usual buddha bowl and got all my ingredients but at the last minute I really fancied something spicy, so amended it slightly to incorporate some Madras flavours. At first I wasn't sure about whether to keep the avocado in or out, I decided on "in" and as a whole dish it works really well and was delicious. Wasn't quite the quick "less oven time" dish I thought I was going to make and again I was super toastie in the kitchen, but it was worth it.
I went for a swim in the sea yesterday, that's right, I braved it and I went in to chest height this time… for those who are confused, I'm terrified of swimming in the sea, I always have been, I can't swim over clumps of seaweed without panicking and need to be able to fully stand at all times, which usually leaves me on the beach while Martin goes off into the sunset swimming away and me scanning the waves for a fin and hearing the Jaws theme tune in my head! So yesterday, I just did it, popped on my swimming cozzie and toddled in for a shallow swim, refreshing!
And… this morning's crxworx class went very well, a lot of emphasis on the abs and also some great use of the resistance bands for bums and thighs, it's a shorter class but it's a great workout. Will definitely be adding it to my weekly regime. Also going to do a Zumba class on Friday, I've only done it once before in Edinburgh and I laughed my way through it as I tried to get those hips to swing, so looking forward to trying it here!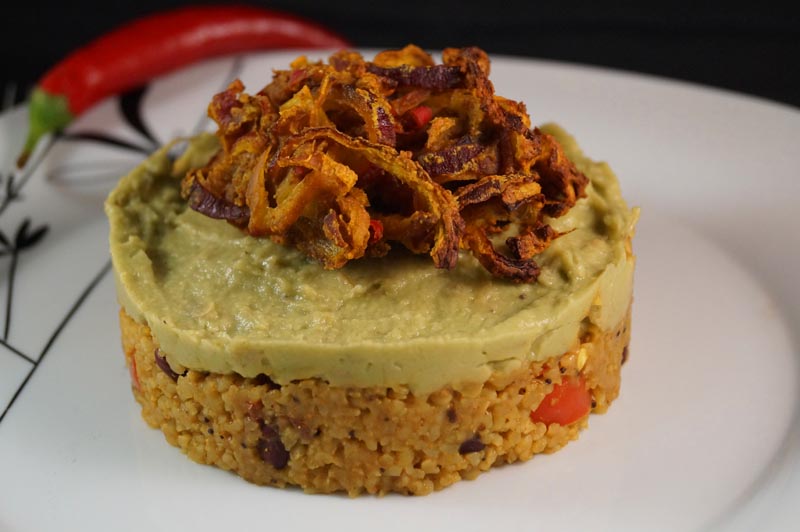 Curried Buddha Bowl with Garlic Avocado topped with Crispy Red Onion Bhaji (vegan with gluten free option)
MyInspiration Feel the Difference Range
Serves 2 – Ready in under an hour
For the Buddha Bowl
3/4 cup bulgur wheat (for GF use quinoa or millet)

2 cups vegan stock

1 tbsp madras curry powder

1/2 tsp Garam Masala

2 tsp poppy seeds

1/2 can kidney beans (about 3/4 cup) drained and rinsed

1 large red pepper (capsicum) finely diced

1 ripe avocado mixed with 1 tbsp lemon juice and one clove of garlic finely sliced
For the Red Onion Bhaji (makes 4)
2 medium sized red onions, chopped in half then sliced into crescents

1 clove garlic finely chopped

1 hot red chili finely chopped

1 tsp turmeric

1 tsp cumin

1/2 tsp garam masala

4 tbsp gram flour (chickpea flour) mixed with enough water to make a batter, should be pour-able but not too thin
Method
Preheat oven to 180 degrees celcius (356 degrees fahrenheit) and line a baking tray.

Start off by making the red onion bhaji – Add 1 tbsp water to a medium saute pan over a medium heat and add the turmeric, cumin, garam masala, garlic and chili and let this cook for a minute before adding in the sliced red onions, give this a good stir to make sure the onions are well coated in the spices, take this off the heat and then pour in the gram flour batter, mixing everything together. Take a heaped spoonful of the onion mixture and place on the lined baking tray, I got 4 bhaji's from my mixture, use your fingers to press these together so they don't just fall apart, bake in the oven for 15 – 20 minutes until nice and crispy.

While the bhaji are in the oven you can make the buddha bowl – In a medium sauce pan combine the buglur wheat, madras curry powder, garam masala and poppy seeds, then pour over the vegan stock and bring this mixture to the boil and cook for a 5 minutes before turning off the heat. Mix through the kidney beans and diced red pepper, cover and leave for 15 minutes, then using a fork, just fluff it up and add a pinch of black pepper to season.

For the avocado layer, I added the flesh of one medium avocado, 1/2 tbsp lemon juice and one sliced garlic clove to my food processor and blitzed until smooth.

To assemble, I used my newly bought serving ring (I feel so posh!) I put half the buddha bowl mixture into the bottom of the ring and pressed it down firmly, then I added 3 tbsp of the avocado mixture and smoothed this out. I topped this with one of the red onion bhajis, although I actually served it with 2 bhajis and another dollop of avocado and some mango chutney on top!
I realised when I looked at my photos that I really should have put a nice drizzle around the plate… I'll know better for next time.
Approx. Nutrition per serving: Calories 515 – Carbs 79g – Fat 16g (from the avocado) – Protein 21g