When it comes to Thai curries I love making my own paste, I always used to think that was a long and arduous process but you would be amazed how quick and easy it actually is and it's worth it to pack your curry full of flavour. The chili, ginger and coriander along with the other spices and soy sauce is just, well, bellissimo!
Once I'd made these risotto cakes I realised when I tasted them that it would work fabulously as a spicy risotto main meal on it's own, so keep that in mind for next time, just leave out the gram flour and serve once it's been baked (so just step 1 and 2 of the recipe method). But as a complete dish with the Thai green curry, this was a delicious recipe that worked really well together.
On a totally separate note – What an absolute triumph we had today at the football, the mighty Toon army grabbed a 2-0 victory against Chelsea, the pub went wild when Gouffran headed in that crucial first goal followed by Remy's strike to finish off the game, ah it was fabulous, just fabulous.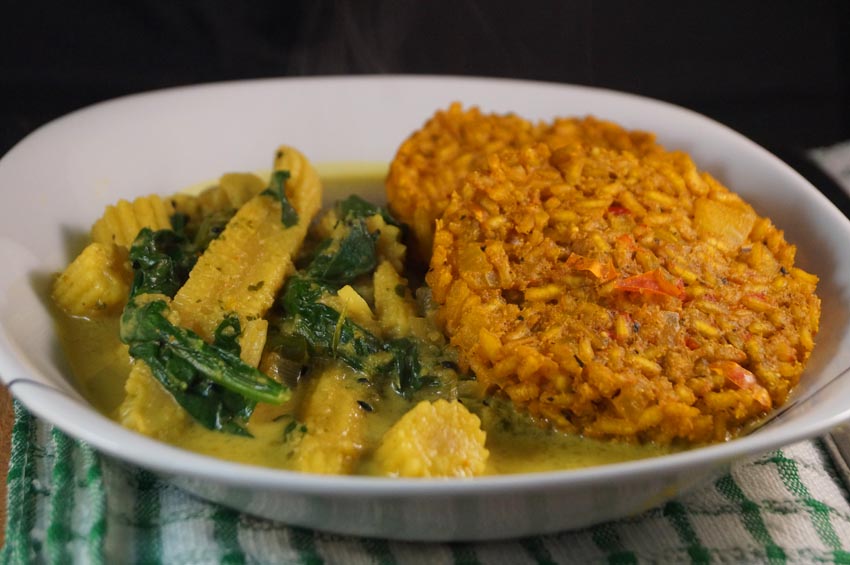 Chili Risotto Cakes with a Spinach Thai Green Curry (vegan & gluten free)
My Inspiration Feel The Difference Range
Serves 2 – Ready in under and hour
Risotto cakes
1 cup Arborio rice

½ onion finely chopped

2 cloves garlic finely chopped

1 tbsp turmeric

3 hot red chilis

2 cups vegan stock

2 tsp soy sauce

¼ cup gram flour (chickpea/garbanzo flour)
Curry
Bunch of fresh spinach (about 2 packed cups full)

1 ½ cups of canned Coconut milk 

1 cup veg stock

½ onion finely chopped

8 – 10 Baby Corn

3 Kaffir leaves

Juice of 1 lime
Paste
½ onion finely chopped

3 cloves Garlic finely chopped

4 green chillis finely chopped

1" cube Ginger finely chopped

½ tbsp soy sauce

1 tsp Coriander seeds

1/2 tsp Cumin Seeds

2 tsp Turmeric

Handful fresh Coriander
Method
Preheat oven to 180 degrees celcius (356 degrees Fahrenheit)

Make the risotto cakes. In a deep oven proof sauce pan add 2 tbsp water over a medium heat and add in the onion, garlic, turmeric and red chili and cook for 2 minutes before adding in the Arborio rice and stirring this all together, add soy sauce and stock, bring to the boil, stirring all the time, turn off the heat, cover the sauce pan and pop in the oven for 20 minutes stirring every 5 minutes.

Remove sauce pan from the oven and then stir through the gram flour then spoon the mixture into a medium sized presentation ring/cookie ring cutter on top of a lined baking tray, you should get 6 cakes from this mixture, really compact the mixture to bind the cakes together, the mixture will be slightly sticky going into the oven but they firm up lovely once cooked, pop these in the oven for 20 minutes, turning carefully after 15 minutes.

Now you can make the curry, start with the paste by adding all the paste ingredients to a food processor (or use a stick blender like me) and pulse until smooth.

In a deep sauce pan add 2 tbsp water over a medium heat and then pour in the paste mixture and cook for a few minutes to release the fabulous flavours, now add in the coconut milk, lime juice, kaffir leaves, veg stock and baby corn and cook for 12 minutes, lastly add in the spinach and stir this through the curry until it's wilted and then you are ready to serve. (remember to pick out the kaffir leaves)
I served my curry in a bowl with 2 or 3 risotto cakes on the side.