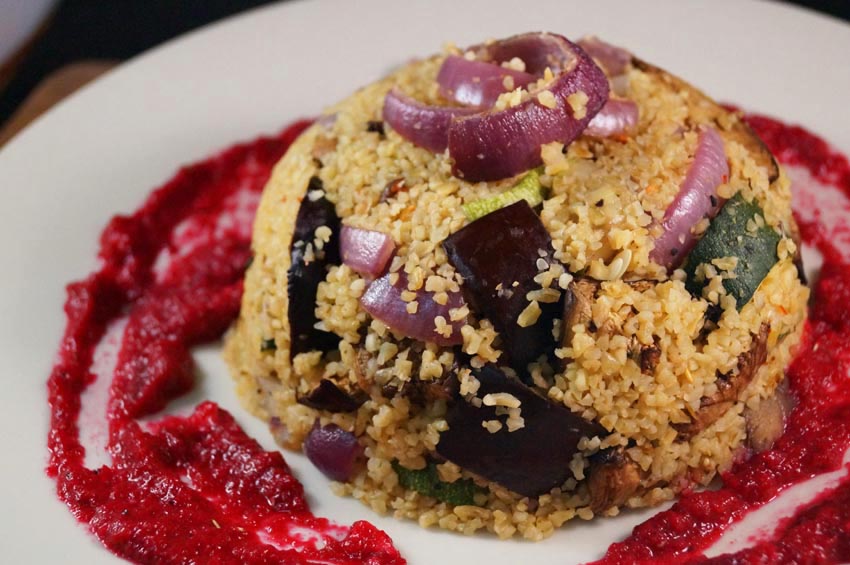 I have had a great day, I'm just back in from the Les Mills Tribe event and it was great, a little crowded perhaps, but we expected that and I think I may have lost the hearing in my one good ear from the thumping music and microphone screaming! We kicked off the morning with a Body Balance class, then there was Body Attack, followed by Sh'Bam and then we finished off with Body Pump. Our instructor Soula was up there on the stage for Sh'bam and she was fabulous, followed by Nicolas with the Body pump crew, the 2 of them were the best on stage, of course I'm heavily biased.
I realised late last night that I'd be gone all day and hadn't planned lunch, so I prepared something before I left, I had a tasty sundried tomato, black olive and rosemary polenta slice, that hit the spot nicely and only took me half an hour to make, followed by a golden delicious apple. I'm hungry again now though and looking forward to a cheeky Shepherd's Pie that I shall be cooking a little later, just what I need.
I decided to make the Roasted Autumn Veggies as I just want to pack as much good food into my day as possible, and I had a tub of beetroot in the fridge that needed to be used and I thought the colour would look fantastic on the plate and the flavours matched perfectly with the bulgur and the veggies. It was such a simple dish to make and would be easy to double up for a family dinner or dinner party.
Chili Bulgur with Roasted Autumn Veggies and a Balsamic Beetroot Puree (vegan with gluten free option)
MyInspiration Feel The Difference Range
Serves 2 – Ready in 40 minutes
Roasted Vegetables
2 medium Aubergine (eggplant) chopped
4 Portobello mushrooms (de-stalked, gills scraped and chopped)
2 Red onions chopped
2 Courgettes (zucchini) chopped
2 tbsp dried Oregano
For the bulgur wheat
1 cup bulgur wheat (or quinoa for gf)
2 cups vegan stock
½ tsp red chili flakes
For the beetroot puree
½ cup chopped beetroot
½ tbsp balsamic vinegar
1 clove garlic
1 tsp rosemary
Black pepper to season
Method
Preheat oven to 180 degrees celcius (356 degrees Fahrenheit) and prepare a large baking tray or 2.
Toss the chopped aubergine, mushrooms, red onion and courgettes into the baking trays and sprinkle over the oregano and a few sprinkles of black pepper, add 2 tbsp water to the trays and pop in the oven for 30 – 35 minutes, giving them a shake every 10 minutes to avoid any stickage!
For the bulgur wheat – In a sauce pan, bring 2 cups of vegan stock to the boil and add in 1 cup of bulgur wheat along with the red chili flakes, give it a good stir and cook for 5 minutes on a low heat, then turn the heat off completely, cover the pan and leave for 15 minutes, then fluff with a fork.
Now you can make your puree – just add all the ingredients into a food processor or use a stick blender and pulse until smooth. I added 1 tbsp water to thin the puree out slightly.
To assemble, add the bulgur wheat to a big bowl and mix through all the roasted veggies, spoon onto a plate and drizzle with the puree.