Now this recipe is so easy, it literally took me 30 minutes and I was ready to serve up, eat and get out the house to watch the footie! I've made a dal once before, but it was nothing like this one, which leads me back to a point I made a month back that I really do prefer canned lentils, I don't know what it is, they just agree with me on a number of levels and it's great to be able to just cook something on the spur of the moment and have the ingredients ready to go.
Trying to arrange a visit to see my sister who I haven't seen in 2 years… still can't believe it's been that long and I'm hoping to meet my beautiful nephew who I've spoken to only over skype, so I'm quite excited!!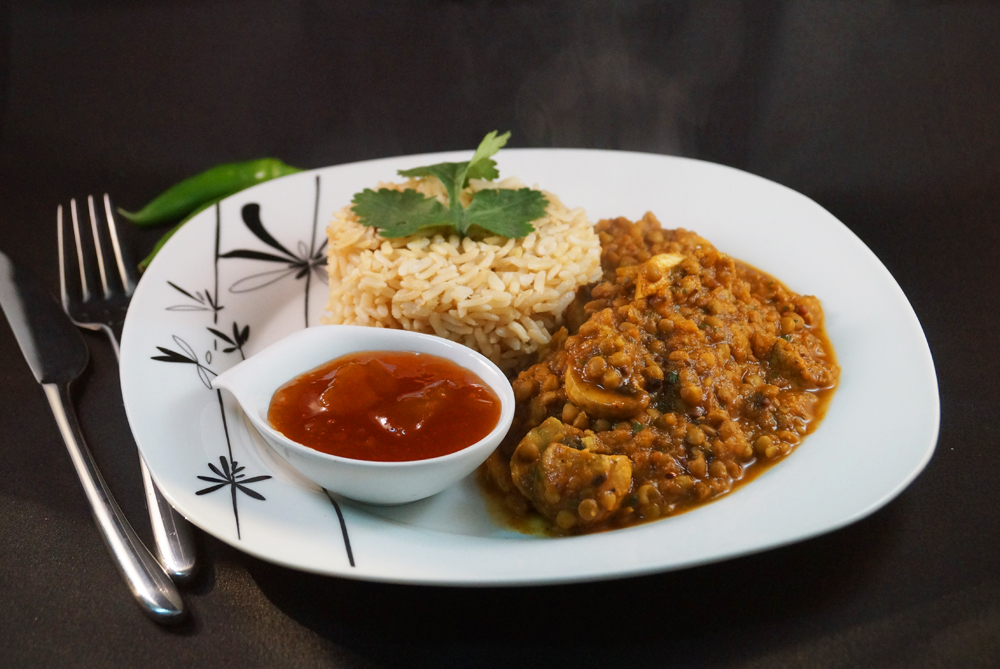 Mushroom & Lentil Dal with Spiced Basmati Rice (Vegan & Gluten Free)
MyInspiration Feel The Difference Range
Serves 2 – ready in 30 minutes
2 cans brown lentils, drained and rinsed

1 onion finely chopped

1 inch cube of fresh ginger finely sliced

2 green chilis

2 cloves garlic finely sliced

1 cups vegan stock

1.5 cup passata

1 tsp cumin

1 tsp tumeric

2 tsp garam masala

1/2 tsp hot curry powder

1 tsp black mustard seeds

1 bay leaf

Small handful of fresh coriander (cilantro)

6 button mushrooms sliced
Spiced Basmati Rice
1 cup brown basmati rice

2 cloves

1 bay leaf
Method
Prepare your brown rice, by adding 2 cups of boiling water to 1 cup of rice, bring to the boil, then turn heat down, add the cloves and bay leaf, cover and cook for 15 minutes, giving it a stir every now and again to avoid sticking.

For the dal, place the onion, ginger, chili, 1 tbsp of the passata and the coriander into a food processor and pulse until smooth, now heat a large saute pan over a medium heat, add 2 tbsp of the veg stock and add the mustard seeds and cook these for 2 minutes before adding in the ginger and chili paste and all the remaining spices, stir to combine everything. Now add in the lentils and mushrooms and stir this together to coat in the paste, then add in the remaining ingredients and stir, turn the heat down, cover and cook for 20 minutes.

Serve with the rice and a little side of mango chutney or your favourite pickles.