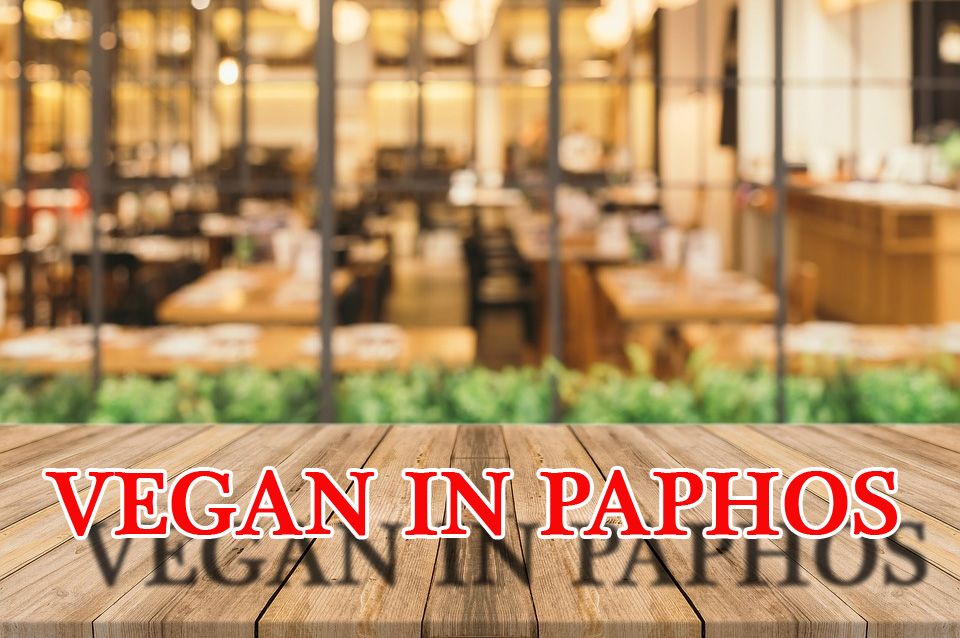 It used to be, not that long ago in fact, when we had to make do with a village salad minus the feta cheese, or spend a week or two eating veggie burgers in order to dine out with friends and family in Paphos.
But oh how things have changed!
Paphos has now become quite the vegan friendly holiday destination, with many restaurants and cafes carrying at least one vegan dish on their menu. Now I'm not saying that they are all brilliant, but I like that they have started to at least offer options.
I thought I'd give a little break down of the places that we have been to and would recommend and also mention a couple of places we haven't actually eaten a yet, but would like to try in the future. So hold onto your hats people, let's go for a vegan whistlestop tour of the city of Paphos.
Meze
If your family are like mine, they love nothing more than feasting on a meze when they hit the island, but in the past we have had to decline due to there not being anything on the menu we would want. But now we have quite a few options available:
The Windmill – Pafias Afroditis 19 (just off Bar Street near St Paul's Pillar)
This was an enormous treat for us. We had seen The Windmill on Happy Cow and had wanted to go last year, but it was closed for the winter so we missed out that time, however we went in May this year and were met with a plethora of delicious home cooked dishes that tingled the tastebuds. The lovely Nancy was on hand to explain all the dishes to us and chatted with us about the restaurant and her family who are also involved in the restaurant with a keen interest in good food and healthy eating.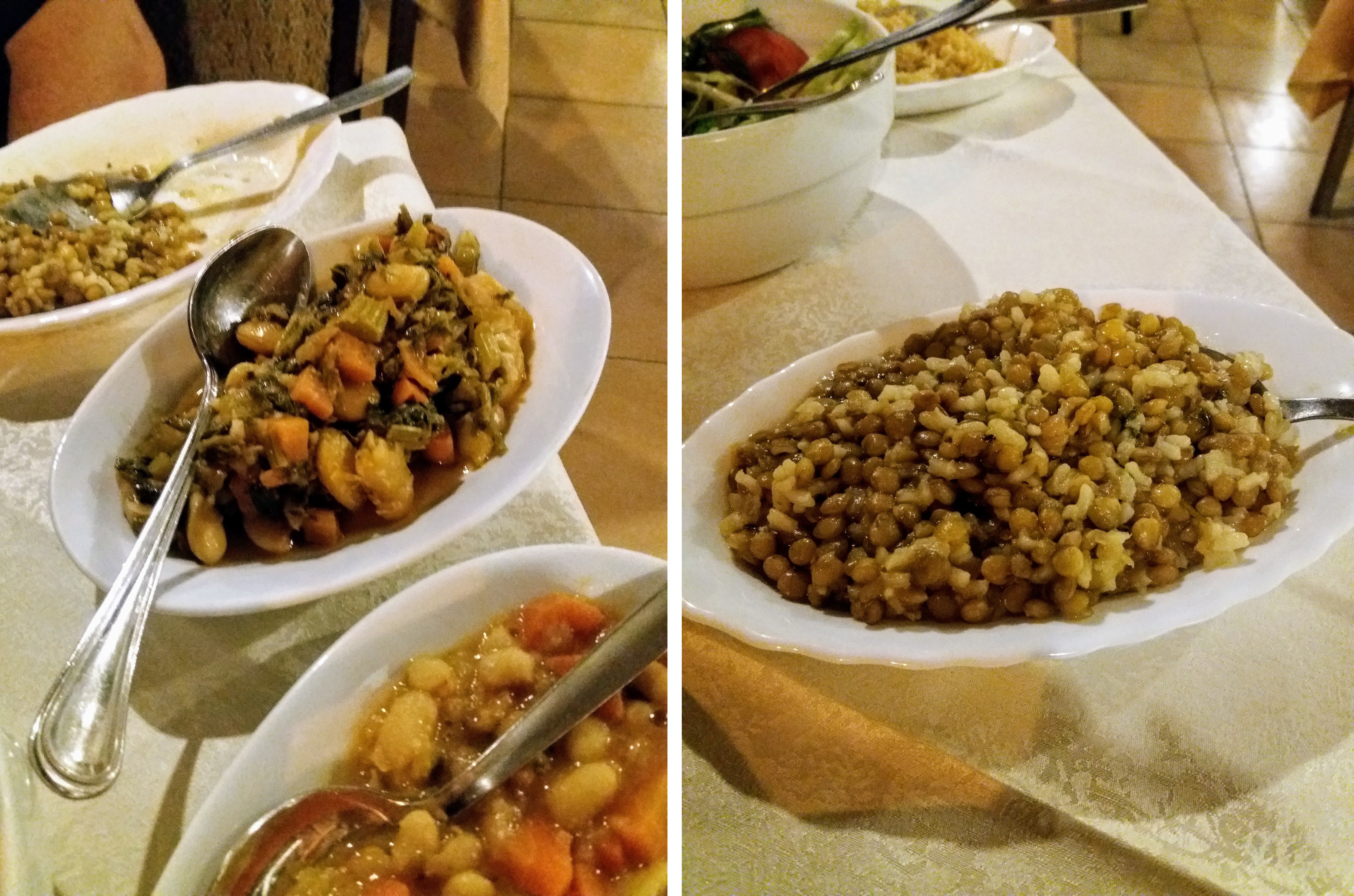 We started off with the local dips, hummus, tahini, olives, salad, beetroot, pickled peppers and then we had some traditional Cypriot dishes including lentils cooked in coriander, lemon and olive oil, butter beans with carrots and spinach, cous cous with tomatoes, Taro stew, grilled aubergine with vegan cheese melted on top and I think there were a couple more but I was already in food heaven and had lost any train of thought. No sooner had the plates been cleared when we were advised there was a choice of 3 different desserts (and no, fruit platter was not one of them!) we could choose between chocolate cake, apple pie or baklava, so apple pie it was, although we were fit to burst from the main meze how can you say no to pie, so we shared a slice.
Please, with all the restaurants, always remember to give the restaurant a little notice when coming for a vegan meze.
Lengo Taverna – Zappeiou 1 Str.
We visited Lengo Taverna with our in laws during the winter, we had heard about their vegan meze and thought we'd go and give it a try. The restaurant is a lovely place with lots of character and the owner and chef Petros was very charismatic.
There is no menu, we just advised him that there would be 2 vegan mezes and 2 meat. What followed was a great selection of tasty dishes, from vegan tzatziki, aubergine dips, salads and fresh bread, to the incredible lentil soup, veggie tempura, spinach pies and many other dishes that were just awesome. The chef is very talented and is a whizz when putting vegan dishes together. For me it was gourmet dining for vegans. I suppose it does in fact help that the chefs daughter is also vegan so many thanks to her!!!
7 St George – Anthipolochagou Georgiou Savva, Yeroskipou
This is a lovely little taverna that is great for all the family to go and enjoy. The vegan meze was a selection of small dishes, all lovingly prepared and, we were advised, mainly grown in their own vegetable garden, which I thought was just lovely.  The chap that presented us with our food was enthusiastic and keen to share details on each dish and he was very informative. This was the restaurant we went to over a year ago, hence I can not remember the names of the dishes we had – perhaps the carafe of wine we had played some part in my forgetfulness.
The Marrakech – 75 Chrysoneras, Kissonerga
Anther new establishment in Paphos that is eager to cater for vegans, this was a fantastic medley of dishes, from spiced hummus, tebboleh, Baba Ganoj, kofta, falafel and breads and a variety of other specialities that the chef made.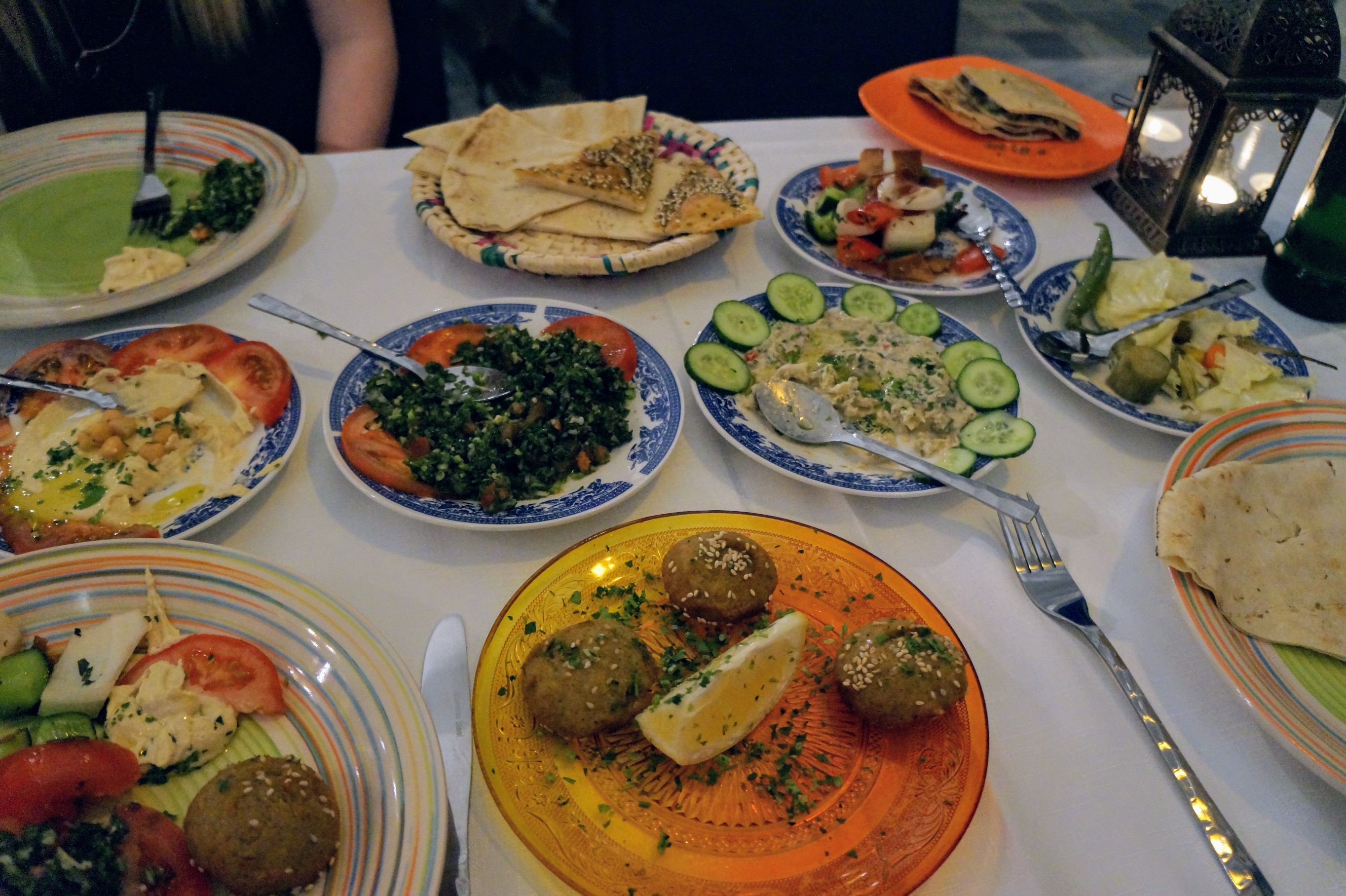 The staff were genuiney lovely and the restaurant looks beautiful, with flowing white curtains and hanging lanterns. We also enjoyed some delicious mint tea that was offered after our meal which was very refreshing.
Please call or email them in advance so they have time to create this magnificent feast for you, great prices too!
Other lunch/dinner options
Oniro by the Sea – Glykou Nerou Street, Coral Bay (by the Sea Caves)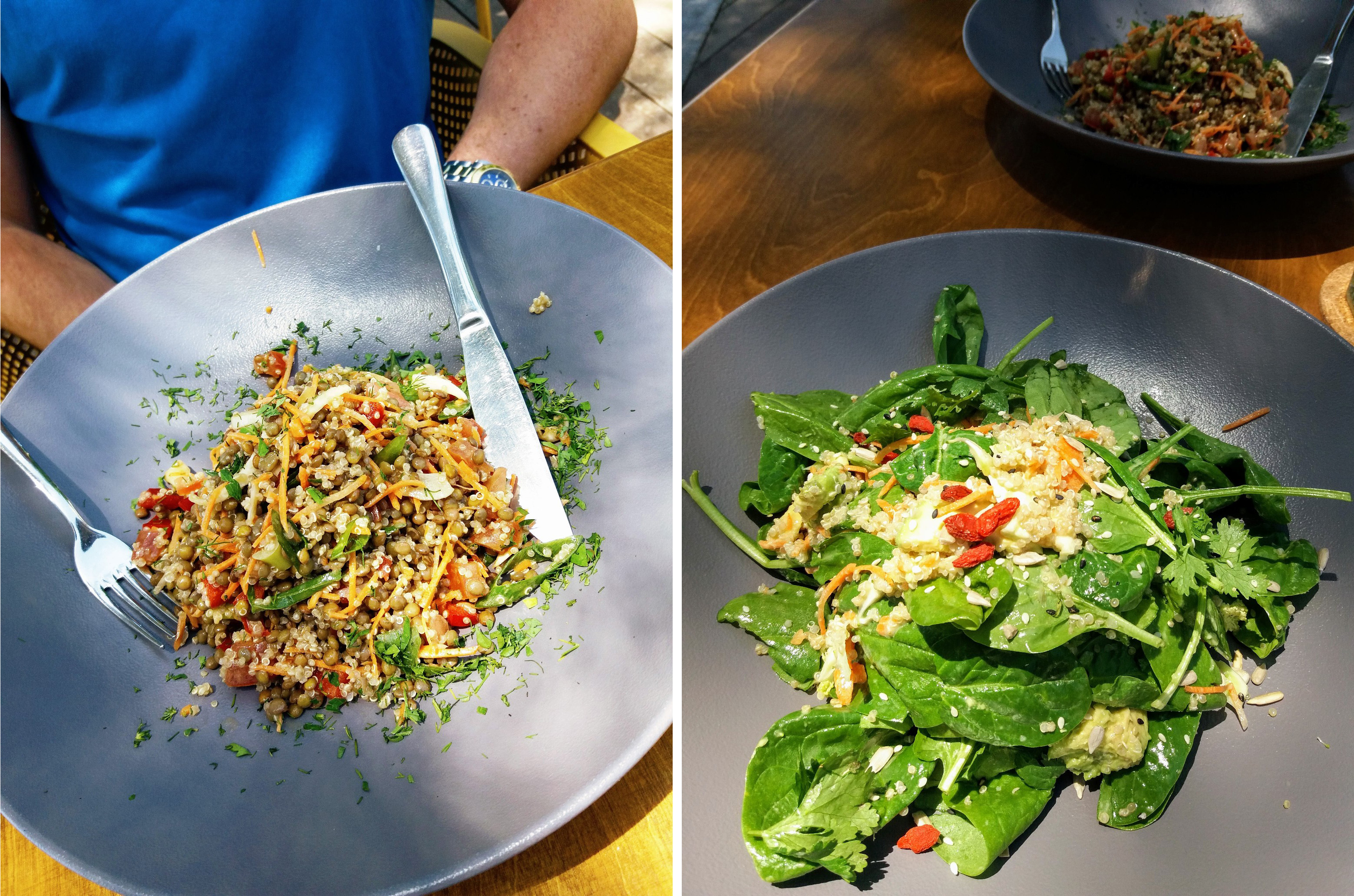 Oh my word, this is truly a beautiful spot for lunch, right by the sea, this gorgeous place has a wonderfully relaxed vibe and a great menu, especially for vegans. We were over the moon to find it. Not only was there a great juice menu but also a few things on the menu that we could choose from, we had the Quinoa and lentil salad and the Antioxidant salad, they were so tasty, the dressings zesty and all in all, I felt pretty healthy having it. The prices were reasonable, so if you want an afternoon in the sunshine, then this is the spot for you. It's a great photo spot too with the grounded ship as a backdrop.
St Paul's Pillar Taverna – Stasandrou (right next to St Paul's Pillar)
We love this place, you are always greeted with a smile and welcomed into the restaurant. We've been here a few times now and prepare ourselves that day, you don't want to have eaten before going as the food here is awesome and plentiful! We tend to opt for the village special (vegan) where you get 4 bean/veggie based dishes and salad and pitta breads along with hummus and olives etc. It was here we first tried taro – which looks like potato but has a taste of sweet potato/turnip. It's really quite lovely. But like I said, it's the only thing we need to eat that day! We've also ordered the Yemista where we had a huge plate of stuffed vegetables and homemade chips. It's well worth a visit. The lovely lady who owns the place is a vegetarian and is well versed with vegan options, so don't be shy!
Neos – 38 Panayias Agridiotissas, Peyia
In the summer, Neos opens up the roof terrace and this is a gorgeous spot to sit and watch the sunset whilst sipping on your favourite tipple, then head back downstairs to the restaurant area and grab a bite to eat. They do the basic Spaghetti Napolitano or you can have the Vegetarian Kebabs (just sub the yoghurt dip for hummus) and it comes with chips, salad or baked potato. There isn't much choice but at least there is something!
Vrisi Bar – Peyia
I can't forget to mention Vrisi in Peyia. Philippos makes us a fab veggie burger with the addition of pineapple and a side of hummus (don't knock it until you've tried it) or you can have the veggie pizza without the cheese or an enormous bowl of Spaghetti arrabiata, it's a spicy beast this one! If you are sports fans, then Vrisi is a great options, loads of tvs showing footie, rugby, F1 etc.
Caffé Nero – Poseidonos Avenue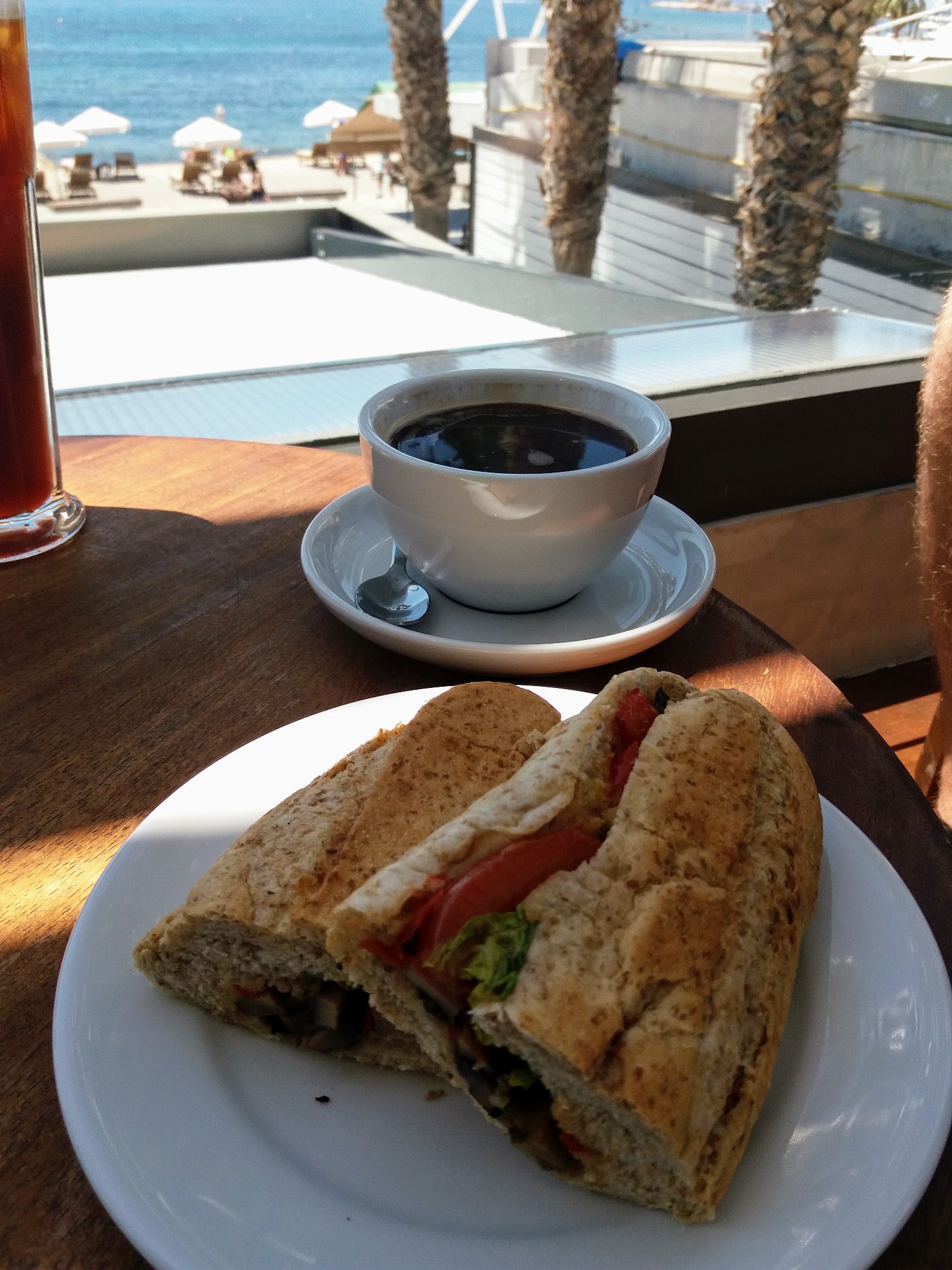 There is a new Caffe Nero opened up (May 2017) and this place is lovely, with views out over the sea and harbour area. There is lots of seating outside (although it can get a little smokey, but that's the same in most of the coffee shops with outside areas). They have the vegan Roasted peppers and mushroom baguette which I quite like, especially washed down with an iced Americano!
Pizza Express – Pafinia Sea View Court 52-53,, Poseidon Avenue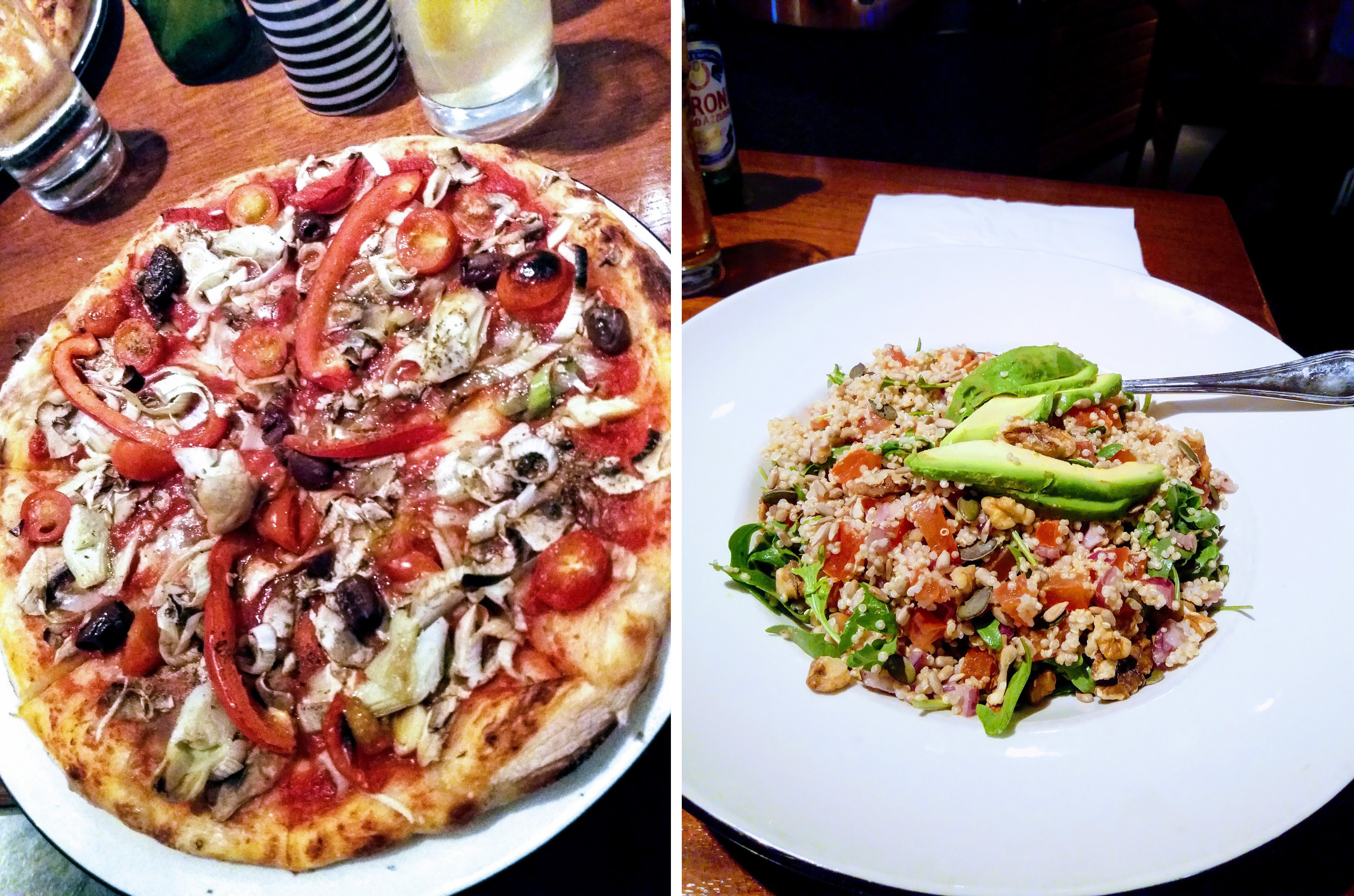 If you're out near the harbour area, the Pizza Express here is really nice. It's small but has a lovely atmosphere to it. It's very easy to customise your pizza in here and the dough balls are vegan friendly, just tell them to swap the garlic butter with some olive oil. We had the Rucola with avocado and quinoa salad (we left out the dressing) and a Giardiniera pizza (without the cheese and pesto).
Pizza Hut – Kings Avenue Mall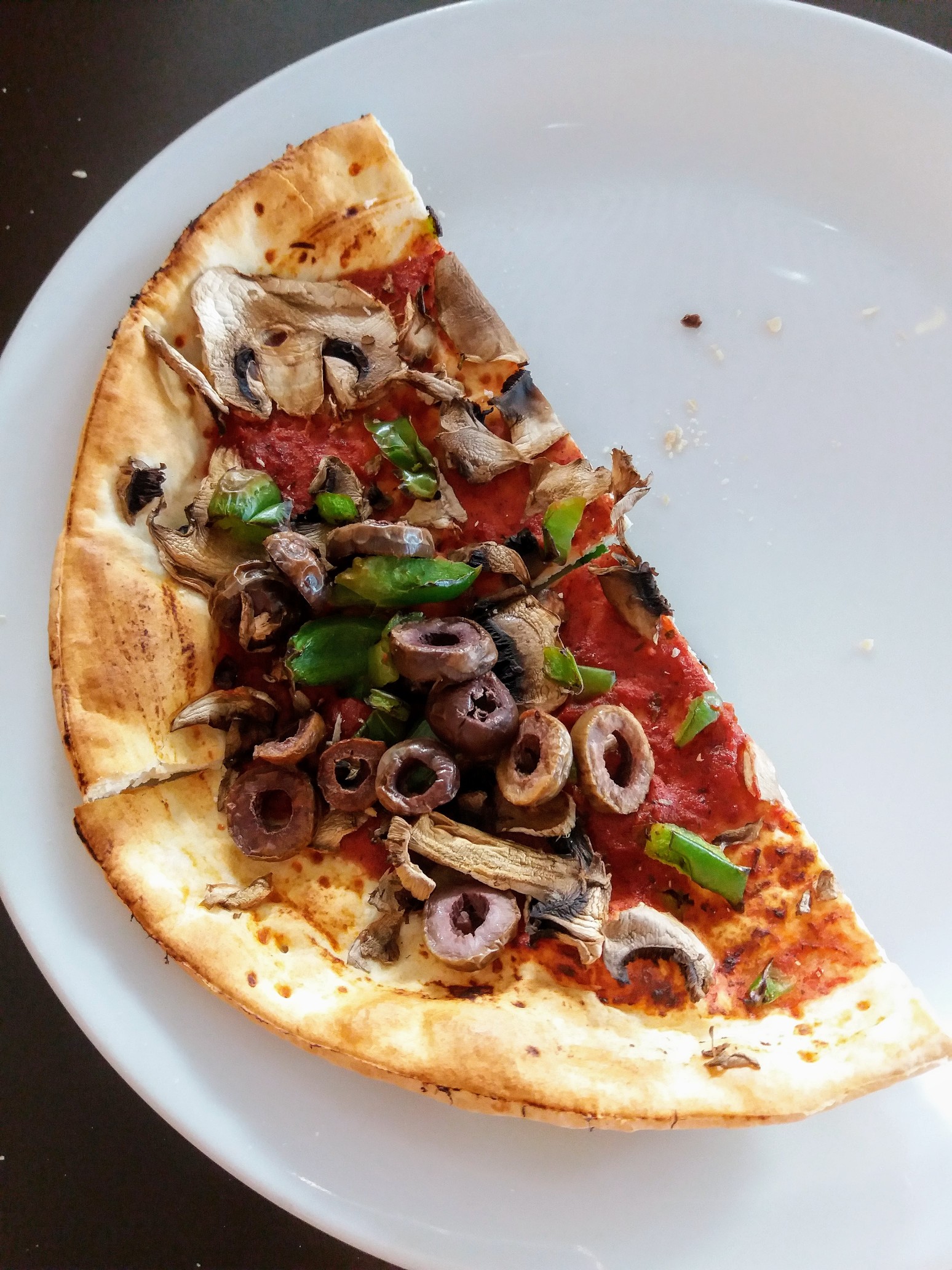 Like many pizza places, it's easy to get a veggie pizza minus the cheese. (I'd actually eaten half before I remembered to take a photo!)
Wagamamma – Kings Avenue Mall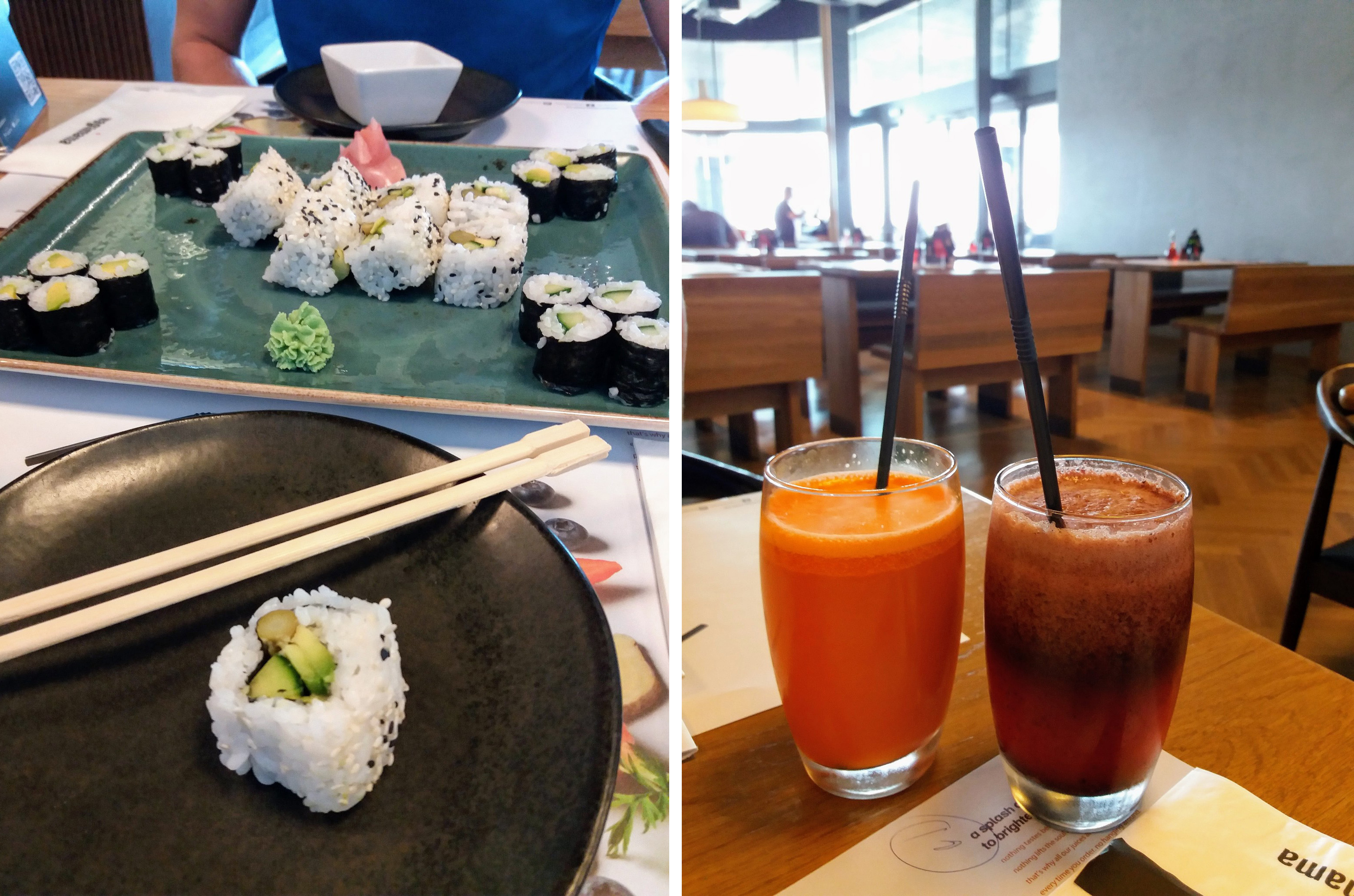 They do a few great options, but we always go for the Yasai selection – 24 pieces of veggie sushi which feeds the 2 of us easily for lunch and of course a fresh juice!
Ice cream
E Cosi Gelataria –  Poseidonos
This place is a mecca of vegan friendly icecreams, they have a great selection, including my all time favourite combo, a scoop of dark chocolate with a scoop of fruits of the forest. But they also have mango, lemon, rose, strawberry, water melon and quite a few more!
Places we have yet to try
Pingouino Café – Poseidonos Avenue
It was only in passing that we saw that they had a specific vegan dish on their menu (it's actually marked "Vegan") Roasted vegetables. It's a lovely café and is always bustling when we've gone passed.
So you see, there's really no need to feel like you can't go out for a fantastic dinner when all these things are now available! Enjoy your holiday!