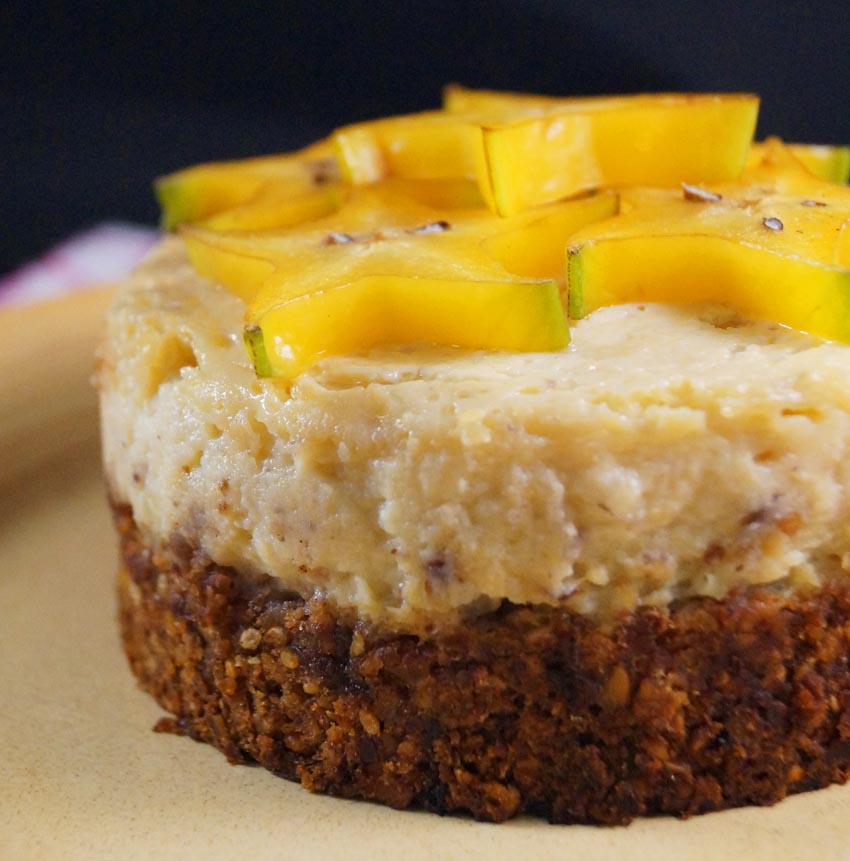 Here's the cheesecake I've been talking about in my last couple of posts, my recipe list is just backing up now!! I made 3 different things yesterday so need to get them sorted out, so watch out for my Cranberry, Pineapple & Chocolate Chip Loaf, a delicious Chocolate Almond Mousse and an entree of Grilled Aubergine Slices in a Cantonese Sweet and Sour Sauce,  can you tell that I have a lot of pineapple to use up??
This cheesecake is lovely and fruity, the topping reminded me of the pineapple ski yoghurts my mum would give us as kids, it's a lovely creamy consistency, so careful when you taste test it as you'll be spooning it into your mouth quicker than onto the cheesecake base! (Guilty!) I was going to put some papaya in to give the cheesecake a different colour, but it was nowhere near ripe, so I had to leave it out, but if you've got some fresh and ripe then add a little into your cheesecake!
I've just been reading Venus Williams' Facebook page as she's been visiting the Amalfi Coast (on my wish list) and also Geneva and Yvoire, these places look fabulous and I've been feasting my eyes on all the photos and feel the travel bug knocking on my door! I can just imagine visiting these fabulous places, having a wander around their markets, stopping every 2 seconds to take a photo (yes I'm one of those tourists!) I know I should be taking it all in but I have this crazy urge to capture it on camera.
Tropical Pineapple & Starfruit Cheesecake (vegan & gluten free)
MyInspiration Feel The Difference Range
Serves 4 – Ready in 2 hours (needs time to cool)
For the base
10 almonds, chopped
6 walnut halves, chopped
8 dates, chopped
2 tbsp raisins
1 tbsp sesame seeds
1 tsp vanilla extract
¾ cup oats
1 tbsp non dairy milk (I used hazelnut)
Pinch cinnamon
1 tbsp maple syrup
For the filling
160g (½ pack) of Silken Tofu (I used Blue Dragon)
¾ cup pineapple chunks
1 large star fruit chopped
1 tsp vanilla extract
½ cup icing sugar
2 tbsp corn flour mixed with 1 tbsp water
1 star fruit to garnish
Method
Preheat oven to 180 degrees celcius (356 degrees Fahrenheit) and prepare a 5" presentation ring (or spring form tin). I use a presentation ring placed on top of a piece of parchment paper on a baking tray.
Make the base, by placing all the ingredients into a food processor (or use a hand blender) and pulse until it starts to clump together, spoon into your presentation ring/tin and press it firmly down to compact it and pop in the oven for 10 minutes. Remove from the oven and again take a spoon and press the base mixture down so there are no gaps down the sides.
Now make the filling by adding all the ingredients to a food processor and pulsing together until smooth. Pour on top of the base and smooth the top so it's all level and place back in the oven to bake for 35 – 40 minutes until the filling starts to crack and feels springy to the touch. Once cooked, remove from oven and cool completely in the tin, you can then run a sharp knife around the edge of the tin and carefully lift it off. Pop in the fridge until you are ready to serve and just cut up a star fruit to garnish the top.