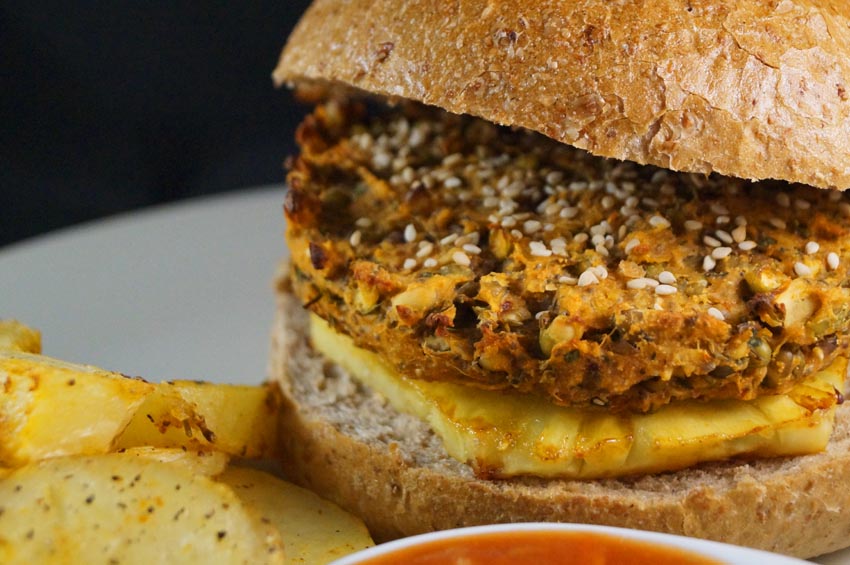 Well I had a lot of fun making these burgers. I had no idea how they were going to turn out as I have never, ever tried mung beans, never cooked with them, nothing. But I do love to try new things and a lovely lady I know was looking for a recipe to use, so I thought I'd give them a go. I was pleasantly surprised with these beans, they have a very unique flavour to them which I can't quite put into words, I want to say earthy but that doesn't really give you the right impression. Let's just say, they're super tasty and you should try them out if you get the chance.
I've got a cheeky little recipe waiting in the wings for my Apple, Cranberry & Plum Crumble that I made on Thanksgiving, I'll post that up tomorrow once I've sorted out the photos and written it all up, I've just finished the rest of the crumble off tonight, so I can confirm that it is scrumptious both hot and cold, with and without custard.
I'm hoping to get to a Spin Marathon class at the gym on Monday, they been doing them the last 2 weeks and a few friends have given it the thumbs up and I want to go, so I hope they do it again on Monday night. It's an hour and a half long and it would seem you're worked HARD. I'm going to to go check facebook and see if they've posted anything about Monday night, fingers crossed, I'm a glutton for punishment!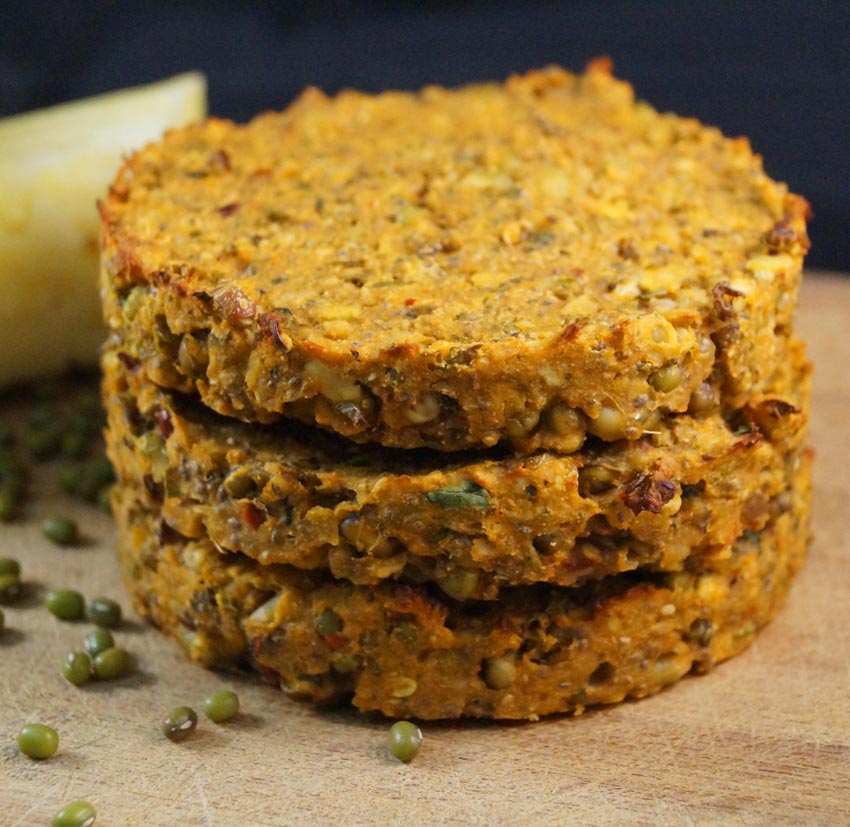 Thai Style Veggie Burgers topped with Caramelized Pineapple and Sweet Chilli Sauce (vegan & gluten free)
MyInspiration Feel The Difference Range
Makes 6 Burgers – ready in 30 minutes (if you have cooked mungbeans)
Burgers
3 cloves garlic finely chopped

1" cube ginger finely chopped

3 red chilis chopped

1 onion finely chopped

2 tbsp tomato paste

1 tsp soy sauce

Juice of 1 lime

½ tsp ground coriander

1 tsp chili flakes

2 kaffir leaves

Small handful of fresh coriander

1 tsp seseame seeds (optional)

3 cups cooked mungbeans*

1 cup gram flour

2 tbsp chia with 5 tbsp water
Pineapple
2 sliced of fresh pineapple

1 tsp demerara sugar (or use 1 tsp maple syrup)
For the Sauce
2 ripe tomatoes chopped

1 tbsp tomato paste

2 cloves garlic

3 red chillis

2 tbsp demerara sugar
Method
Preheat oven to 180 degrees celcius (356 degrees Fahrenheit) and line a large baking tray.

For the burgers, Add all the ingredients, apart from the mung beans, flour, sesame seeds, and chia mixture to a food processor (or use a stick blender like me) and pulse until smooth, transfer to a large mixing bowl and throw in the mung beans, chia mixture and gram flour and mix this all together until well combined. I then used a large round cookie cutter as a mould for my burgers so they were all the same size and spooned the mixture into the ring on top of the lined baking tray, pressed it down tight to compact it, sprinkle over the sesame seeds (this is optional) then popped the tray in the oven for 20 – 25 minutes.

Now make the sauce – Add all the ingredients to a small sauce pan over a medium heat and cook for 10 minutes, transfer to a food processor or use a stick blender and pulse until lovely and smooth, pop back on the heat for 5 minutes to warm through.

Lastly make the pineapple – Add 1 tbsp water to a sauté pan over a medium/high heat and add the pineapple rings, sprinkle over the sugar or maple syrup and after 3 minutes turn the rings over and cook for a further 2-3 minutes until the underside starts to caramelize slightly.
Done! Pop your pineapple ring in a toasted burger bun, top with a pattie and then some sweet chili sauce and serve!
*I had dried mungbeans which I soaked in cold water over night, I then drained and rinsed the beans, covered with water and cooked on a high heat for 30 minutes, drained them and they were perfect.