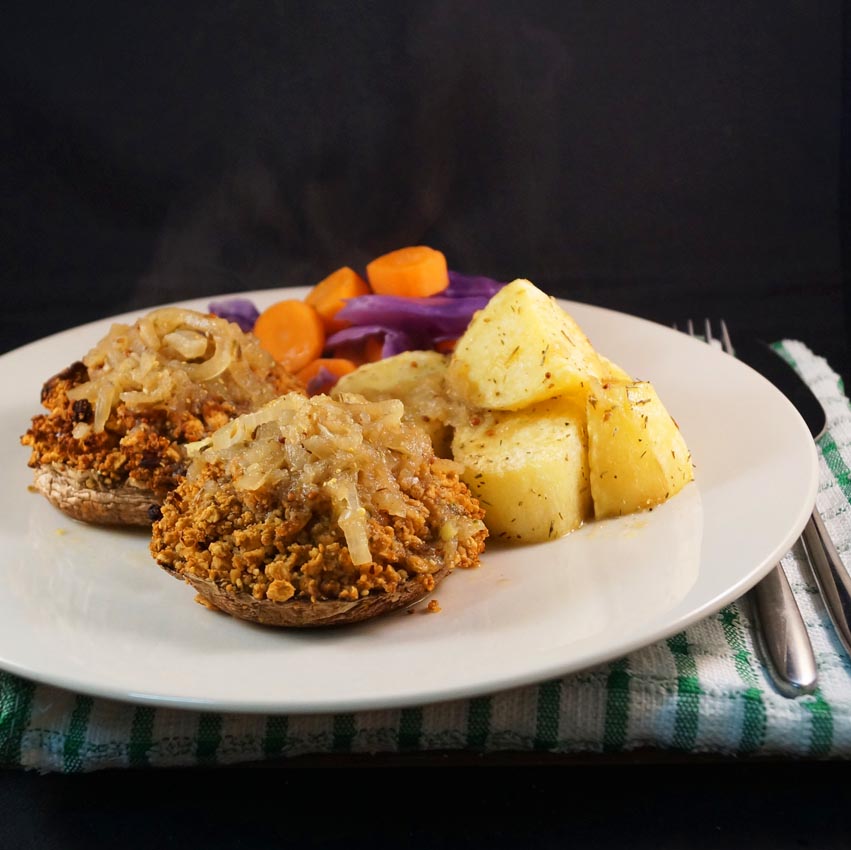 We decided yesterday to do a kind of "Sunday Dinner" as we'd bought a stuffing mixture a while back and thought we'd better get around to using it before it's too late, and what better veg to stuff than a nice juicy Portobello mushroom! We had the trimmings of roast potatoes, carrots, red cabbage and some onion gravy. Really I should have made a nice crumble for pudding but this meal is super filling, so glad I didn't in the end!
Don't get me wrong, in future I'll be making my own stuffing, it's just we'd gotten a little excited seeing this particular stuffing that we hadn't seen in years and we went all nostalgic and bought it. I have mentioned as well for Gluten Free peeps, to swap it for a GF brand, the one I found was Mrs Crimbles.
I've just been looking back over my photo archives from when I first started to cook and oh my word, they are shocking. I can say that now that I've spent the last 8 months trying to get better, but what a learning curve it is, best thing I ever did was invest in a DSLR, although I now take about 50 photos of each dish rather than the 5 or 6 that I used with my little digital camera. I might do some before DSLR and after, so you can see what I mean!!!
Stuffed Portobello Mushrooms with Roast Potatoes and Onion & Mustard Gravy (vegan & gluten free option)
MyInspiration Feel The Difference Range
Serves 2 – Ready in under an hour
For the mushrooms
4 Portobello Mushrooms (de-stalked and the gills scraped out)
1/2 Pack of Aunt Bessie's Roast Vegetable Stuffing (for Gluten free you could opt for Mrs Crimbles Sage & Onion Stuffing Mix)
For the onion gravy
2.5 cups vegan stock
1 large onion finely chopped
1 clove garlic finely chopped
1 tbsp balsamic vinegar
1 tsp wholegrain mustard
Large pinch of dried thyme
Pinch of black pepper
1 tsp corn flour mixed with 1 tbsp water
For the potatoes
5 small potatoes, peeled and chopped in half
½ tbsp olive oil
Large pinch of dried rosemary
Method
Preheat oven to 180 degrees celcius (356 degrees Fahrenheit) and line a baking tray with parchment for the mushrooms.
Get the roast potatoes started – Pop the chopped potatoes into a pan of boiling water for 7 minutes, drain in a colander, drizzle over the olive oil and sprinkle the thyme and transfer to an oven tray, give them a good shake and pop in the oven to roast for 35 minutes, giving them a shake every 7 minutes.
Now for the mushrooms, prepare the stuffing mixture as per instructions. I had to add 220ml of water to my packet mix, give it a good stir and leave for 5 minutes. I then spooned the mixture into my mushrooms, gently pressing it down to compact it, transferred them to the lined baking tray and popped in the oven for 25 minutes. They should be ready the same time as the potatoes.
While everything is the oven I made my gravy – Add 1 tbsp water to a small saucepan over a medium heat and add the garlic, thyme and onion and cook for 3 minutes before adding in the balsamic, mustard and stock and again stir to combine everything. Cook on a low heat for 12 minutes, remove from heat and using a stick/hand blender blitz until smooth (don't worry if there are onion pieces, that just adds nice texture), pop back on the heat and add the cornflour mixture and black pepper and keep stirring until the sauce starts to thicken slightly. Then it's done.
To serve, I popped 2 mushrooms onto a plate along with the roast potatoes and my veg, then spooned a little of the gravy over the top of the mushrooms. Although I served my mushrooms with a side of red cabbage and carrots, you can choose whichever vegetables you like.