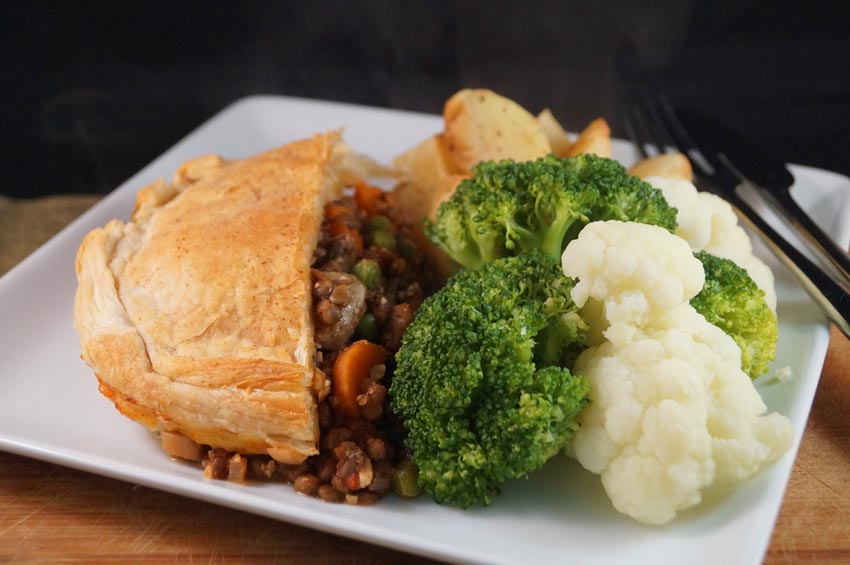 I don't often cook with pastry but when I think of homemade comfort foods, a cheeky puff pastry pie is usually high on the list. Normally there would be a jug of gravy too but the filling in the pie is really moist and juicy that we didn't really need it, but by all means, you make a batch of gravy up if you like a little extra sauce with your dinner, team it up with some roast potatoes and fresh veggies and you've got yourself a nice Sunday dinner there.
I've decided that while we're back visiting the family I am going to hunt out some kale. I still haven't had any kale and I need to know what it tastes like and what I can do with it. I am also going to find some lucuma to make some homemade chocolates and I think I might also try some plantains. Yep, that's my shopping list for while we are away and I can hopefully get my mitts on all these products.
I've packed my rucksack (with some room left for whatever purchases I make whilst shopping) my niece has already booked me in for a shopping spree in Edinburgh and I think a visit to the cinema may also be in order, I just need to check what's on that I like the look of. So, I'm off now to do some last minute preparations and to get an early night as we're off at 5am tomorrow morning, it's going to be a very busy day!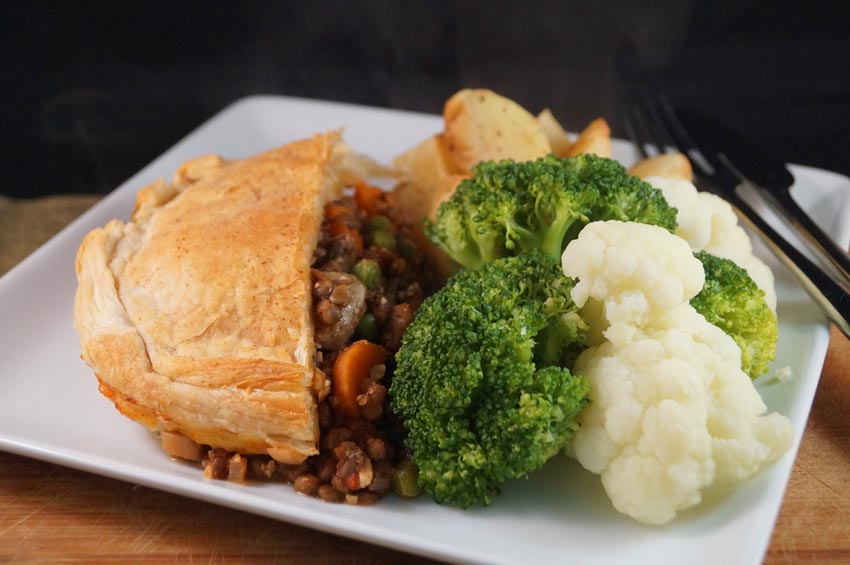 Simple Homemade Mushroom & Lentil Pie (Vegan)
MyInspiration Feel The Difference Range
Serves 4 – Ready in an hour
2 cloves garlic finely sliced
1 large onion finely sliced
2 tbsp tomato paste
1 tbsp basil
½ tbsp thyme
4 large button mushrooms chopped
1 can chopped tomatoes
3 small carrots chopped
½ cup frozen peas
2 cups cooked lentils
½ cup cashews (pulsed to crumbs in a food processor)
200g vegan puff pastry (I use Jus Rol)
Method
Preheat oven to 180 degrees celcius (356 degrees Fahrenheit) and prepare a casserole dish.
Add 2 tbsp water to a large deep sauce pan over a medium heat and add the garlic, onion, tomato paste, basil and thyme, cook this for 2 minutes before adding in the mushrooms and stirring to coat in the herbs. Add the chopped tomatoes, carrots, lentils and peas and stir this all together. Lastly add in the ½ cup of cashews and stir through.
Spoon the mixture into your casserole dish and then roll out enough puff pastry to top your dish, pinch the edges of the pastry to seal it with the casserole dish, pierce a small hole in the centre of the pastry lid and then pop the whole thing in the oven for 25 – 30 minutes until the pastry is lovely and golden.
Serve with roast potatoes and fresh veg like broccoli or cauliflower.