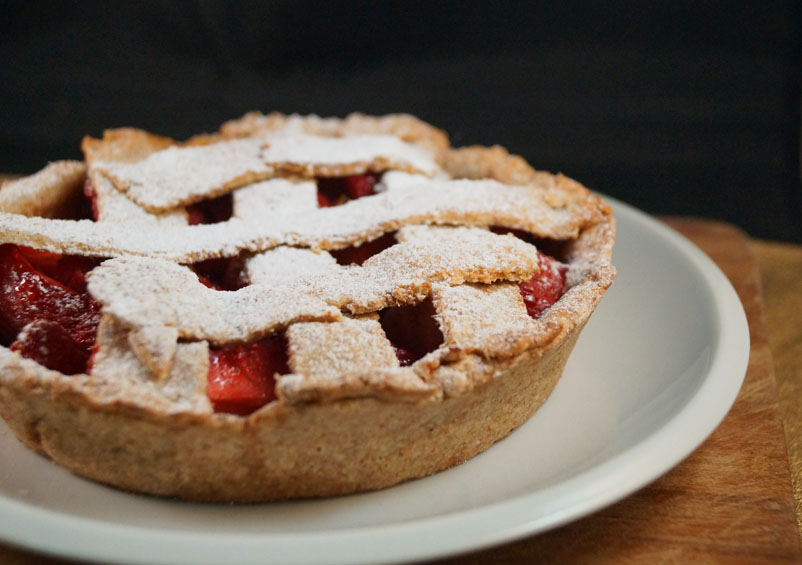 I've had this little recipe waiting to be added for a few weeks now, but I've been working on a few house projects (updating my kitchen) and we also took ourselves off for a couple of days to Protaras for my birthday, which was fabulous. I was meeting up with family for the evening and taking in the delights of the Abba tribute band at the Love Boat pub (yes it really was called the Love Boat) and then suffered the next day from the effects of the local wine, ah well!
We spent the day on Nissi Beach in Agia Napa and I fear that I may have turned into an "adult", trying to find a quiet spot on the beach away from the throng of young 'uns with their afternoon boozing and loud music… see, I'm old, I don't know when this happened! Such a lovely beach and we had a great day out, already thinking of going back again before the season ends this year for another few days.
So, to Strawberry Tarts! I made this with some beautiful fresh strawberries that are in abundance just now, the price is creeping up a little now, but it's always worth it to get your hands on some fresh ones and you can use the pastry recipe for pretty much any other dessert pie you want to make, apple, blueberry, rhubarb etc. The tart is not overly sweet (just how we like it) but if you want to add a little more sweetness then just drizzle over some maple syrup before serving or serve warm with some homemade ice cream, that'll do the trick.
Oh So Simple Strawberry Tart (Vegan with Gluten Free Option)
MyInspiration Feel The Difference Range
Serves 6 – 8 – Ready in an hour
For the pastry
1 cup whole wheat flour (for GF use favourite brand)

¼ cup oats (blitzed into a flour)

¼ tsp baking powder

1 tbsp margarine melted

1 tbsp maple syrup

1 tbsp non dairy milk (I used coconut)

2 tbsp water
 Filling
1 ½ cups strawberries, washed and chopped in half

1 tsp vanilla extract

2 tbsp maple syrup

2 tbsp corn flour
 Method
Preheat oven to 180 degrees Celcius (356 degrees 

Fahrenheit

) and prepare a round 9" cake tin. (lightly oil the base and sides)

Make the filling by adding the strawberries, vanilla and maple syrup to a sauce pan over a medium heat and cook for 6 minutes until the strawberries start to soften, then slowly add the corn flour a little at a time, stirring all the time, cook for another 2 minutes and turn off the heat.

To make the pastry just add the flour, oats and baking powder to a mixing bowl and add the melted margarine, maple syrup, milk and water and mix together until a stiff dough comes together, if it's too wet and sticky add a little more flour. Split into 2 balls 80% and 20%. Take the large ball and roll out into a large circle, carefully place in your cake tin, pressing into the sides and pop in the oven for 8 minutes to part bake, remove from oven and spoon in the strawberry mixture.

Take the 2nd ball of dough and roll into a long square, cutting into ½" wide strips to go over the top of your pie in a criss cross manner or however you want to decorate it. Pop back in the oven for 30 minutes and you are done!