Nothing quite says TGIF than a Friday night curry and a marathon of comedy, which is what we did last night. We ventured round to our local bar (we haven't been in about 2 years) and just had a cheeky glass of wine before dinner, we managed to pick the only night they have the weekly quiz on, so after listening to 5 questions we paid and left thinking that perhaps we might actually enter next time… we'll see though, Martin is the brains of this outfit!
I thought I'd try my hand at a vindaloo this time and it turned out well, I'm going to start looking at making some Indian side dishes next time, try and recreate some Aloo Gobi to go with a Peshwari nan, it's been a while since I made nan bread.
We had a mixture of comedies to watch last night, from Phoenix nights, Spaced and Trollied to Moon Boy and Peep Show, so I was all laughed out!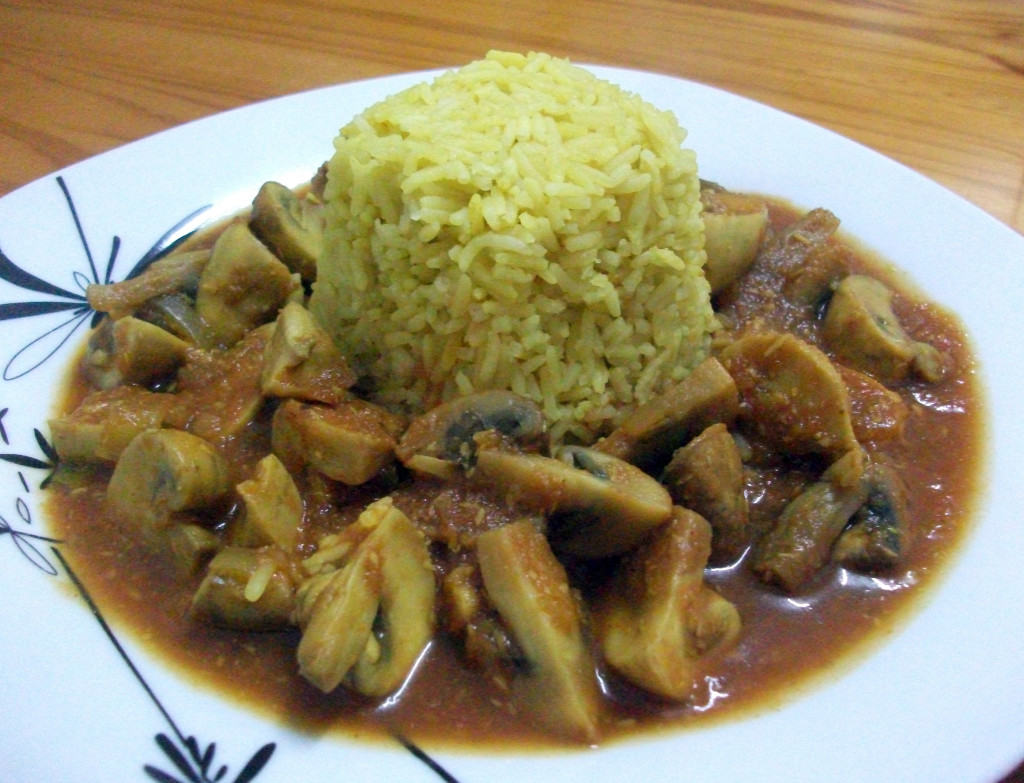 Mushroom Vindaloo style Curry served with spiced basmati rice
MyInspiration Feel The Difference Range
Serves 2
12 medium button mushrooms chopped into quarters
1 onion finely chopped
1 ½ cups passatta
2 cloves garlic chopped
1" cube of fresh ginger grated
3 hot chillies chopped
1 tsp red wine vinegar
3 tbsp grated coconut
2 tsp garam masala
1 tsp Cumin
1 tsp Turmeric
½ tsp Cinnamon
Black Pepper
½ cup Veg stock (optional)
For the rice
1 cup of basmati rice
2 cups veg stock
1 tsp tumeric
Pinch of cinnamon
Method
1. Add the onion, passatta, garlic, hot chillies, ginger, coconut, hot curry powder, cumin, tuneric, black pepper and cinnamon into a food processor and blitz until a nice smooth paste.
2. Heat 2 tbsp water in a deep pan and add the mushrooms and sauté for a few minutes before adding the curry paste (from above) stir to combine and allow to cook for a further 15 minutes (if you want more of a sauce, add in the ½ cup of veg stock now)
3. For the rice, add the 2 cups of stock to one cup of rice in a pot and on a low heat cook for 15 – 20 minutes until the water has been absorbed, then mix through the tumeric and cinnamon.
4. Serve with your favourie pickles.