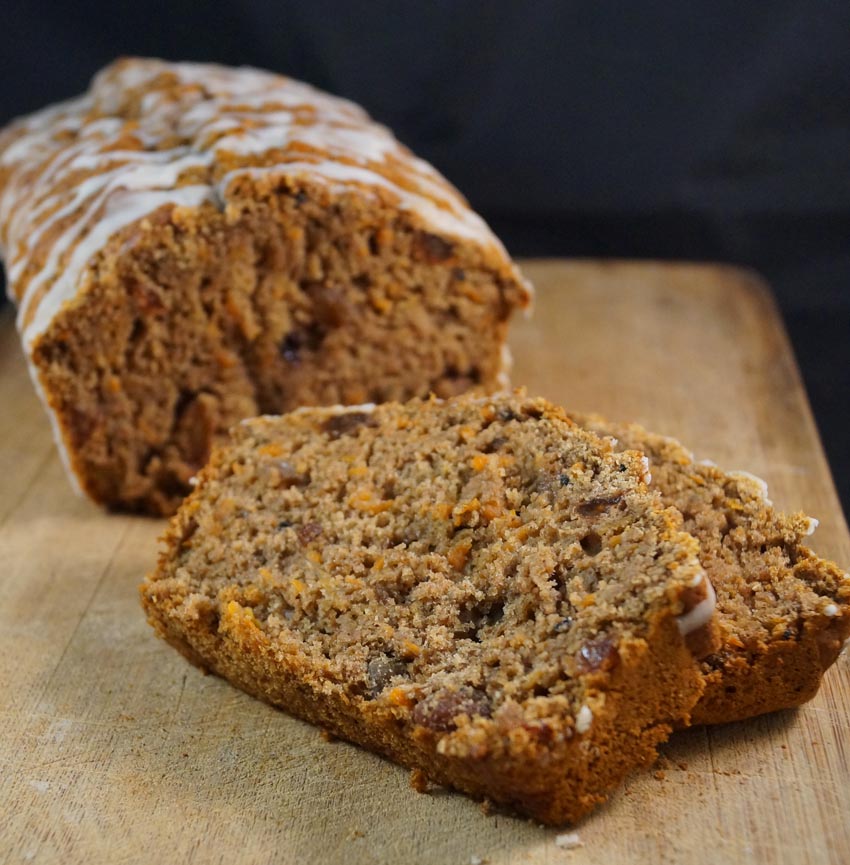 I simply love my new loaf tin, so much so I think I might be slightly addicted to it. I've made 3 different cake/loaves and I made our main dinner dish tonight using it too, it's just such an easy tool to have in the kitchen, if you haven't already got one, go get one, go get one today!
So I christened my loaf tin with the cranberry, pineapple and chocolate chip loaf which gave me the sterling introduction I needed in getting me back into baking on a grand scale, this time I thought I'd go for the traditional carrot cake but with a jammy twist. Just swirling a couple of tablespoons through the batter mixture really lifted the cake and gave it a delicious tang. I wasn't even going to ice the cake, but I think it makes it look very pretty and adds a nice sweet touch to it.
I've got another recipe up my sleeve that I made the other day, a coffee and walnut loaf with maple frosting filling, that cake lasted all of 2 days in this house, I really just can't seem to stop baking just now. I might need to start taking some cakes round to the neighbours just to use them all up, so many ideas floating in my head, I've got bits of paper all over the house with possible cake combinations, I think there might be something very wrong with me!
Iced Carrot and Blackberry Jam Loaf (vegan with gluten free option)
MyInspiration Feel The Difference Range
Makes 10 slices – Ready in an hour
2 cups wholewheat flour (for GF use your favourite gluten free brand)
2 tsp baking powder
½ tsp baking soda
1 heaped tsp cinnamon
2 tbsp melted margarine
3 tbsp maple syrup
2 tbsp Blackberry Jam (or your favourite flavour)
¼ cup raisins
2 carrots grated
1 ¼ cup non dairy milk (I used hazelnut) with ½ tbsp apple cider vinegar
¼ cup icing sugar
½ tbsp vanilla extract
1 tsp water
Method
Preheat oven to 180 degrees celcius (356 degrees Fahrenheit) and lightly oil a loaf tin (5" x 8.5").
In a small bowl mix together the non dairy milk and apple cider vinegar and leave for 5 minutes then mix through the maple syrup and jam.
In a large mixing bowl combine the flour, baking powder, baking soda, cinnamon, then mix through the shredded carrots and raisins. Make a well in the centre and pour in the melted margarine (I just popped the margarine in the microwave for 10 seconds) and then pour in the milk/jam mixture and give this a good stir until everything is well mixed, then pour the batter into the loaf tin, sprinkle over a dusting of cinnamon and pop in the oven for 35 – 40 minutes, until a skewer comes out clean, Cool completely.
Lastly, mix together the icing sugar, vanilla and water and drizzle over the top of the cake and you are good to go!