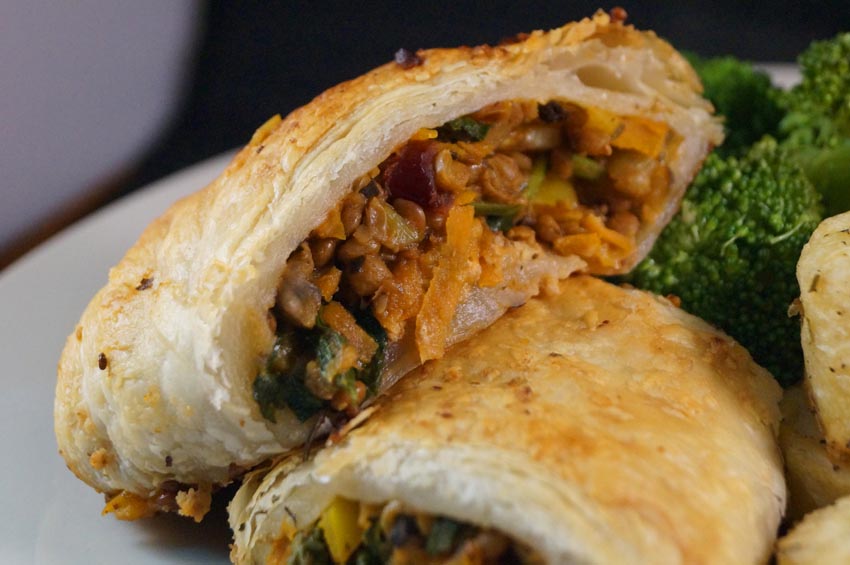 It's getting nearer the holiday season and I'm already thinking of Christmas Dinner and what I'll be making. It's also close to Thanksgiving so I thought I would make a dinner table centre piece that would be perfect for both days and you can tweak it however you like to make your perfect holiday dinner. I got completely carried away and made 2 huge roulades last night but the best thing, THE VERY BEST thing, is that your Holiday dinner can be made and on the table in an hour, now that beats spending all of Christmas Eve and most of Christmas morning slaving away in the kitchen trying to cook up a family dinner.
For this roulade I used cremini button mushrooms, but I might also try this out with some portobello mushrooms and see how it goes, I think it will work, but I'll try it out first before 25th December! I also had an inkling for adding in some roasted chestnuts, but I can't get my hands on them at the moment, maybe in the next couple of weeks, I just think it will add a lovely taste and texture to a roulade and is keeping in the the festive spirit of things.
So, I know it'll be roulade for Christmas dinner, I now need to decide if we're going for Christmas Pudding or whether I should make a Christmas theme cheesecake, or, maybe, just maybe, I'll be a greedy guts and just have both. I'm going to make a pumpkin pie for next weekends Thanksgiving, I wonder if that will go with a homemade brandy sauce, I bet it will you know!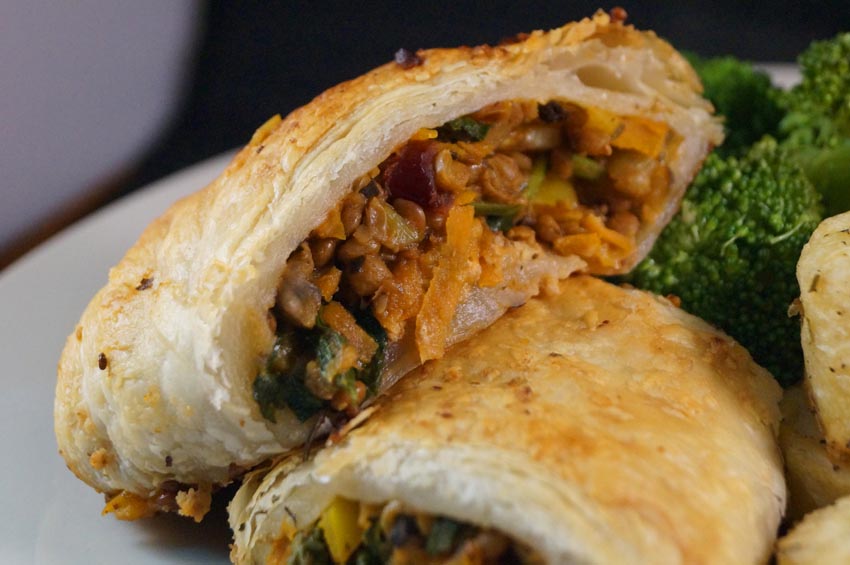 Festive Mushroom, Lentil and Nut Roulade (Vegan)
MyInspiration Feel The Difference Range
Makes 2x 10" long roulades – Ready in an hour
For the filling
8 cremini mushrooms finely chopped
3 cloves garlic, finely chopped
1 onion finely chopped
2 Tbsp tomato paste
2 tsps Madras curry powder
2 tsps basil
1 small carrot grated
¼ cup chopped leek
1 small yellow pepper (capsicum) diced
1 can brown lentils, rinsed and drained (Approx 1 ¾ cups worth)
1 bunch spinach roughly chopped
5 sundried tomatoes chopped
¼ cup cranberries
½ cup water
For the nut layer
¾ cup walnuts
8 brazil nuts chopped
1 tsp thyme
1 tsp sage
(Pop in a food processor and blitz for 10 seconds.)
Pastry
500g pack of vegan short crust pastry – I used 1 pack of Jus-Rol (defrosted)
Non Dairy milk to brush pastry
Method
Add 2 tbsp water to a large sauté pan on medium heat and cook the onion, mushrooms and garlic for 3 minutes then add in the tomato paste, leeks, yellow pepper, carrot, madras powder and basil and stir to combine, add in the lentils and ½ cup of water and mix together.
Now add the spinach, sun dried tomatoes and cranberries (the spinach will wilt in the pan) cook for 10 minutes until the mixture starts to thicken up, remove from heat and allow to cool for 10 minutes.
Preheat the oven to 180 degrees.
Line a baking tray (one that's big enough to accommodate 2x 10" long roulades), take your pastry and roll it out on a floured surface until it's about 2-3mm thick (I then cut it in half so I could do 2 roulades) both pastry rectangles were approx 10" x 7".
Spoon the mushroom and lentil mixture onto the pastry, compact it down with your fingers, so you have a nice long strip of the filling, I started the mixture at the edge closest to me and I left a 2 inch space at the opposite end of the pastry so I could roll it properly.
Sprinkle on your nut mixture to cover the filling layer and then slowly start to roll the pastry (away from you) until your reach the end, transfer to the baking tray and then using a sharp knife, score the top into sections (I made 4 scores which gave me 6 sections), then brush the pastry with the milk and pop in the oven for 20 minutes until the pastry turns a lovely golden colour.
I served my roulade with Rosemary Roasted Potatoes. I had 6 smallish potatoes, peeled and chopped, boiled in water for 8 – 10 minutes (don't let them get too soft) drained in a colander, drizzle over a little olive oil and sprinkle over the rosemary and some black pepper, transfer to a roasting tray with another sprinkling of rosemary and pop in the oven for 30 minutes, giving the pan a shake every 10 minutes to avoid them sticking. I also had some freshly cooked broccoli on the side.
For Christmas and Thanksgiving, you can also add a side of:
Caramelized Parsnips
(Peel and quarter the parsnips and soak in water for half an hour, then transfer to a baking tray, drizzle over 1 tbsp golden syrup, a sprinkle of black pepper and roast in the oven along with the potatoes for half an hour.)
Vegetables of your choice: Carrots, Broccoli Cabbage, those nasty little Brussels Sprouts,
An not forgetting a nice jug of Gravy, some Cranberry Sauce and Stuffing!
Happy Holidays when they arrive!