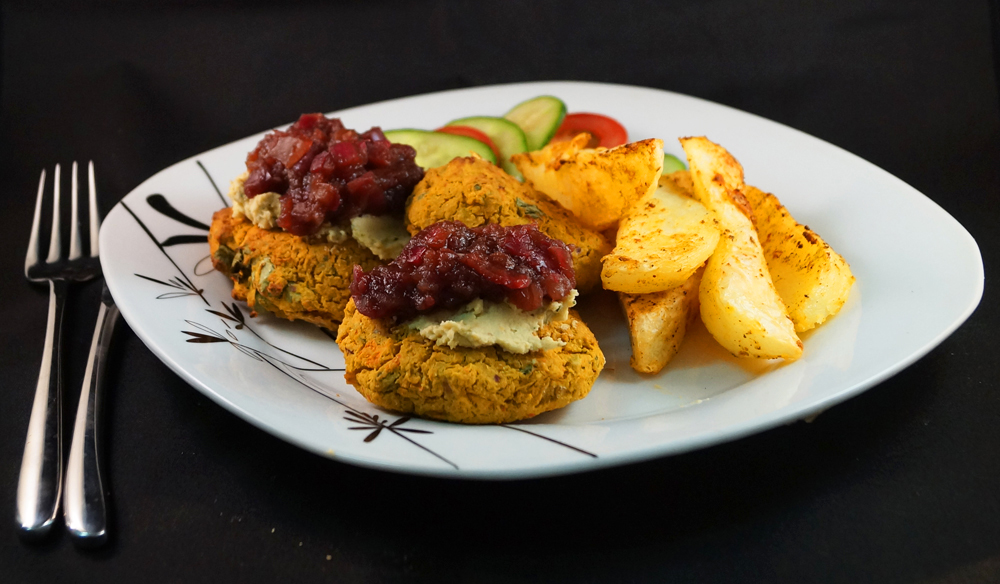 Ok, so there are 4 things that you need to make for this dish, each, super easy to do and everything will be done and dusted in less than an hour! You see how I've sneaked in that mint again (I've still got loads left, I'm sure it's growing in my fridge). I don't know why I got the notion to make the red onion marmalade, I wanted to do some kind of onion topping and I just threw some things together and voila… it's fabulously delicious, especially with the minted hummus.
With the falafal, you can easily double the ingredients and make a big batch that you can keep for a couple of days in the fridge and use for lunches or another dinner, it's up to you, wrap them up in a nice flat bread with some plain hummus and salad and there's a hearty lunch in itself! I now wish I'd made a big batch, I could eat them again right now.
Falafal Burgers with Balsamic Red Onion Marmalade, Minted Hummus & Sweet Potato Wedges (Vegan & Gluten Free)
MyInspiration Feel The Difference Range
Serves 2 – ready in under an hour
For the falafal
1.5 cans chickpeas drained and rinsed
1 red onion finely sliced
1/2 green bell pepper finely sliced
1/2 red bell pepper finely sliced
2 hot green chilies, finely sliced
2 tbsp tahini
2 cloves garlic, finely sliced
1tsp tumeric
Small handful of fresh coriander
1/2 tbsp lemon juice
1 cup gram flour
1/2 cup breadcrumbs (make sure GF)
For the Red Onion Marmalade
3 red onion finely chopped
3 tbsp balsamic vinegar
1 tbsp natural brown sugar
1 tsp white wine vinegar
For the Minted Hummus
1/2 can chickpeas, drained and rinsed
1 tbsp tahini
1 tbsp lemon juice
1 clove garlic
Pinch of Cumin
Small handful of fresh mint
For the potato wedges
2 white potatoes (or you can use sweet potatoes), peeled and chopped into wedges
1 tbsp olive oil (or whatever oil you have in, this is the only time I use oil is for these wedges)
1 tsp paprika
1 tsp black pepper
Method
1. Preheat oven to 180 degrees celcius and line 2 baking trays with parchment paper
2. First off prepare your potato wedges, add the wedges to a pan of boiling water and cook for 6 minutes, drain in a colander, pour over the oil (allowing excess to spill out the bottom of colander, then sprinkle over the paprika and black pepper and toss to coat evenly, transfer these to a large baking tray and pop in the oven for 35 minutes, turning them every now and again to avoid them sticking.
3. Now, make your falafal, by adding all the ingredients apart from the tahini, gram flour and breadcrumbs, to a food processor and blitzing until it's broken down, then stir through the tahini, flour and breadcrumbs and then using your hands (careful as the mixture is quite soft) shape them into 8 medium patties and place on the baking tray and pop in the oven (on the shelf above the wedges) for 25 – 30 minutes turning them half way through.
4. 2 down 2 to go! Now make the hummus. Place all the ingredients into a food processor (or use a stick blender) and blitz until smooth, taste it to make sure it's to your liking and that's done.
5. Finally, make the red onion marmalade. In a small sauce pan, over a medium heat, add all the ingredients and bring to the boil, before turning heat down to a simmer, cover and allow to cook for 15 minutes, stirring occasionally, then remove from heat, take a stick blender and pulse the mixture until the onions are broken down, it should be a relatively thick mixture, if it's too wet, cook it a little longer until it thickens up.