It started raining today, a real storm with thunder and lightning, so the day was dark and just put me in one of those moods that makes me want to get all cosy.
I was going to head out and do a little shopping, but the rain bouncing off the ground put me off, so I headed to the kitchen instead to make some comfort treats and concocted a chocolate covered, not quite a biscuit, not quite a cake, treat that just hit the spot perfectly.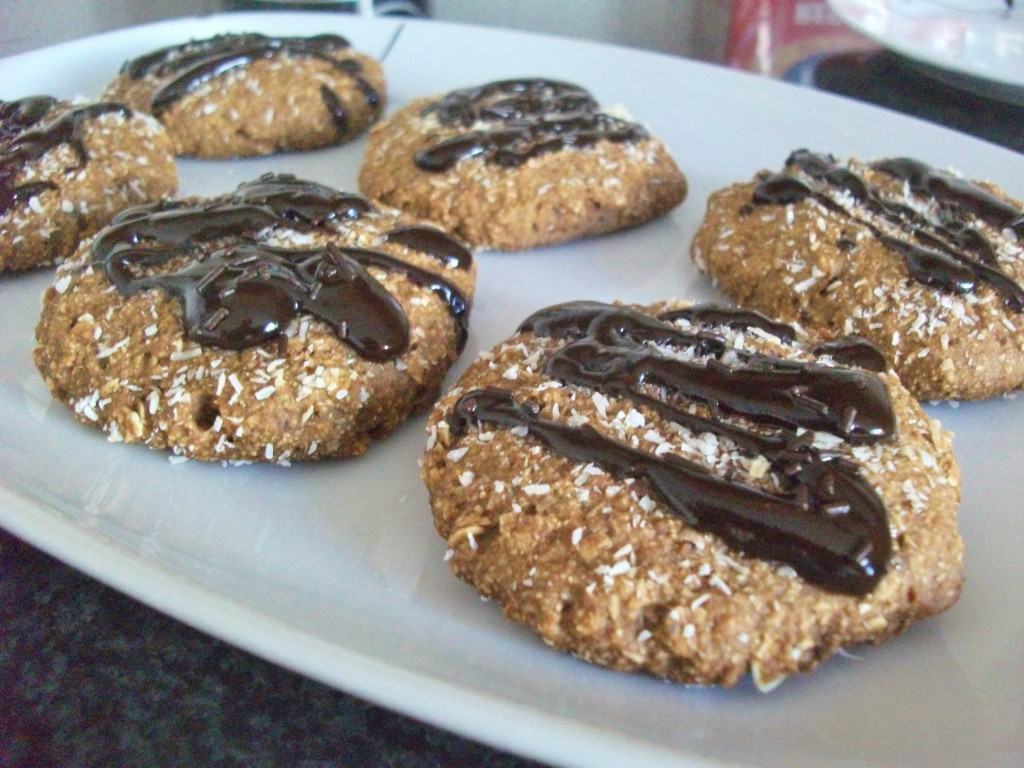 Chocolate Covered Coffee Cake Bars
MyInspiration Feel The Difference Range
(Vegan)
Makes 15 cookies
Ingredients
1.5 cup whole wheat flour
½ cup semolina
1 cup oats
½ teaspoon baking soda
1 tablespoon ground flax seeds
1.5 teaspoons cinnamon
½ teaspoon All spice
½ teaspoon nutmeg
2 teaspoons favourite coffee (mixed with 1 tablespoon hot water)
¾ cup almond milk (or favourite non dairy milk)
4 tablespoons grape syrup
3 tablespoons unrefined Demerara sugar
¼ cup shredded coconut
For the topping
80g of favourite vegan chocolate
2 teaspoons almond milk
Instructions
1. Pre-heat oven to 200 degrees celcius
2. In a bowl mix together the flour, semolina, oats, baking soda, cinnamon, all spice, nutmeg and flax seeds
3. In another bowl combine the milk and grape syrup
4. Add the wet ingredients and the coffee mixture to the dry and mix together until the dough starts to form, then pop in the coconut and fold through. If your mixture it too wet, add more oats until your dough is of a consistency you can work with in your hands
5. Roll your dough into 15 ball shaped cookies and using a fork  press the cookies down to flatten them out a bit and sprinkle a little coconut over the top of each cookie.
6. Pop on a lined baking sheet and bake for 12 – 15 minutes or until lovely and golden.
7. When the cookies are done, pop on a cooling rack and make the chocolate topping by putting the chocolate into the microwave for a minute, then add the almond milk and put back in the microwave for 30 seconds, stir it all together. Either drizzle the chocolate over the cookies or dip the top of the cookies into the sauce.
I sprinkled some chocolate vermicelli and some coconut over my cookies for an extra treat.