Yesterday I bought myself a box of semolina, this was purely for nostalgic purposes as I used to have semolina pudding and canned peaches as a treat with my grandad when I was younger. I am always amazed to hear that people don't like semolina and can't believe I haven't had any in about 15 years! I don't think I'll be able to talk Martin into trying it, too much like rice pudding consistency I think, and he really doesn't like that, but I might coax him into trying a little, I mean come on… it's semolina and peaches.
I've been going through the Game of Thrones books trying to figure out which one I read last so I can get the latest one out, moving from actual paper books to kindle will make it a lot easier to track what I've read, but I have spent far too long reading synopsis on books trying to remind myself of which one's I have read without giving myself massive spoilers for the books I haven't! I've settled on 'A dance with dragons', so looking forward to starting that. Just finishing off 'Red Seas Under Red Skies' by Scott Lynch, I love the Locke Lamora books.
And so, to today's recipe, it's a deliciously big colourful plate of food, the bakes have a real deep flavour to them thanks to the black olives, and the avocado salsa, well, it's divine. If you find you have a burger or 2 left over, just wrap them up and keep them in the fridge, tomorrow you can pop them in a bun along with some chilli sauce and have for lunch – bonus meal!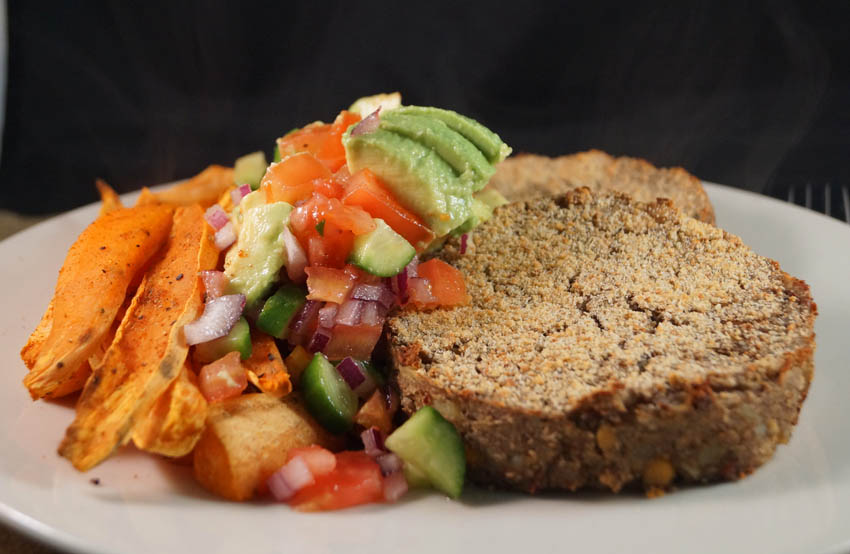 Chickpea, Mushroom & Olive Bakes served with Spicy Sweet Potato Fries and Fresh Homemade Avocado Salsa (vegan & gluten free)
MyInspiration Feel The Difference Range
Serves 2 – Ready in under an hour
For the bakes
1 can chickpeas, drained and rinsed (about 1 ½ cups)

4 button mushrooms roughly chopped

2 cloves garlic finely sliced

1 onion finely chopped

2 medium potatoes peeled, boiled and mashed

¼ cup black olives

1 tbsp chili flakes

1 tbsp Thyme

Fresh black pepper

1 tbsp chili flakes

½ tbsp thyme

3 tbsp gram flour

2 tbsp bread crumbs (make sure GF)
For the Sweet potato fries
2 large sweet potatoes, peeled and chopped

½ tsp paprika

Lots of black pepper
For the Avocado Salsa
1 large tomato, finely chopped

1 small avocado sliced

1 cucumber diced

½ a Red onion diced

Juice of ½ a lime

Pinch of Paprika
Method
Preheat oven to 180 degrees celcius (356 degrees Fahrenheit) and line a baking tray with parchment.

Make the mashed potato first – Peel and chop your potatoes and add to a pan of boiling water for 12 minutes, drain and mash.

Peel and chop your sweet potatoes into wedges/fries, pop on a baking tray, sprinkle over the paprika and black pepper (as much as you like) and pop in the oven to bake for 30 – 35 minutes.

To make the bakes, add the garlic, 3 of the mushrooms, the chopped onion and the black olives to a food processor (or use a stick blender) and pulse until mixture is well blended. In a separate mixing bowl mash your chickpeas until they are all broken down, then mix through the mushroom and olive mixture, the mashed potatoes, the chilli flakes, remaining mushroom, thyme, gram flour and bread crumbs and give this a good stir. Using a serving ring or large cookie round cookie cutter, spoon the mixture into the ring (on top of the lined baking tray), pressing it down tightly, sprinkle over ½ tsp breadcrumbs over the top, remove ring and repeat (you should get 4 or 5 large bakes, approx 1 ½ cm thick, from this), pop in the oven for 30 – 35 minutes until firm to the touch.

While the bakes and potatoes are cooking, you can make the salsa, just add everything to a bowl and toss to mix together.