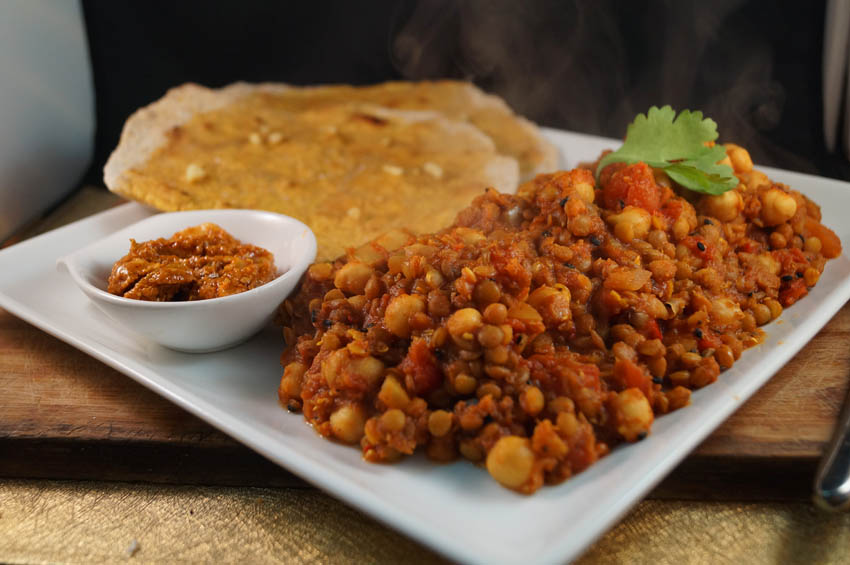 I've said it before and I'll say it again, I love spicy food! If there is one thing in my herb and spice cupboard that needs constantly restocked, it's chilli flakes (along with cumin and chilli powder of course, so that's 3 things!) I don't think I could get by without those little treasures and now that I've started adding turmeric into a lot of my dishes that too will to go on the list so going to have to start buying in bulk!
When I first started cooking I was a little reserved with the spices, maybe adding a tiny bit here and there, but now I know what I like and what spices need a little more than a pinch to taste them I can thrown them in with wild abandon. That's not to say there aren't still a few kitchen disasters, I was perhaps a little heavy handed with some ground cloves in a dish I made last week and I just want to state here and now, too much ground cloves is not a good thing!
This recipe is really easy to prepare and the flatbreads take about 10 minutes start to finish so there's no excuse not to make your own! You can omit the garlic topping if you like, it's an additional option, maybe just chop up some garlic very finely and mix through the dough instead, up to you. I served our dinner with a little mixed pickle on the side, perhaps a little mango chutney as well if you have it in.
Chana & Lentil Masala with Homemade Spicy Garlic Flatbreads (Vegan with Gluten free option)
MyInspiration Feel The Difference Range
Serves 2 – Ready in under an hour
For the Chana & Lentil Masala
1 large onion finely chopped
1" cube fresh ginger finely chopped
4 cloves garlic finely chopped
2 hot red chillies finely chopped
2 tbsp tomato paste
1 tsp cumin seeds
1 can chopped tomatoes (approx 1 ½ cups)
1 cup passatta (pureed tomatoes)
2 tsp turmeric
2 tsp garam masala
1 tsp ground coriander
2 cups cooked chickpeas
1 ½ cups cooked lentils
For the flatbreads (makes 4 small)
1 cup wholewheat flour (for GF use GF plain flour or even chickpea/gram flour)
1 tsp turmeric
½ tsp madras curry powder
1 tbsp oil
½ cup water
For the flatbread topping
1 clove garlic finely chopped
½ tbsp vegan margarine
Method
In a food processor blitz together the ginger, garlic, chilli, tomato paste and just half the chopped onion, pulse until a smooth paste forms.
Add 2 tbsp water to a large sauté pan over a medium heat and add the cumin seeds, cook for 1 minute before adding in the paste from step 1, cook for 2 minutes then add in the turmeric, garam masala and ground coriander, stir, then add in the lentils, chickpeas, chopped tomatoes and passatta, mix this thoroughly together, cover, reduce heat and cook for 30 minutes, stirring occasionally. You may need to add a little water if the mixture becomes too dry or starts to stick.
For the flatbreads, combine all the ingredients in a mixing bowl, adding the water last, you might not need it all, just enough to form a stiff dough. Separate the dough into 4 balls and on a floured surface roll out into flat circles about 2mm thick. Heat a sauté pan over a medium/high heat pop in one flatbread at a time cooking for a 90 seconds on each side until cooked through.
Preheat your grill and once all 4 flatbreads are finished, mix together the margarine and chopped garlic and smear a little on top of each flatbreads, pop under the grill for 2 minutes and you're done (keep an eye on them so they don't burn as they may not need a full 2 minutes under your grill).
Serve your chana lentil masala with a couple of flatbreads and some Indian pickles.