It's Pasta Day!! I feel a bit better having been back to the UK and seeing the multitude of Gluten free products in the supermarkets, as before I was sometimes a little uncertain as to what I could tell people to use as a substitute in some of my recipes, but there are so many flours and pastas out there, that you can really make almost any dish easily gluten free.
So pasta today is packed with gorgeous red onion, big meaty button mushrooms and fresh green spinach, makes my tummy very happy! Balsamic works so well with these flavours and I added just a tiny kick to it with the chili flakes and had a moment at the end where I decided to grate some cashew nut over the top. This was purely because I've seen so many recipes for vegan cheese that seems to be made from cashews, I though why not just grate a little cashew nut over the top, plus it looks quite pretty too.
I've only done one class, but crxworx, works!! Abs are tender, quads feel strong, definitely working something, and that's just after one class, can't wait to do it again, I can do quite a bit of the class routine in the house too as I have resistance bands and some weights…. hmmmmm, that's not a bad idea!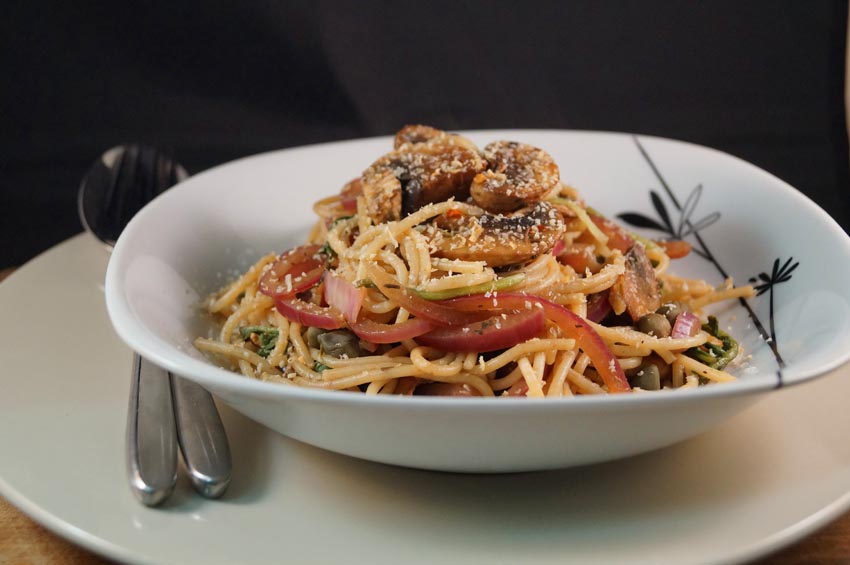 Balsamic Sautéed Mushrooms and Red Onion with Spaghetti and Shavings of Cashew (vegan with gluten free option)
MyInspiration Feel The Difference Range
Serves 2 – ready in 30 minutes
170g wholewheat spaghetti (for GF use your favourite Gluten Free pasta, like Dove's Farm Brown Rice Spaghetti)

1 clove garlic finely sliced

1 medium red onion cut in half and sliced into crescents

3 large button mushrooms chopped

1 cup wilted spinach (place small bunch of spinach in metal colander over a pan of boiling water for a few minutes to wilt)

3 tbsp balsamic vinegar

1/2 tbsp dried basil

1 tsp dried rosemary

Pinch chili flakes

2 tbsp capers

Black pepper to season

2 cashew nuts to grate over the top
Method
Prepare the pasta – add the spaghetti to a pan of boiling water an cook for 12 – 15 minutes (12 if you like it al dente)

Now, add 2 tbsp water to a large saute pan over a medium heat and add the garlic, basil, rosemary and chili flakes and cook for a minutes before mixing though the red onion and stirring everything together, now add the chopped mushrooms and the balsamic, making sure that everything is evenly coated, turn the heat down to low and cook for 8 minutes (I added a couple of tablespoons of the pasta water here to keep the mixture nice and moist). Lastly add in the wilted spinach and the capers and fold this through.

Drain your pasta and add the spaghetti to the saute pan and toss this through the mushroom and onion mixture, serve in a nice bowl, grate the cashew on top, finish off with a pinch of black pepper and you're done!
** you could always use a tablespoon of nutritional yeast over the top instead of cashew if you have nut allergy
Approx Nutrition per serving: Calories 350 – Carbs 70g – Fat 3g – Protein 14g