This is a dish I made whilst I was on my own for the evening and I'm all about quick and easy so I can get back to watching series 1 of Absolutely Fabulous, strangely, I have only ever seen a few episodes here and there when they have been on TV and I just took this notion to watch the first series, it's hilarious, I can still remember the fashions that Eddy and Patsy try to pull off and I just love Joanna Lumley's character!
So, quick scan of the fridge and cupboard and lo and behold we have us a flavour packed meal that's on the table in less than 20 minutes, definitely a winner when you're starving and need something to eat quick to get back to Ab Fab!
For the bean ragout, don't be shy in mixing it up a bit, I used white beans as that is what I had in stock, but you could use kidney beans, chickpeas, butter beans, etc. And for your crisped bread, you could use tahini instead of hummus.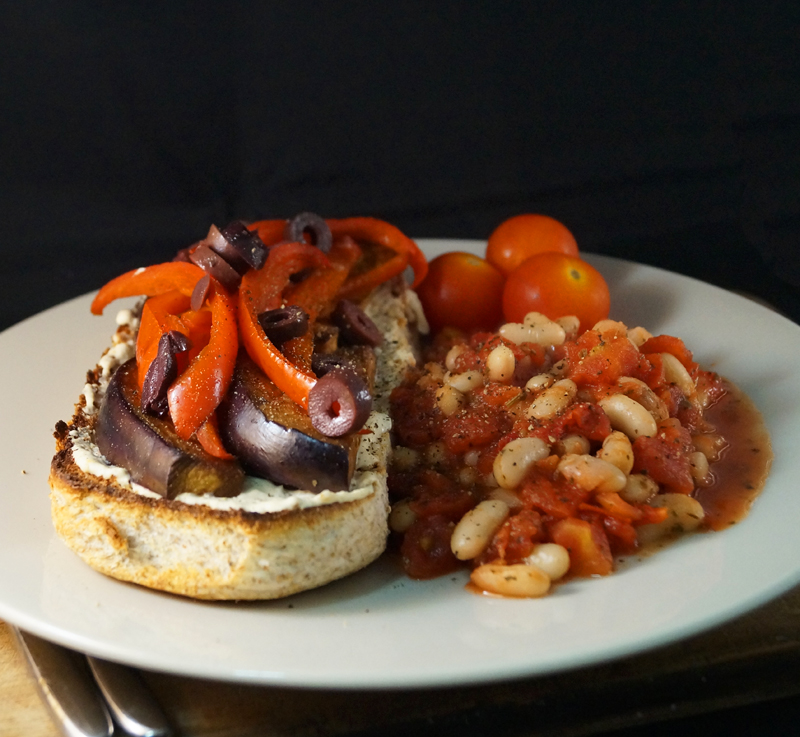 Balsamic Sauteed Aubergine & Red Pepper served on Crisped Bread smothered with Hummus with a White Bean & Herb Ragout (vegan & gluten free)
MyInspiration Feel The Difference Range
Serves 2 – ready in under 30 minutes
For the Sauteed Vegetable
1 large aubergine (eggplant) sliced into rounds then halved again
1 large red pepper finely sliced into strips
3 tbsp balsamic vinegar
For the Crisped Bread
2 thick slices of your favourite bread (GF use your favourite Gluten Free Bread)
1.5 tbsp hummus (or tahini) for each slice of bread
Small handful of sliced black olives (optional)
For the ragout
1 can white beans drained and rinsed
1 can chopped tomatoes
1 tbsp tomato paste/puree
1/2 tbsp dried basil
Black pepper to season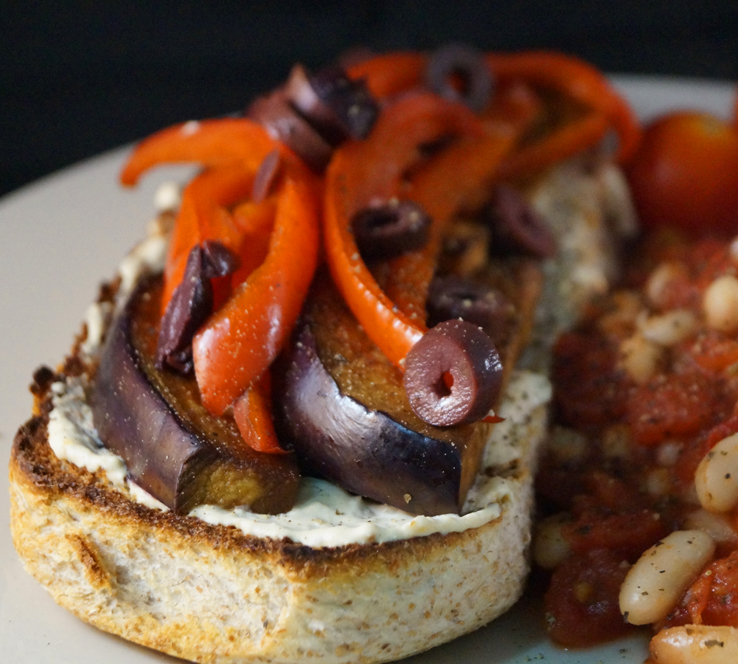 Method
1. Start with the ragout, add the white beans and canned tomatoes to a medium sauce pan over a low/medium heat, then add in the basil, tomato paste and a decent pinch of black pepper, stir together and gently heat for 10 minutes.
2. Now, heat 1 tbsp of water in a saute pan over a medium heat and add the sliced aubergine and red pepper, cook for 2 minutes before pouring over the balsamic vinegar and then cooking for a further 7 minutes, remove from heat.
3. Whilst both ragout and veggies are cooking, heat your grill and toast your bread to how you like it, remember to have nice thick slices of bread.
4. Bring everything together… Pop your toasted bread on your plate, smother with the hummus, and layer on the aubergine and red pepper, scatter over some sliced black olives, and sprinkle a little black pepper over the top. Then to the side, spoon on your bean ragout and serve!