It feels like an age since I last posted, but we're coming to the end of our travels for the summer and then I'll be back to my kitchen and to be honest, I think I might go a bit crazy with all the recipes I've been thinking about while I've been on holiday, there is so much I want to try, so I might just lock myself away and cook, cook, cook!
This is a dish I made while we were visiting Bath, I used a can of mixed 5 beans, purely because it was our last night in the apartment so this was the easiest way to do it.  This turned out to be wonderfully hearty, delicious and pretty healthy too which is nice when you need to fuel yourself for a massive 25k walk…. that's right, 25km in one day, legs were aching the next day, that good "I've worked hard" ache.
oooooh and also, forgot to mention, Rich Hall and Reginald D Hunter were awesome at the Edinburgh Festival, absolutely brilliant, so glad we had the time to go up and visit and catch a few shows, even went to a free show in the Jekyll and Hyde pub, Pint of Stella the act was called and she was really good, the venue was really fabulous as well, it's been a lot of years since I've been in that particular bar, excellent trip!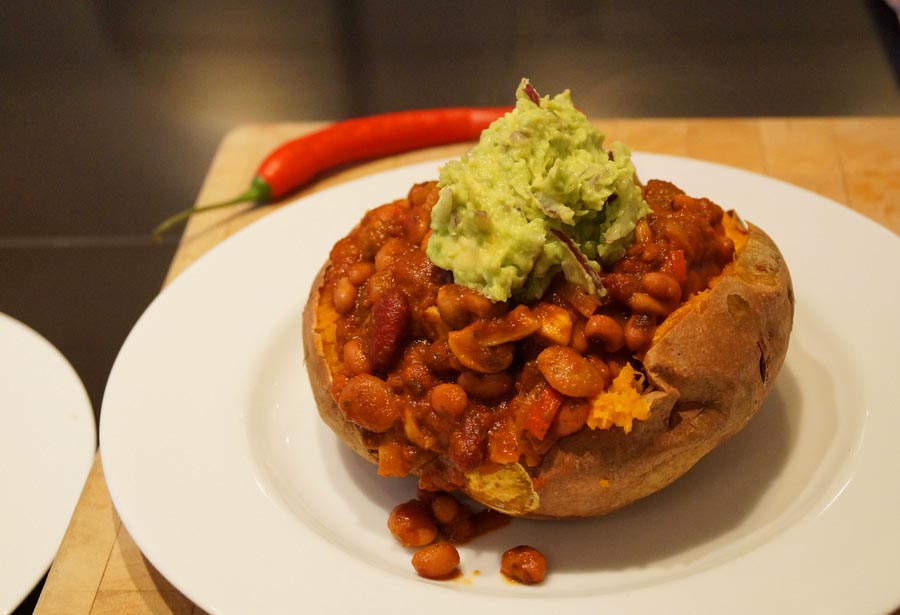 Baked Sweet Potato filled to the brim with 5 Bean Chili topped with Guacamole (Vegan & Gluten Free)
MyInspiration Feel The Difference Range
Serves 2 – ready in an hour
2 large sweet potatoes, washed and dried
For the 5 Bean Chili
1 can of 5 Beans (or you can use your own mixture, this included red kidney beans, black eye beans, borlotti beans, lima beans & haricot beans)
1/4 cup sweetcorn
2 cups passatta
1.5 cups chopped button mushrooms
1 red chili finely chopped
1 clove garlic finely chopped
1/2 red onion finely chopped
1/2 tbsp balsamic vinegar
1/2 tsp black pepper
3 tsp cumin
2 tsp chili powder
1 tsp dried oregano
1 tsp dried basil
1 tsp paprika
Guacamole
1 large avocado
1/2 red onion, very finely sliced
1 clove garlic very finely sliced
Method
1. Preheat oven to 200 degrees celcius (392 degrees fahrenheit) and using a sharp knife pierce the sweet potatoes all over and place on a baking tray and pop in the oven for 45 minutes to an hour, until a knife slides in easily.
2. Make the Chili – Heat 1 tsp water in a deep sauce pan and add the garlic, red onion, red chili and all the spices and cook for 2 minutes, then add in the mixed beans, sweetcorn, mushrooms, passatta and vinegar, stir everything together, reduce heat to low, cover and let this simmer for 20 minutes, stirring occasionally.
3. For the guacamole, scoop out the meat of the avocado and place in a bowl along with the garlic and red onion and mix thoroughly until it's smooth – that's it!
4. Slice the baked potatoes in half and using a fork, fluff up the potato, then spoon in the chili and top with a nice big dollop of guacamole. (I'm so hungry now thinking about this!)