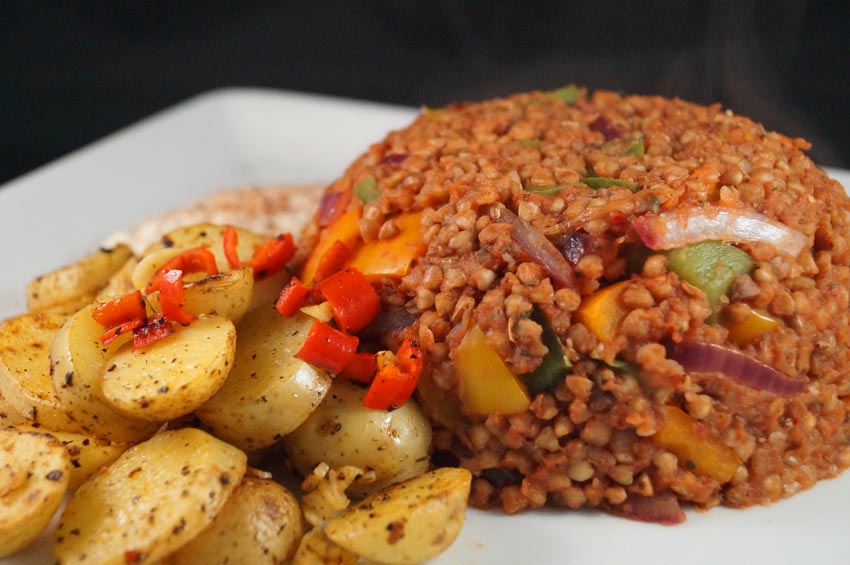 I know I just posted the Kasha Buddha Bowl the other day, but really, you can't have too many recipes that use this delicious ingredient. It' still a novelty in this house as we've only just recently discovered it, but we're still enjoying it, so I'll be using it quite a bit over the next couple of weeks as I discover what other recipes it can be used in!
This particular recipe though is super easy and I had some leftover baby potatoes that I wanted to use up so they were a nice little addition that I don't normally have. I don't tend to "fry things" but thought this would go nicely with the veggie kasha and the potatoes really took on the garlic and chilli flavour which gave them a nice spicy kick. Teamed up with the paprika hummus it works on a number of different levels. So, quick and delicious, my favourite kind of recipe. You can use other veggies you might have in, broccoli florets, cauliflower, aubergine (egg plant), courgettes (zucchini) etc, they'll all work nicely in the dish.
Oh and of course **ANNOUCEMENT** I am an aunty again! My little sis gave birth on Monday 5 May to a little boy. Still waiting to see some photos or even a cheeky little skype call so I can see the little guy, but she lives in the back of beyond with an internet signal that is like the Loch Ness Monster (you know it's supposed to be there but only heard random rumours of it being seen!). I shall try again today and see if I can't meet my brand new little nephew online!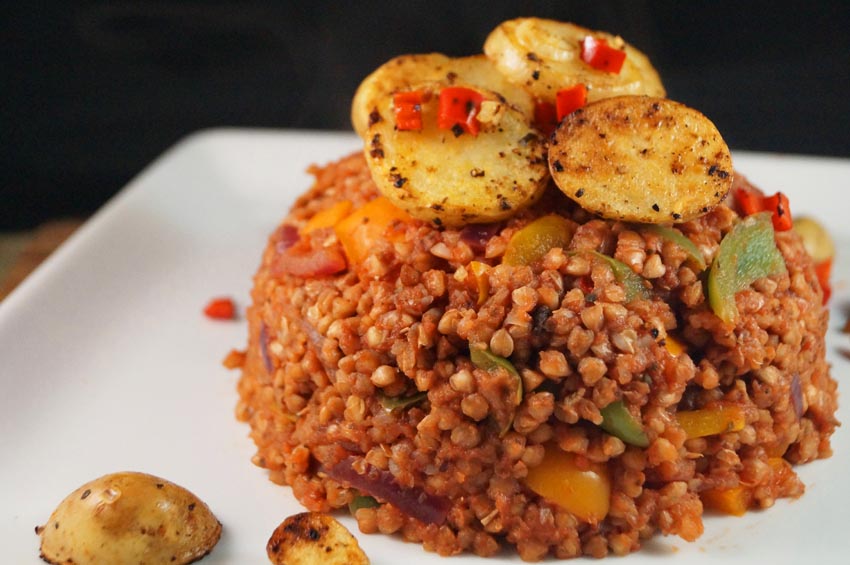 Veggie Kasha with Sauteed Chilli Garlic Potato Slices and Paprika Hummus (vegan & gluten free)
MyInspiration Feel The Difference Range
Serves 2 – Ready in 35 minutes
For the Kasha
1 ¼ cups Kasha (Roasted Buckwheat Groats)

2 ½ cups boiling water

1 tbsp dried basil

½ tbsp red chilli flakes
2 green peppers (capsicum) chopped

2 orange peppers (capsicum) chopped

1 yellow pepper (capsicum) chopped

1 red onion sliced

1 ½ cups passatta (pureed tomatoes)

1 tbsp dried basil
For the Potatoes
8 baby/new potatoes washed and sliced

½ tbsp vegan margarine

2 cloves garlic finely sliced

2 hot red chillies finely sliced

Black pepper
Serve each plate with 2 tbsp hummus with a sprinkling of paprika and black pepper.
Method
Start off with the potatoes – Heat a large sauté pan over a medium heat and add the vegan margarine, let this melt then throw in the potato slices, sprinkle over a good helping of black pepper and then let these cook for 15 minutes giving the pan a shake frequently to turn the potato slices ensuring they don't burn to a crisp! After 15 minutes add in the chilli and garlic, mix this all together so the potatoes are coated, cook for a further 3 minutes then remove from heat and set aside.

For the Kasha, add the groats to a sauce pan along with the basil and chilli flakes, pour over the boiling water, stir, and over a low heat cook for 15 – 20 minutes (until the liquid has been fully absorbed).

While the kasha is cooking, prepare the veggies. Add 2 tbsp of water to a large sauté pan over a medium/high heat and add in all the peppers, red onion and basil and cook for 7 minutes before adding in the passatta, give this a good stir and cook for a further 5 minutes to heat the sauce through.

Now to assemble. Add the kasha to the veggie mix from step 3 and mix this all together, the kasha will soak up the lovely tomato sauce, spoon onto your serving plate and top with the sautéed potatoes and a side of the paprika hummus.