I remained on my "Greek Style" menu and tried my hand at the Moussaka. As it was my first attempt I'm still in the process of perfecting the spice mix, but this worked really well, I might opt to add a little red wine to it next time. But you can taste your lentil mix and decide for yourself if it's spiced enough and adjust to suit your own taste.
Again, I think along with the mushroom Stifado, this will also make an appearance on the dinner table while the in-laws are here, the lentils give this dish a great texture and I don't think that you miss the traditional bechamel sauce.
Think I might move onto Spanish and see what kind of Tapas I can come up with (I feel a jug of sangria may be required to lubricate the thinking process!)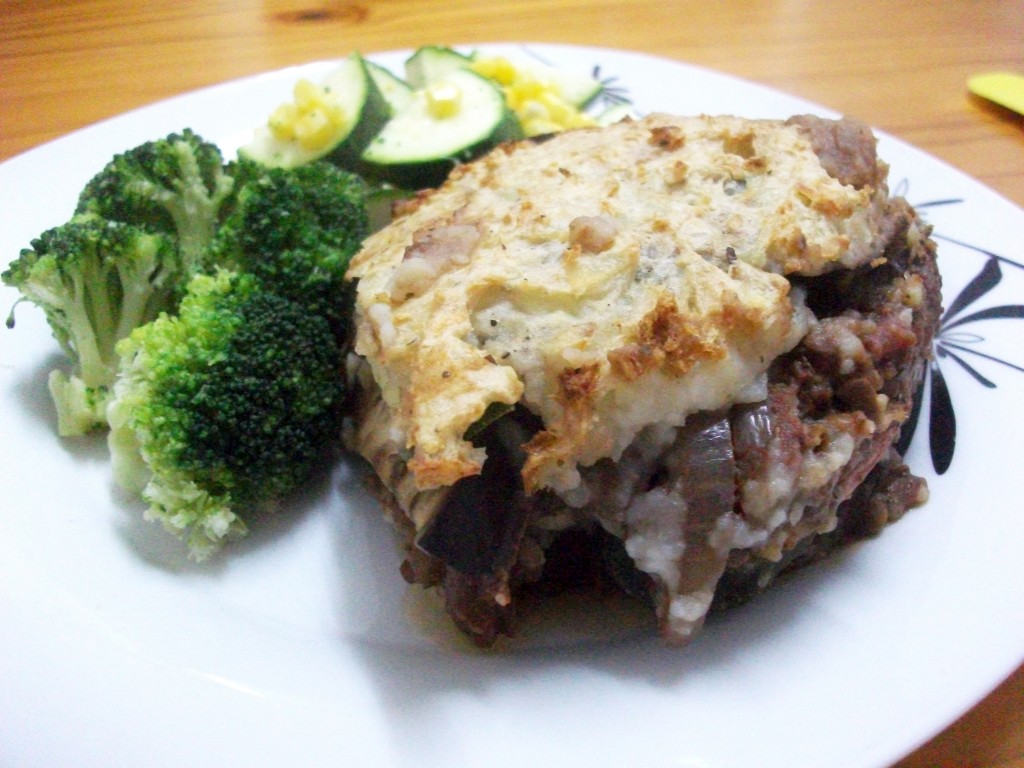 Vegan Moussaka, a Mediterranean delight!
Serves 4
4 medium size potatoes
2 cloves garlic chopped
1 ½ tbsp olive oil
1 onion diced
2 small aubergines (Eggplant) sliced about 5mm thick
1 medium courgette (Zucchini) thinly sliced
1 large tomato sliced
1 tin tomatoes or 1 cup passata
1 tbsp tomato paste
1 cup veg stock
½ cup green lentils
1 tbsp dried parsley
1 cinnamon stick
¼ tsp ground allspice
Ground pepper to taste
Method
1. In a large pot, heat ½ tbsp olive oil and sauté the onions for 5 minutes, then add the parsley and stir to combine. Add the tomatoes, stock, tomato paste, lentils, cinnamon & all spice and give a good mix and leave on a very low heat to simmer for about an hour (make sure there is enough liquid, maybe add a little more stick if needed).
2. In the meantime make the potato filling/topping, by peeling and chopping the potatoes and boiling them in water along with the chopped garlic until tender (about 15 minutes) drain and mash with 1 tbsp olive oil and a pinch of black pepper.
3. Preheat the oven to 180 degrees
4. Once the lentil mix is ready, take a deep sauce pan, needs to be about 9" deep and layer half the lentil mix on the bottom, the top with a layer of aubergine, a layer of courgette, a layer of tomato, then half the potato mixture, then top with the remaining lentil mix, another layer of aubergine and finally the remaining potato. Smooth out the potato on the top to make it nice and even and pop it in the oven for 45 minutes. The potato will be have a nice crust texture to it, serve with vegetables (we had broccoli, sweetcorn and some leftover courgette.)