Having just returned from our trip away in Italy, we were amazed at the ease in which we managed to maintain our vegan diet.  It wasn't always quite as straight forward as I would have liked but we live and learn.
Breakfasts where simple enough, we were staying at a lovely hotel that had a breakfast buffet, so we could load up on fresh fruit, italian bread with marmalade and a cheeky espresso or 2.
There was also a selection of cereals, but you never know… plus it was only cow's milk available (in some hotels you might just need to ask if they have soya/almond/oat milk available.
For lunches you can grab a veggie panini (careful with the sauces they try to add) or head to Koala Cafe which is located in the university area of Pisa on Via L'Arancio, 21.  Open from 12.30pm until 8pm. Trying out my limited Italian we were supplied with the sandwich of the day, marinated seitan with salad and some tahini, very tasty… I was tempted by the vegan chocolate on the counter as well, but managed to show some restraint.
There were lots of choices on the menu and the chaps in the shop were both lovely and helpful and tolerated by obliteration of their beautiful language by talking to me in English. We ate our sandwiches in the square next to the café.
Kebab shops – you can get Falafel in almost all of the Kebab shops in Pisa, just make sure that when you order you ask for no yoghurt sauce, they automatically put it on mine in one of the kebab houses and weren't best pleased when I told them I couldn't eat it, so at least I know in future!!
There is a great kebab shop called Happy Kebab on the Via Del Borghetto and also Terme kebab shop (where the yoghurt incident occurred) on Via Notari, to the left hand side of the square coming off the Ponte di Mezzo.
For dining out in the evening, there is quite good selection of restaurants to choose from. We went with Chinese on our first night at Ni Hao Ciao (Via Del Borghetto) – Chinese and Japanese Restaurant which had vegan options available on their menu along with vegetable sushi.
Our 2nd night was a falafel takeaway from the Happy Kebab (mentioned above) with a seriously hot chilli sauce base, scrumptious!) that we ate in a park overlooking the river which was lovely as the sun was setting- in hind sight though we probably would have ordered 2 each as an evening meal!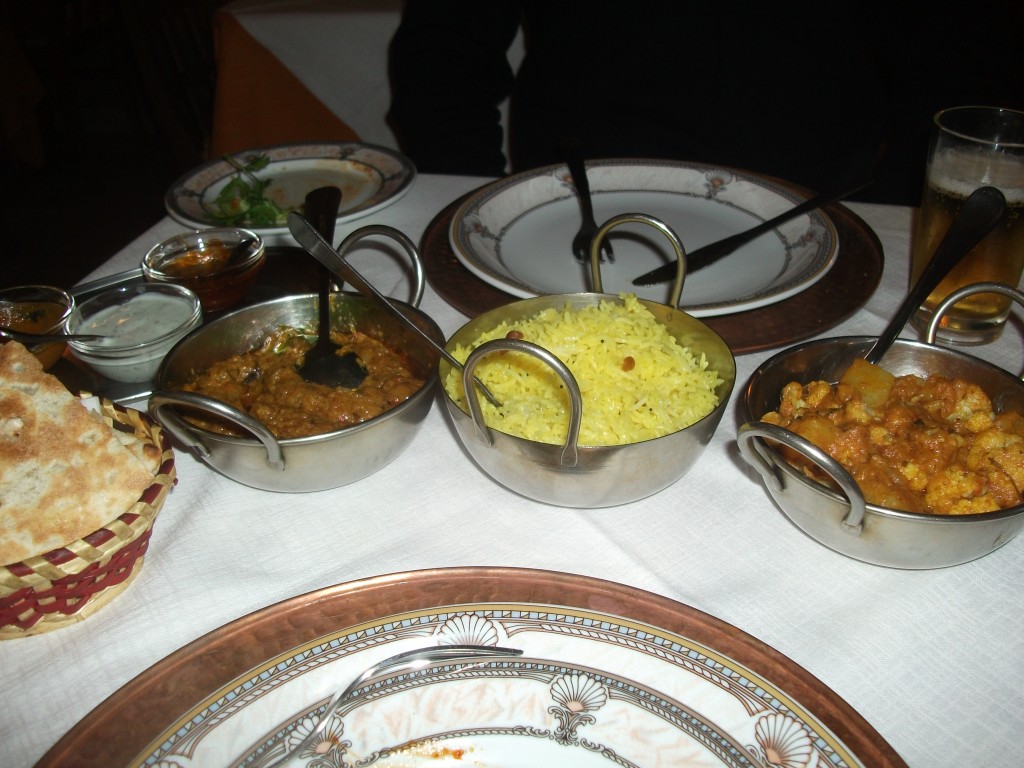 Our 3rd night was a curry feast (pictured above) at Namaste Indian Restaurant (Via S.Bernardo,34 – Crossing Streetto Corso Italia) this little Indian restaurant was delightful, good menu, suitable portion sizes, and great prices. (As you can see the Raita is untouched and we asked for the bread to be plain as it would have come covered in Ghee butter)  We had 2 starters, 2 curries, 1 rice and 1 bread and 2 drinks and the bill was only 33 euros and the lovely chap came and gave us a free shot of Feni (Liquor from Goa).
There is actually quite a few Indian restaurants in the Pisa area so you'll be able to find something great to eat.
You can also find street stalls with fresh fruit if you want to pick something up for a snack.
So as you can see, there is plenty of choice for Vegan travellers, just make sure that whenever you order something that they don't automatically splash some kind of mayo or yoghurt sauce on and you will be fine!