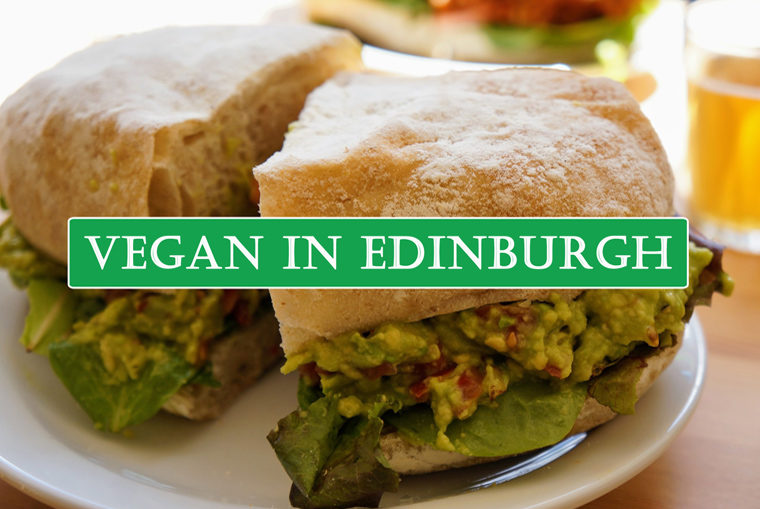 Being vegan in Edinburgh is awesome!
I could just leave it there, as most vegans in Edinburgh will already know what I'm talking about.  But for those who are perhaps new to this incredible city or are planning a holiday here, then I thought I would share some of my top "go to" places should you find yourself looking for some delicious food!
This list is in no particular order, nor are these sponsored recommendations, they are purely the places the hubby and I have been to recently and have been overwhelmed with the quality and choice of vegan fare, so here goes!
Affogato – 36 Queensferry Street
Hands down, THE BEST BAKEWELL TART IN THE WORLD! That's right, I meant to type that all in capital letters. I would crawl over broken glass for a slice of this cake!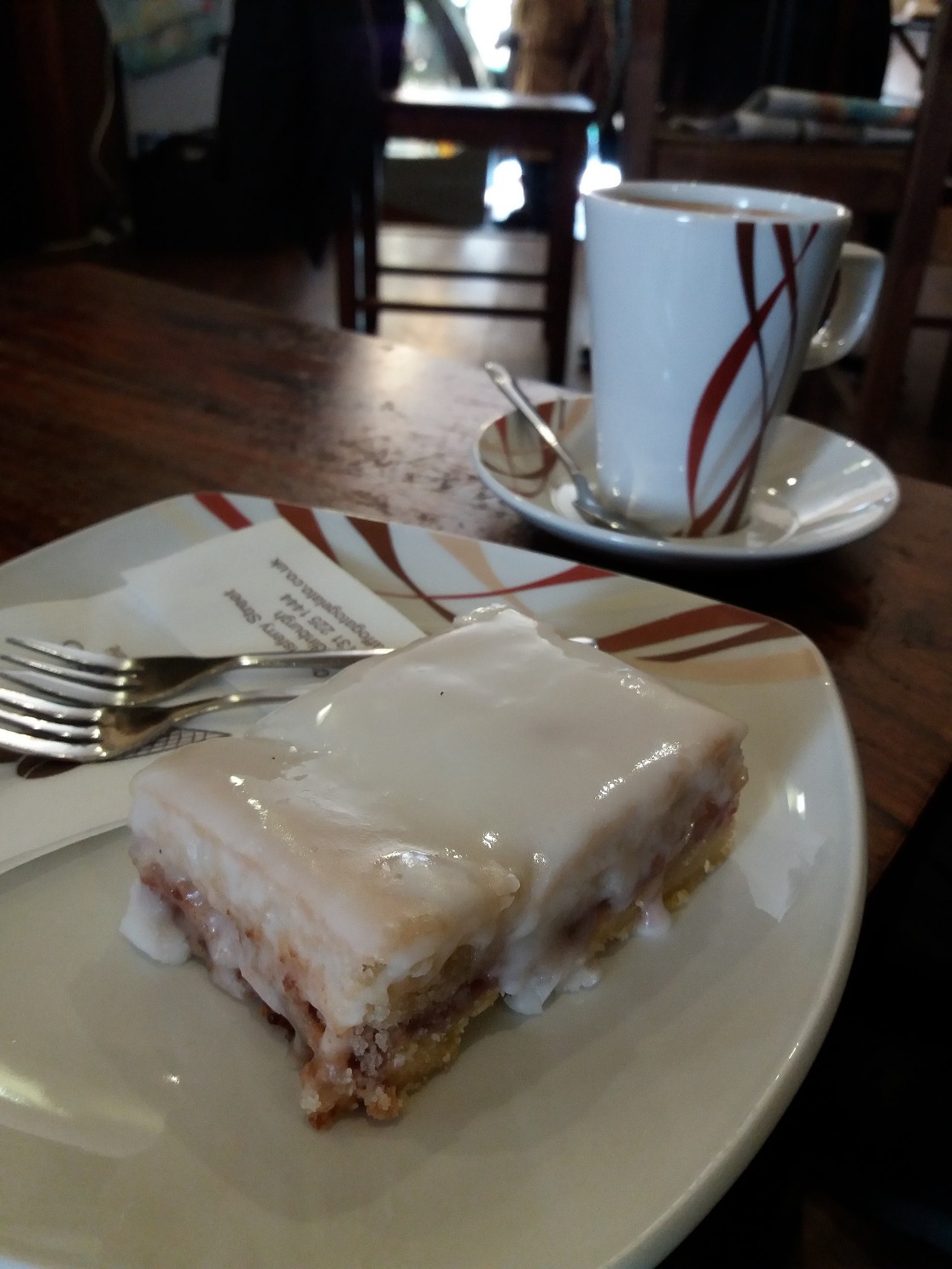 Affogato is a gem of a place, from their large selection of vegan gelato, to the speciality, deliciously decadent vegan cakes on offer. We have sampled the bakewell tart more than a few times now and the walnut brownie was also a huge hit. We have yet to try out the vegan waffles with icecream and vegan "nutella" which has been recommended to us a few times from other vegans.
I almost forgot, they do milkshakes!  Choose 2 of the vegan gelatos and they blitz you up a milkshake.  My personal favourite was chocolate and coconut. That's right people, I had a liquidized bounty! Hubby had chocolate and mango which was also lush, but I'm sticking with my combo!
They have 6 or 7 tables at the back and a friendly, adorable dog that enjoys a scratch on the head!
GrassRoots – 20 Lochrin Buildings, Gilmore Place (just opposite Kings Theatre off Home Street)
I had been insta-stalking this place for months, then when the pics of donuts started coming up I made it my mission to visit! GrassRoots is a small café/shop, just a few tables, but it's well worth visiting. Not only do they have donuts, raw cakes, pies, sandwiches, kombucha, they also have a vegan store, where you can buy cans of jackfruit, cereals, Vego Bars, vegan handbags and wallets, alcohol free wines and so much more!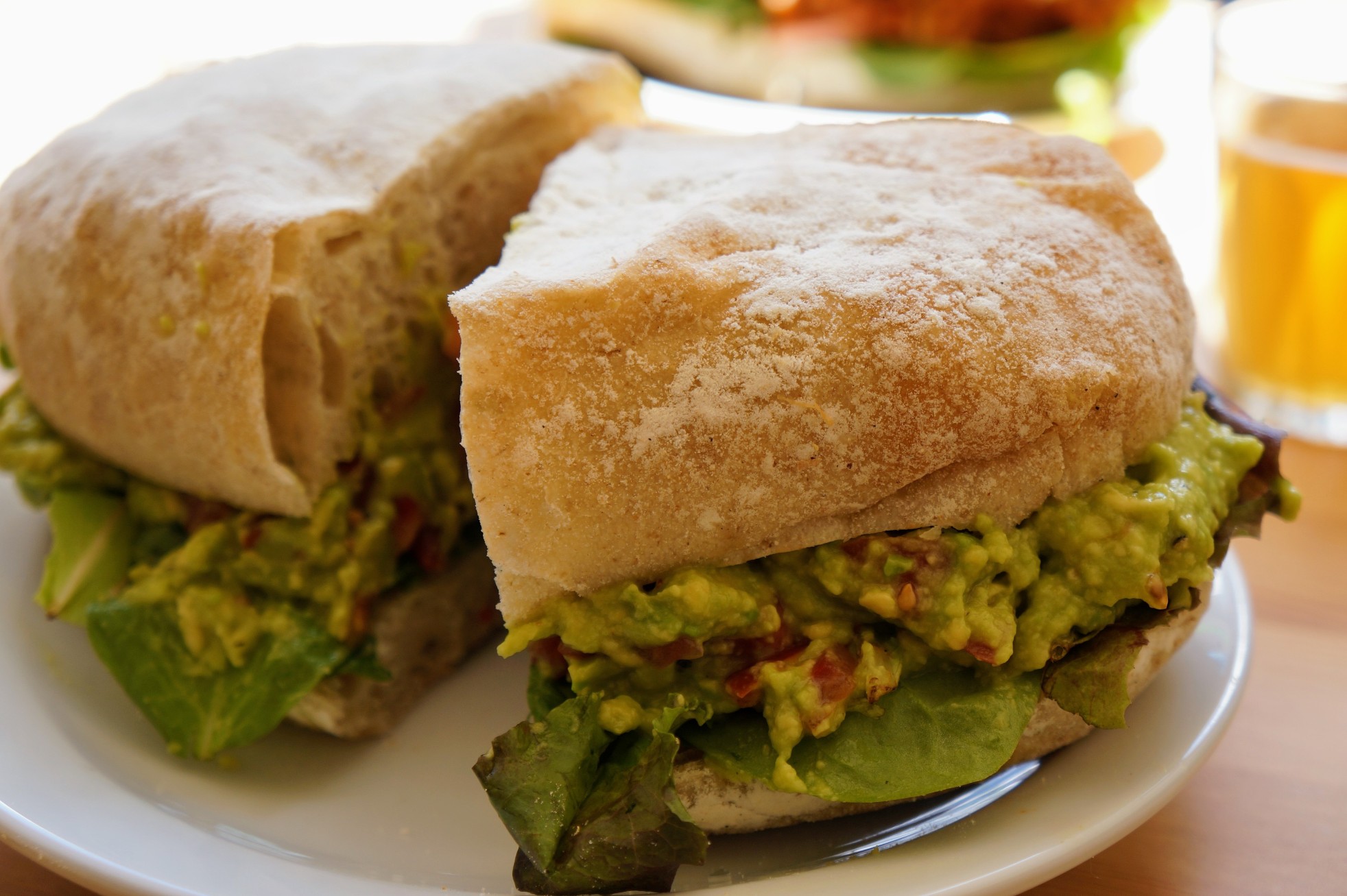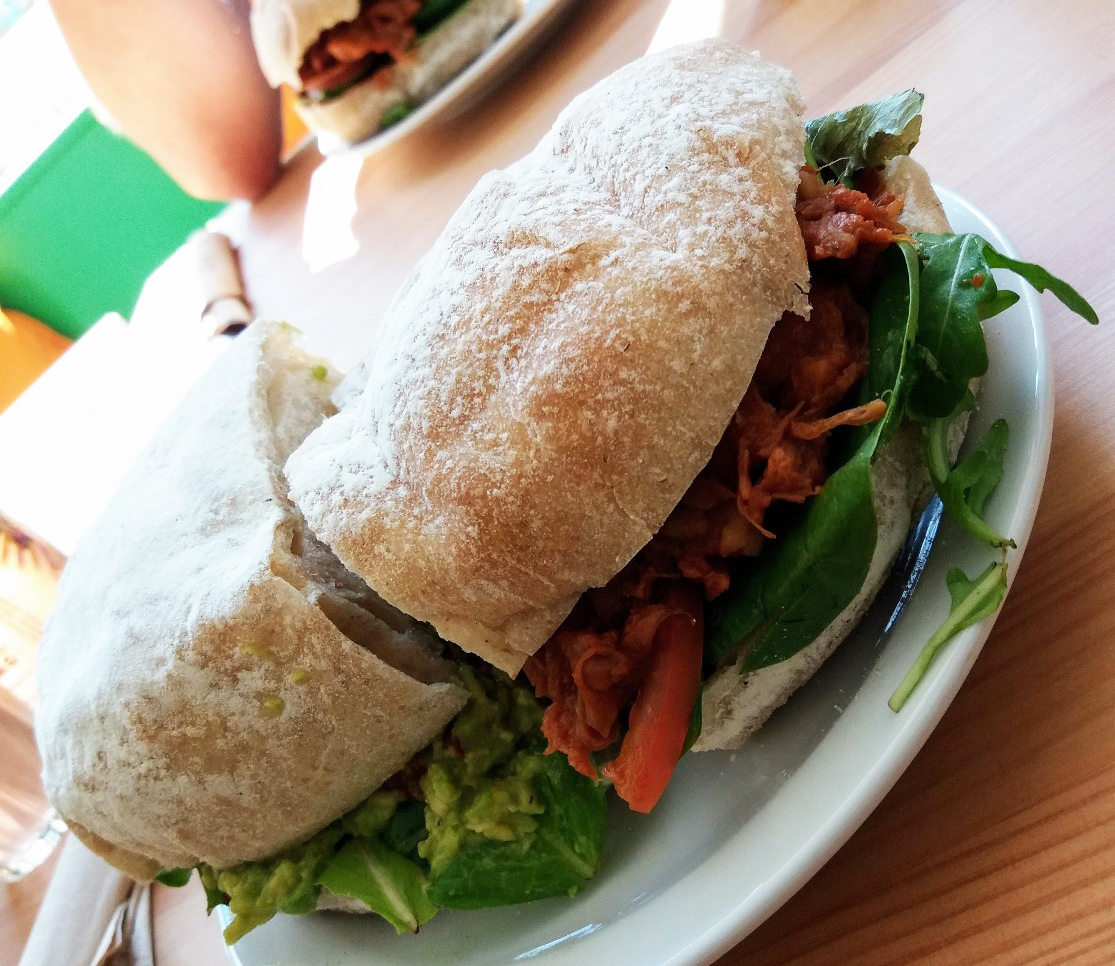 Back to the food. We tried out the avocado and tomato on ciabatta and the BBQ pulled jackfruit ciabatta. Both were huge and stuffed with filling. We washed these down with kombucha, I had the Equinox raspberry and elderflower and Martin had Left Field No.4. Then as if we weren't fit to burst we just had to have donuts and who can resist a donut with sparkles, I know I can't! We also had the Lotus donut too, neither disappointed!!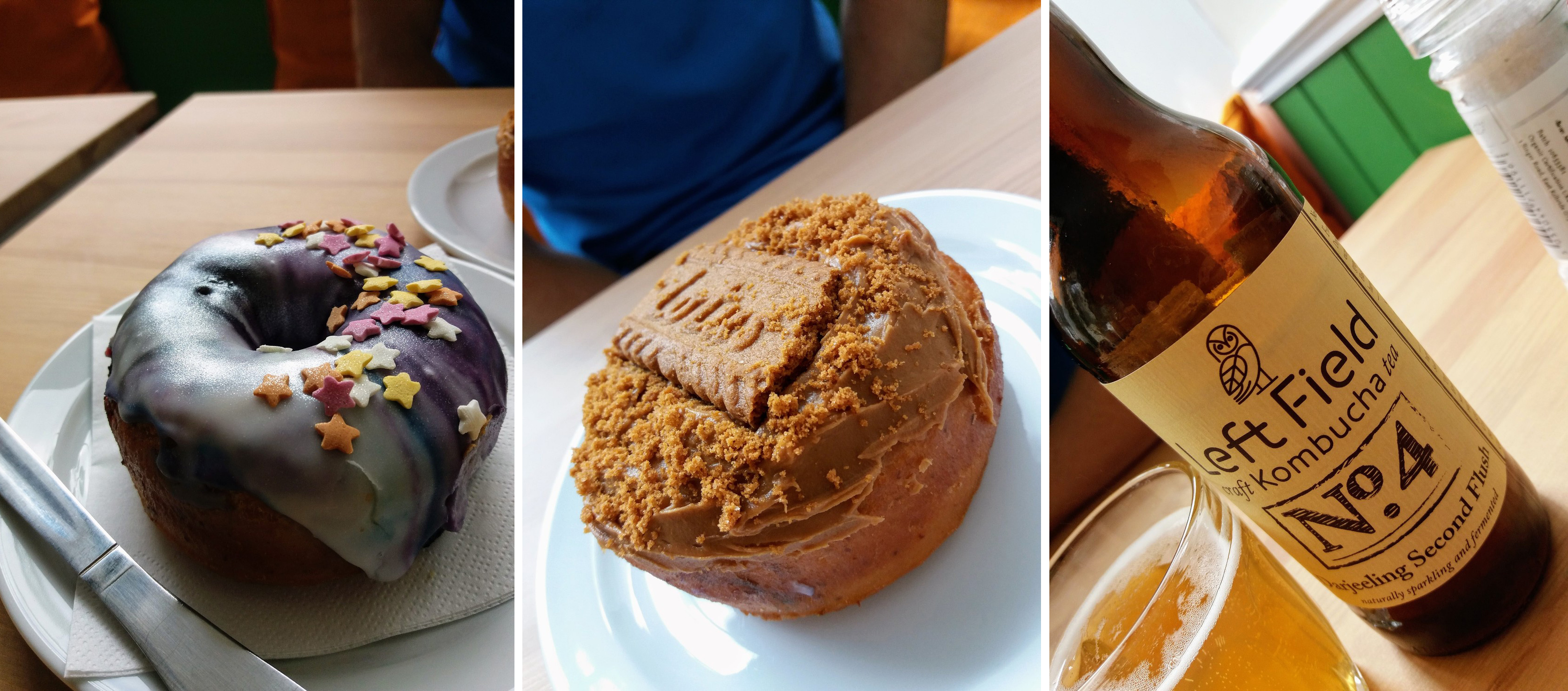 The lovely chap who served us was incredibly friendly and it was great talking with someone so clearly passionate about the food they serve and just knowing that everything on the menu was vegan is always a rare treat!
Holy Cow – 34 Elder Street
We sought this place out on Martin's birthday as it was raining and we really wanted to get some cake and coffee. You go downstairs to Holy Cow and there's a good amount of seats available and a friendly face to meet you as you come in.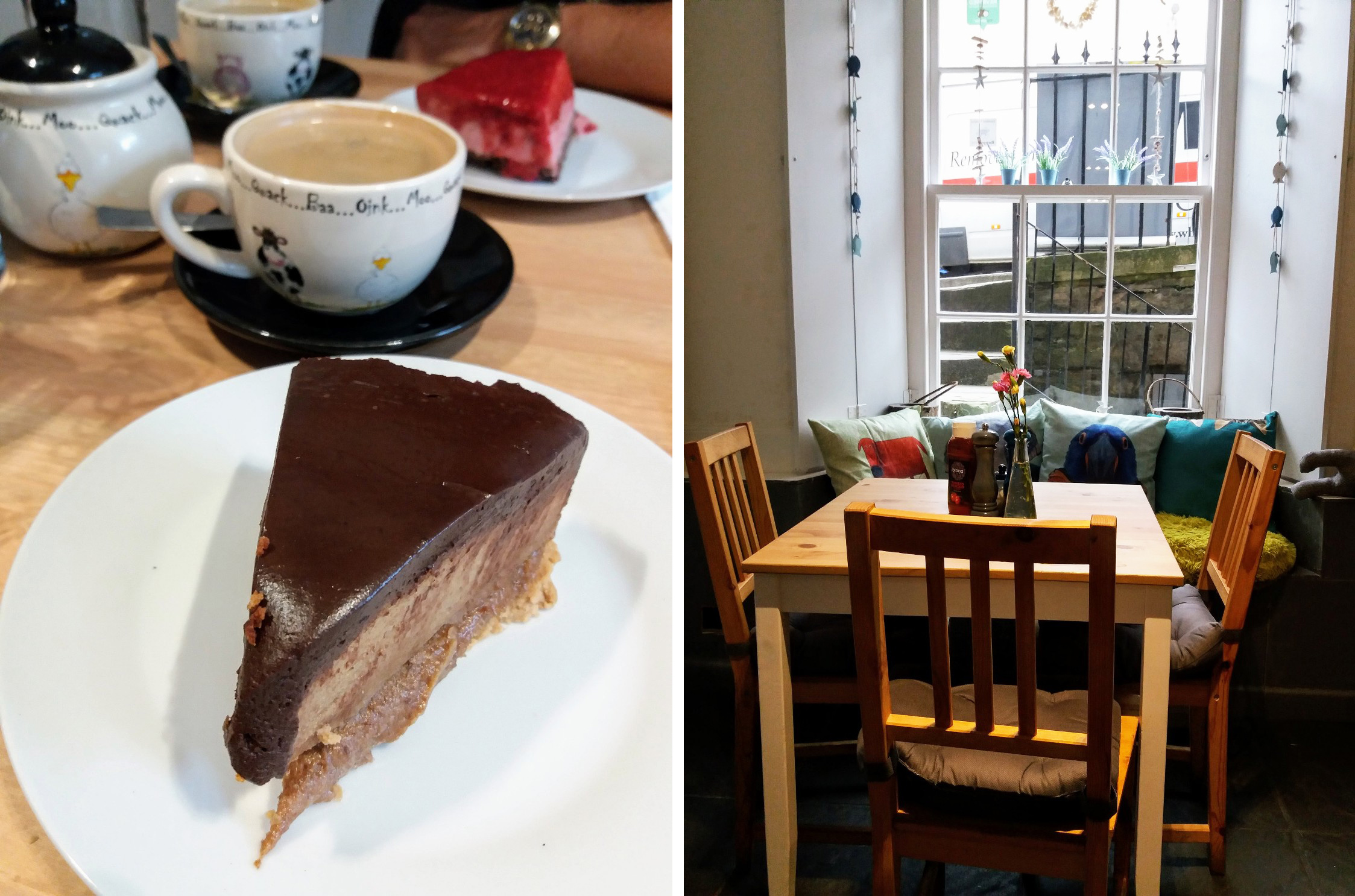 We went straight to the cake display near the till and perused the variety of cakes, which included, cheesecakes, red velvet cake and all matter of tom foolery. We settled on a slice of the berry cheesecake and a slice of the chocolate cheesecake. Sweet lord, heaven on a plate!
Whilst we were waiting we saw other people's choices going by, including a huge looking burger which looked delicious and judging by the womans cleared plate, tasted awesome too!  The menu had a variety of burgers on them, from Falafel to Thai Carrot, Pulled Jackfruit to Smoked Tofu and of course the obligatory Portobello mushroom burger. A good selection of dishes that will appeal to every vegan!
The Auld Hoose – 23-25 St Leonards Street
This place is a firm favourite with us, a good vegan selection on their menu, which includes a vegan cooked breakfast, onion rings, spring rolls, chips and vegan cheese, falafel burger, vegan hot dog, burrito, vegan chilli, and a massive pile of vegan nachos (which is what we always get!).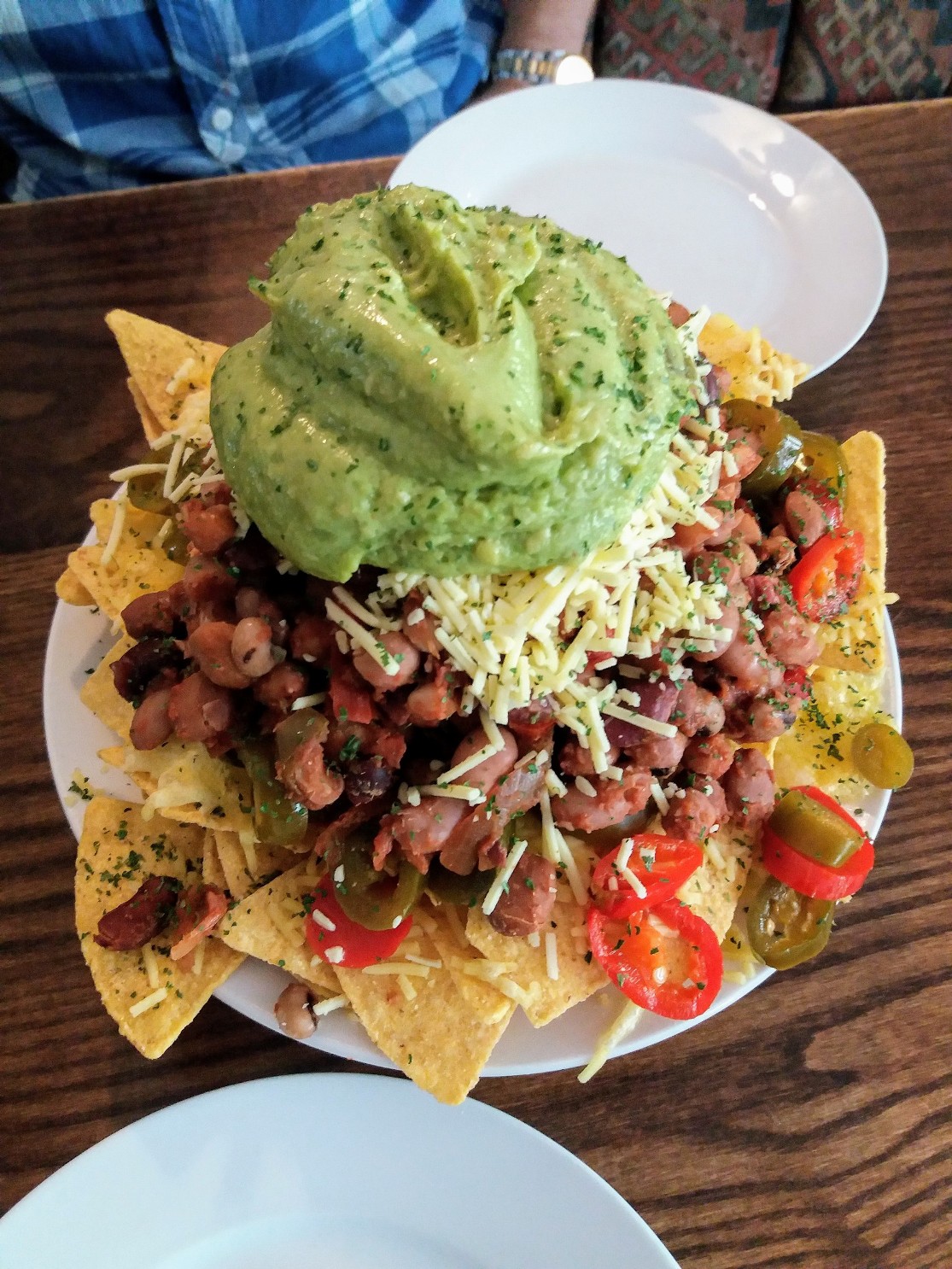 We always tend to go for a late lunch as once you've eaten those nachos, you're pretty stuffed for the day and we share a plate, it's that big!  My tip, go in hungry!
Hendersons Vegan Bistro – C25 Thistle Street
We popped into the Vegan Bistro just for a cup of coffee, but were tempted by the sound of the soup of the day which was fennel, apple and mint served with sourdough bread which was incredible.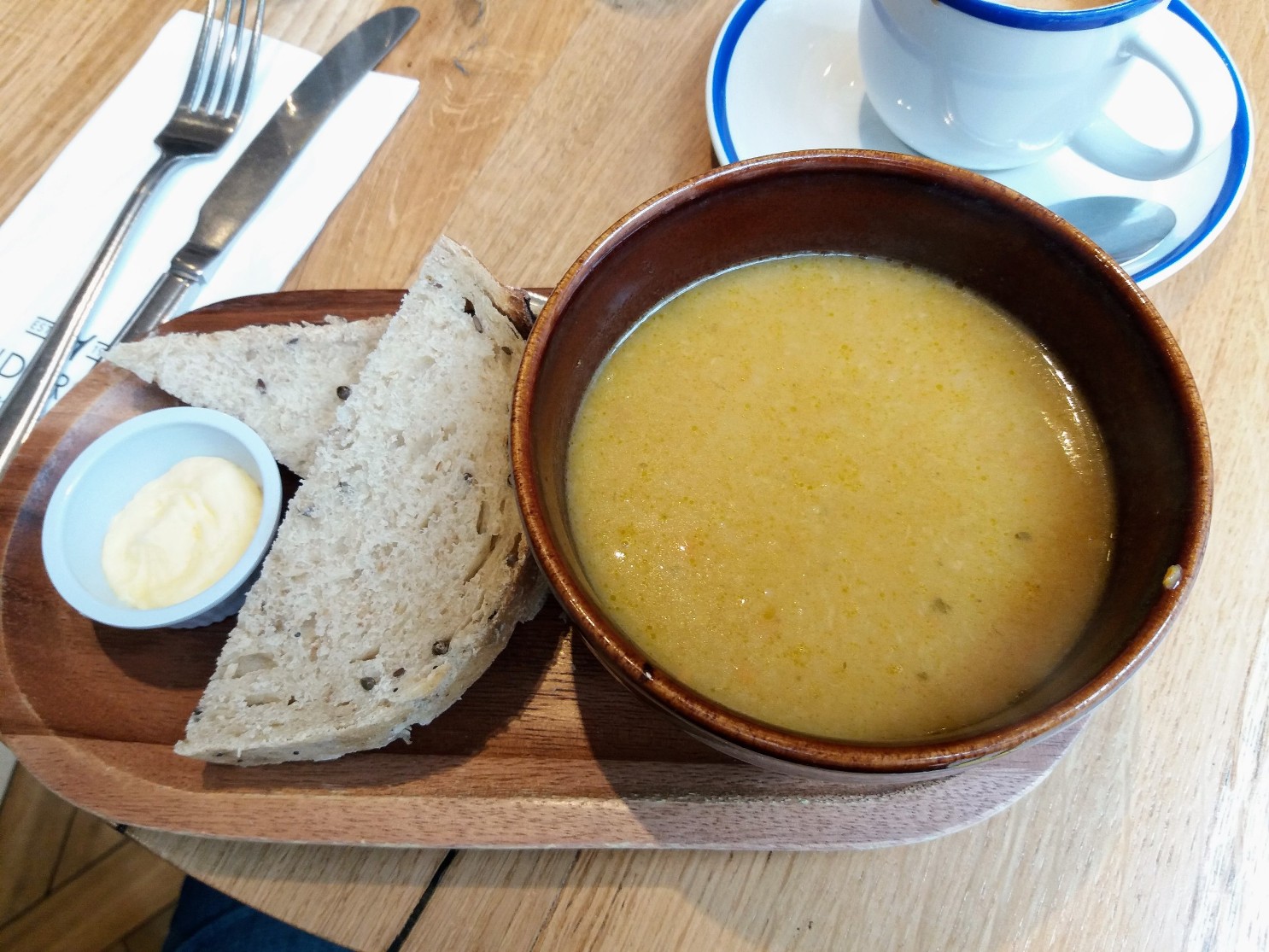 The bistro is cosy, but lovely and light and the staff very friendly, it differs from the main Hendersons as it's table service rather than the canteen style. The menu was varied and included dishes like; Scottish pearl barley and parsnip risotto, Henderson's famous haggis, tofu teriyaki and then desserts like blueberry cheesecake, strawberry & basil panacota and a chocolate nut cake. So, it's still a cracking place if you just fancy coffee and cake!
Pizza Express – All over Edinburgh including North Bridge, Queensferry Street, Ocean Terminal, Holyrood Road and Victoria Street and Hermitage Terrace.
I think most people know all about Pizza Express (always check on something like Vouchercodes etc as there seems to always be a deal on). Pizza Express has now caught onto the growing number of vegans looking to dine out and have introduced vegan cheese to the menu so you can enjoy the Vegan Giardiniera, but strangely I still prefer my good old Pianta with extra black olives, but it is rather lovely having a few choices!
We like going here when we're meeting omni friends and family, no hassle, no fuss, very easy.
Taco Mazama – 3 restaurants in Edinburgh, Ocean Terminal, 95/96A Princes Street and 63 Lothian Road.
We have only been to the Ocean Terminal Taco Mazama so far, we went at lunch time and the queue was quite slow moving, but we were in no hurry so made no difference to us.  We went for the veggie chilli burrito which is super tasty and very filling. There is also a chipotle tofu filling to choose from as well. Watch out for Vegan Tuesdays where you can get a burrito or burrito bowl with a different filling every week for £6.49 plus you get a drink with it too.
The Caffeine Drip – 10 Melville Place
I read a few posts on a facebook page with people recommending the Caffeine Drip, so we went out to find it and see what they had on offer. You go downstairs into a bunker style space, it's very quirky and has a lovely atmosphere to it.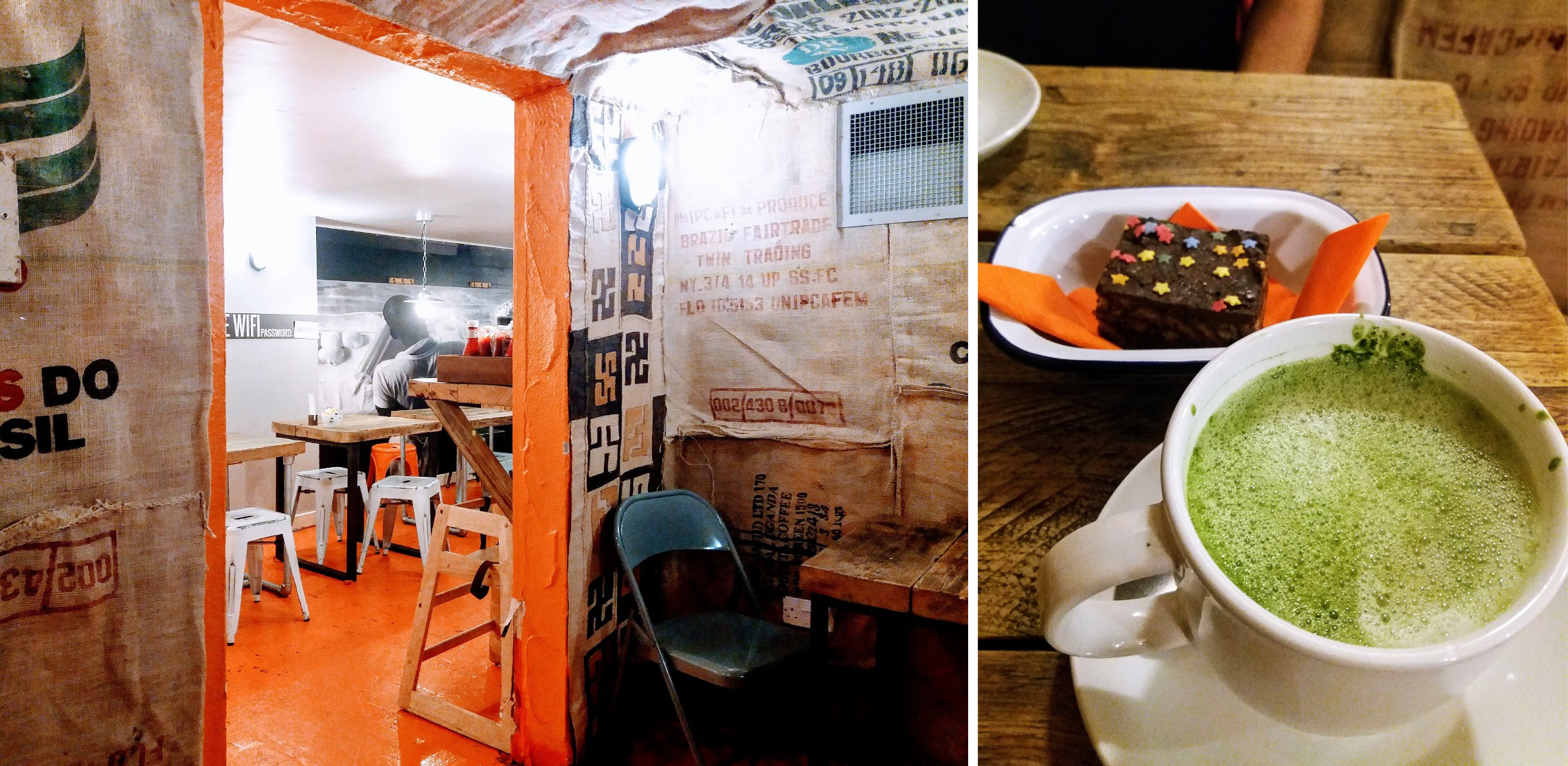 We went pre lunch time so didn't get a chance to sample the great range of burgers they had, all of which included Aromatico Mheat patties which I am looking forward to trying out at some point. You could also have a Vegan Breakfast, vegan French toast, vegan club sandwich, west end salad, vegan wrap or a vegan Chakahaggis wrap, so quite the variety for hungry vegans.
What I can say, personally, about the Caffeine Drip is that the Macha Latte was lovely, as was the slice of Lotus cake we shared (well it was only 11am!!).
BBL – 65 Pleasance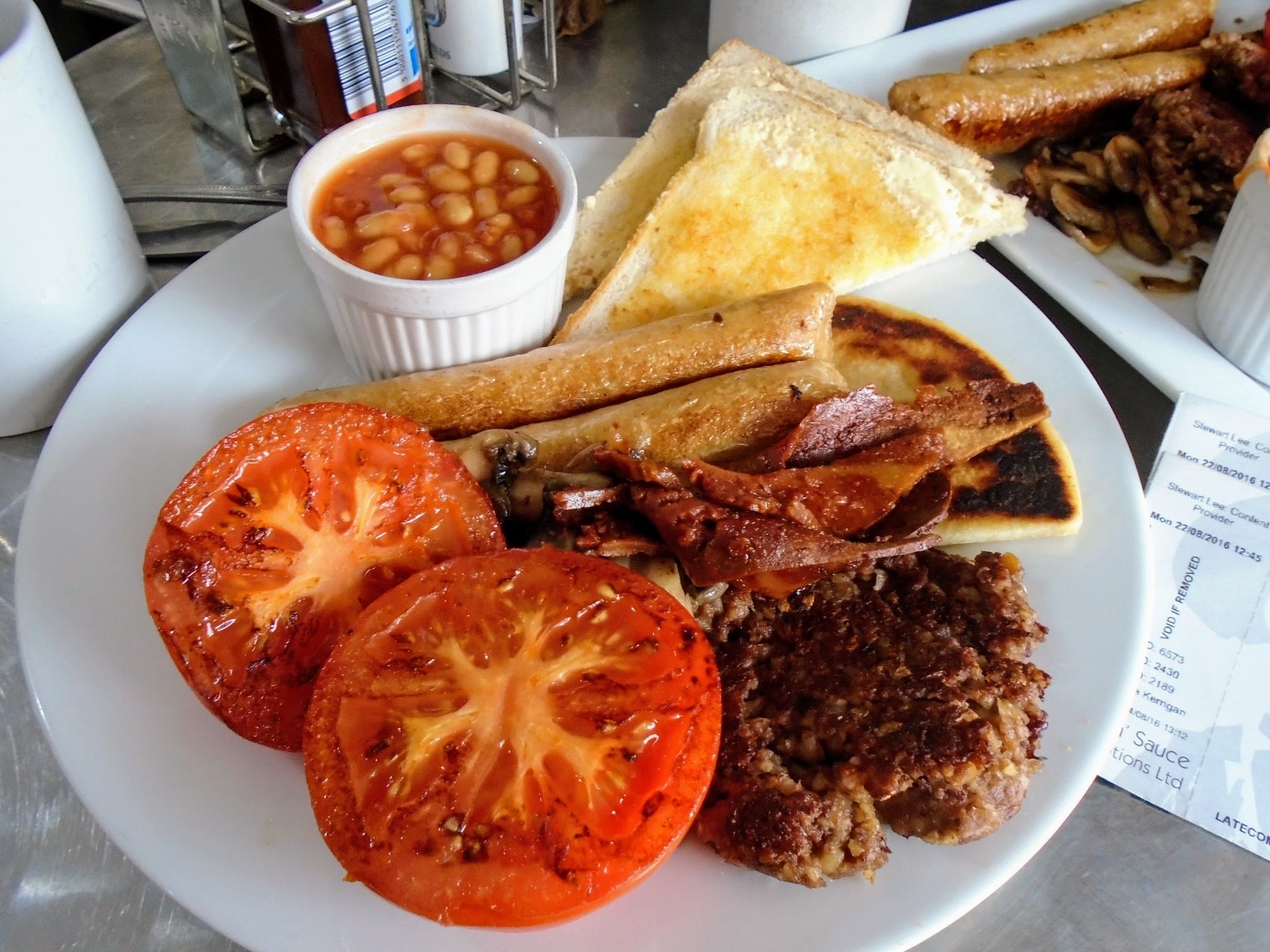 BBL has, in my opinion so far, the best Vegan breakfast I've ever had and includes, vegan haggis, sausage, potato scone, mushroom, beans, tomato, toast and if you like, some vegan bacon. There are very limited seats at BBL, but we've always managed to grab a pew to enjoy our Brunch! This brekkie will set you up for the day!
Hendersons Street Food (Holyrood) – 67 Holyrood Road, close to Dynamic Earth.
Now, this place is a real treat. The café is light and airy and has a wonderfully relaxed vibe to it, like the bistro it's table service (unless of course you're getting takeaway).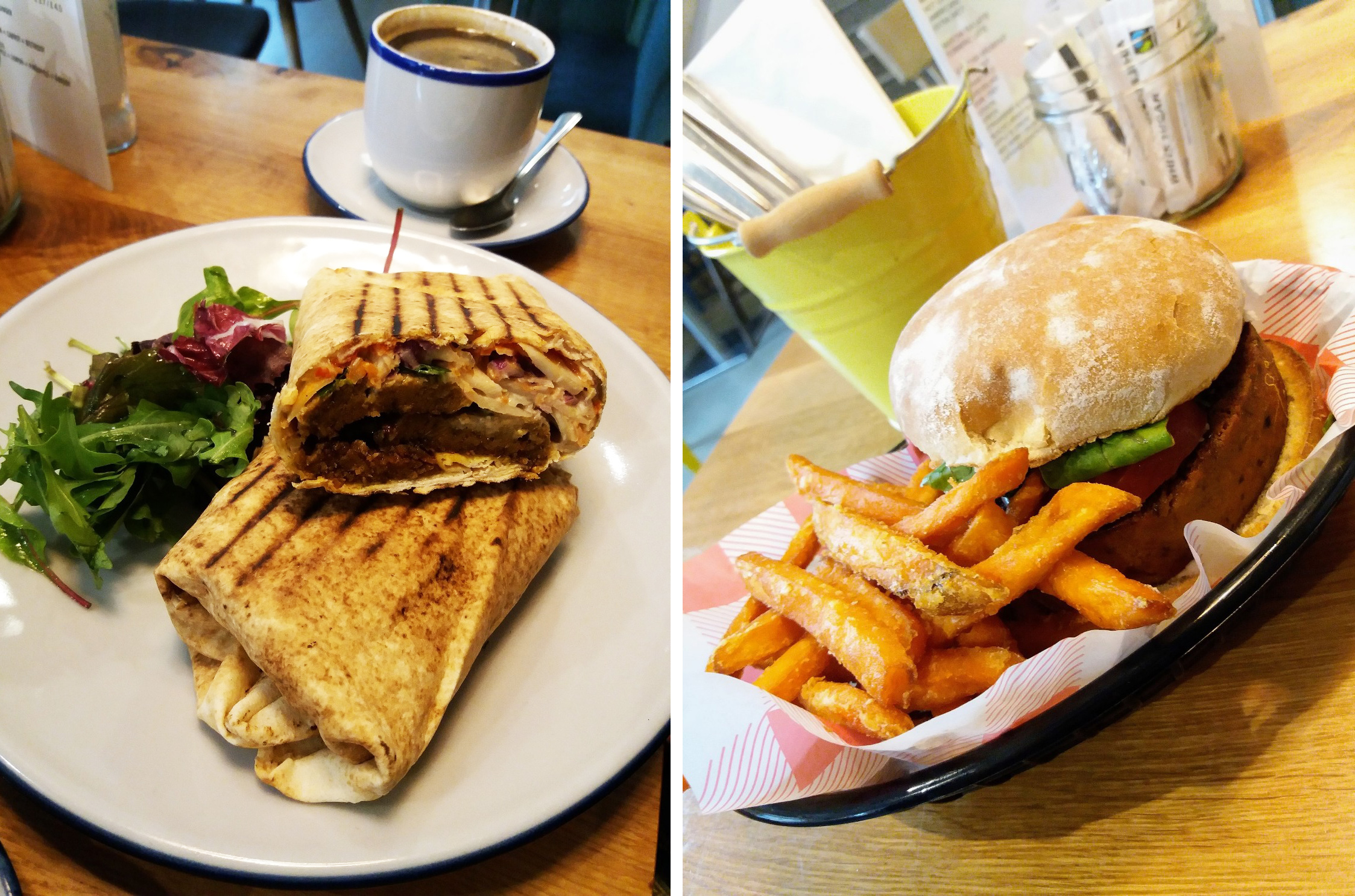 We were feeling peckish so chose the Vegan Doner Kebab and the Chorizo style burger, I think our eyes were definitely bigger than our bellies, these were generous portions, but both absolutely delicious and we went away with big smiles on our face and a straining waist band!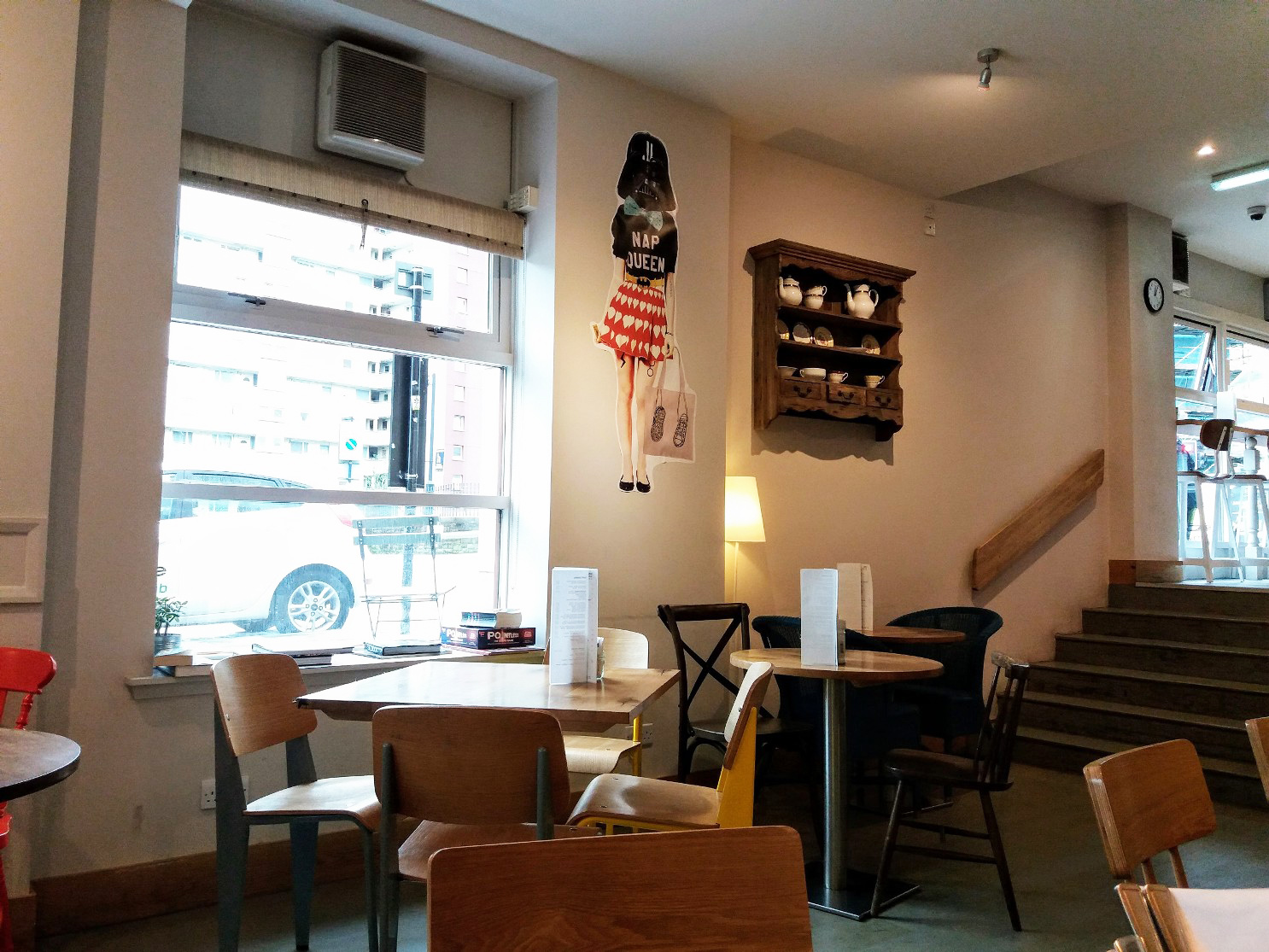 Again, a great selection of food including; St3ak sandwich, Philly dog, Pulled mushroom, Kofta, Haggis parcel, Nachos and a great choice of cakes for those looking for a sweet treat.
Leith Vegan Quarter Market – Dock Place (first Saturday of every month)
We were very fortunate to find Cool Jerk Pies stall at the vegan quarter of the market and suffice to say, we filled our boots with goodies. We had the Pulled BBQ Jackfruit pie, a couple of All Day Breakfast Pie and a Hamish's Haggis & Mash pie, you got 4 pies for a tenner and that was a lunch and a dinner taken care of. The BBQ Jackfruit was my favourite from the batch and I have to try and get back to try out the Macaro-nae-cheese Pie.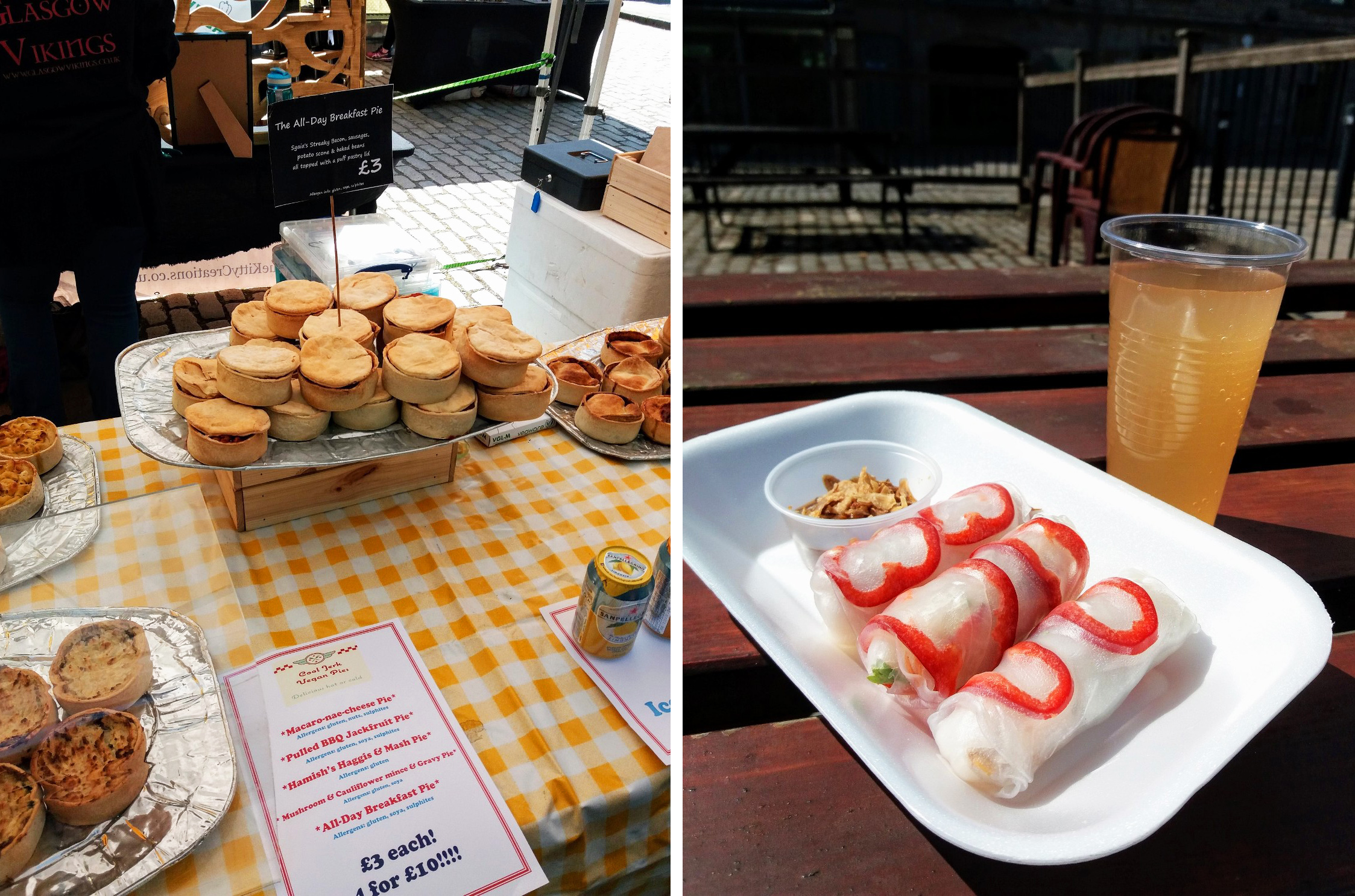 We also stopped at Tempehtation UK to try out the summer tempeh spring rolls and the ginger and galangal kombucha which was a taste sensation.
There were some other great stalls there that had sweet treats galore, which I'm saving for September.
Sugar Daddy's – 5 Rodney Street
If you love cake, and I do, you have to make sure to visit Sugar Daddy's.  Be aware though, they are closed on a Monday and Tuesday (I have learnt this lesson the hard way).
Not only do they have a wide selection of vegan cakes, but they are also all Gluten Free for you Celiacs out there. The selection varies and they come up with some very exciting combinations, most recently we had the Raspberry Cheesecake Cupcake and it tasted as awesome as it sounded.
They also have donuts on a regular basis, cookie sandwiches, Turkish Delight cupcakes, Chocolate Fudge cupcakes, Salted Caramel cupcakes, but really you have to go in and just see what fantastic options they have that week!
So all in all, there is a plethora of eateries out there and so many more I still haven't been to, so keep an eye out in September when I add a few more in!