After making the haggis and clapshot earlier this week, I just had to do it again and incorporate it into my haggis nachos, with some homemade guacamole and salsa, it turned out to be an epic treat that I will definitely have to make again.
I had to use extra black pepper as I had ran out of white and this worked perfectly well, I really should do a pantry stock check and top up my spice rack as I go through things pretty quick.
We ended up watching 'This is 40' and spent quite a nervous time trying to avoid the enormous spoilers for 'Lost'. I've never reached for the mute button so quickly in my life! So if like us you are only on season 3 then remember to have your wits about you when you watch this film!
Just ordered my photo lighting kit, so hoping that arrives in the next week or two and I can get it out in the kitchen and start snapping away, it would seem every time I want to take a pic in my kitchen a cloud passes over the sun and makes everything dreary and if I have my kitchen light on it makes everything look orangey!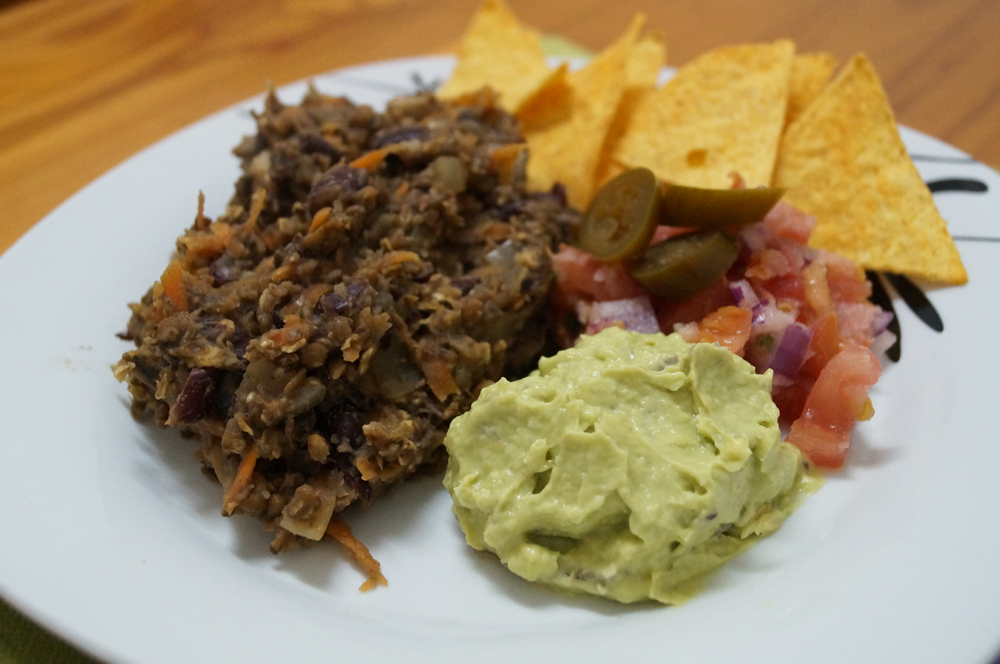 Haggis Nachos with Guacamole and Salsa
MyInspiration Feel The Difference Range
Serves 2 (quite a big meal)
For the Haggis
2 cups chopped button mushrooms
1 can brown lentils (or dry lentils soaked for 3 hours the cooked)
1 can kidney beans, chopped (or dry kidney beans soaked over-night then cooked)
1/4 cup of oats (toasted)
1 large carrot, grated
1 clove garlic, minced
1 white onion finely chopped
1 1/2 tbsp light soy sauce
1 heaped tsp of garam masala
1 tsp black pepper
Method
1. Heat 2 tbsp of water in a deep pan and then saute the onion, garlic and mushrooms for 3 minutes before sprinkling over the garam masala, black pepper and soy sauce, stirring to mix everything together. Using a stick blender, quickly pulse the mixture until it starts to break down, don't turn it to mush, you just want to get rid of big chunks of mushrooms and onion.
2. Add the lentils, chopped kidney beans and the carrot and stir through the mixture and allow to cook for 10 minutes, stirring occasionally to avoid tha haggis sticking.
3. Finally, add the toasted oats and mix this through
Guacamole
1 large ripe avocado
1/2 red onion finely chopped
1 clove of garlic, minced
Method
1. Cut the avocado in half and remove the stone, then using a spoon, scoop out the avocado meat and pop in a bowl along with the red onion and garlic, then use a hand blender to pulse the mixture until it's smooth.
Salsa
1 large tomato, diced
1/2 red onion, finely chopped
1 hot green chili, finely chopped
1/2 a lime squeezed
Method
1. Combine all the above ingredients together squeeze over the lime juice and stir through, I popped my hand blender in there to break it down more so it wasn't as chunky but that's up to you.
Serve all together along with your favourite vegan tortilla chips and some jalapeno peppers.