I was so impressed with my previous attempt at a cheesecake that I did it all over again and mixed up the flavours and also the ingredients for the base and it just keeps getting tastier and tastier!
I'm going to have to buy more packs of tofu when I'm out next week and already have this earmarked as a MUST MAKE dessert when I'm staying with my family this summer. The list is pretty much endless when it comes to cheesecakes, I'm giddy at the prospect of using some of the seasonal fruits in the UK over July and August, so you'll have to keep checking in to see what I come up with!
We got back from our wonderful trip to Italia last night!!! What a fantastic time we had there, the weather was scorching, Bologna idyllic, the people super friendly and to be honest, we could quite easily have just stayed there FOREVER!  I'll need to pop a separate post on with some photos including some from our trip to Venice!
Already looking at booking to go back, we loved it there so much.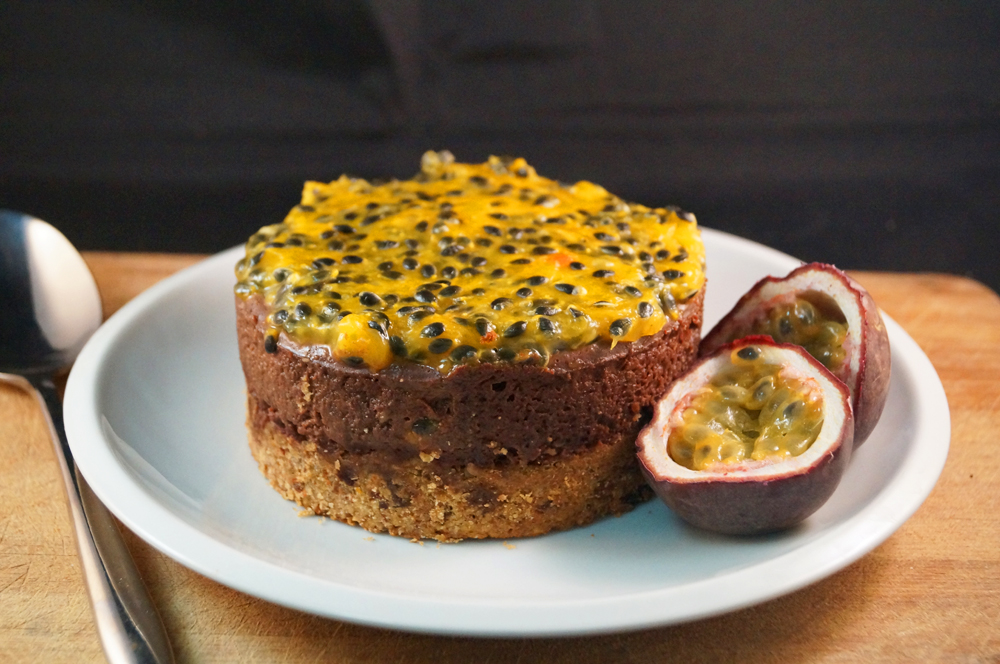 Vanilla Chocolate Cheesecake Topped with a Delicious Layer of Passion Fruit  (Vegan & Gluten Free)
MyInspiration Feel The Difference Range
Serves 4 – ready in under an hour
For the base
14 almonds
6 walnut halves
3 tbsp raisins
8 dates
1/2 cup oats
2 tbsp barley flour
2 tbsp non dairy milk (I used almond)
For the Vanilla Chocolate Tofu Layer
300g Firm Silken Tofu (I used Clearspring Organic Tofu)
2 tbsp Cocoa Powder
1 tbsp Cornstarch (check GF)
1 tsp Vanilla Extract
1/4 cup icing sugar
For the Passion Fruit Topping
5 passion fruits, halved with the pulp and juice scooped out into a bowl
1.5 tsp cornstarch
Method
1. Preheat oven to 180 degrees celcius (356 degrees Fahrenheit) and prepare a 5″ springform cake tin (I again just used my 5″ presentation ring on top of a lined baking tray exactly the same as the St Clements cheesecake).
2. Make the base by adding all the base ingredients into a food processor (or use a stick blender) and pulse until it thickens and starts to clump together. Pour into your prepared tin and use the back of a spoon to press it down, make sure it's well compacted and that there are no gaps anywhere. Bake in the oven for 10 minutes.
3. While the base is cooking, make the tofu layer. Add all the Vanilla Chocolate tofu layer ingredients into a food processor (or again use a stick blender) and pulse until lovely and smooth, taste here to see if you are happy or if you want to add a little more vanilla or cocoa it's up to you (I did eat more than a little bit of the filling, it's soooooo delicious). Pour the filling on top of your base and smooth it with a spoon to make sure it's level and bake in oven again for 35 minutes, remove and allow to cool for 15 minutes inside the cake tin/presentation ring.
4. While it's cooling you can make the topping – pour the passion fruit pulp and juice into a small sauce pan and gently heat before adding in the cornstarch, keep stirring here as it thickens really quickly, add a little water 1 tsp at a time if it's too thick for you, then very carefully spread this on top of the tofu layer, lift the presentation ring or remove from the spring form tin and serve!