I wanted to do something a little different with my cup cakes this time, so I thought about adding in a new texture and the dates were just staring at me from the cupboard shelf and reminded me of those lovely raw truffles I made a couple of months back and I thought… why not? I only added the frosting on at the last minute as my cupcakes are quite small and the truffle was sticking out a little bit at the top so I wanted to smooth the look out.
These will work just as well without the frosting, as Martin prefers his without (so double frosting for greedy me!). Just an additional note, these cakes aren't airy and fluffy, I wanted a slightly dense cake so everything keeps it shape and it's so lovely!
I think I might bake something else today too as I have some pineapple left over from last night's dinner (that recipe is still to come), so thinking of a cake or maybe some muffins, I'll see how I feel a bit later on.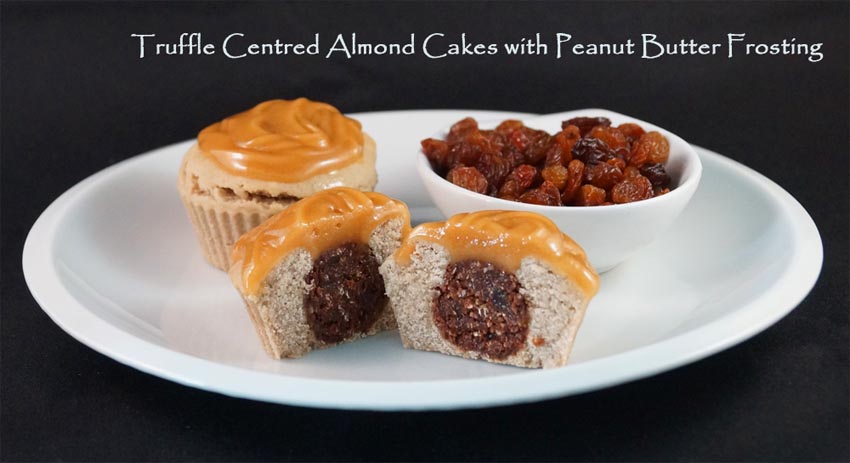 Truffle Centred Almond Cake with Peanut Butter Frosting (Vegan & Gluten Free)
MyInspiration Feel The Difference Range
Makes 6 cupcakes – ready in 40 minutes
For the cupcakes
1/2 cup Buckwheat Flour

1/4 tsp Baking Soda

1/2 tsp Baking Powder

1.5 tsp Almond Extract

2 tbsp Maple Syrup

3/4 cup dairy free milk (I used almond)

1 tsp apple cider vinegar
For the truffle centre
1/4 cup raisins

1 tbsp Oats

1 tbsp unsweetened shredded coconut

2 dates

1/2 tsp cinnamon

1 tbsp cocoa powder

1/2 tsp vanilla extract
For the frosting
2 tbsp peanut butter

1/2 tsp vanilla extract

1/2 tbsp maple syrup

3/4 cup vegan icing sugar

1 – or 2 tbsp water
Method
Preheat oven to 180 degrees celcius (356 degrees fahrenheit) and line a muffin tray with cupcake holders (I've just bought some great silicone cupcake moulds that are great and give the cupcakes a lovely shape).

Prepare the truffles by adding all the ingredients to a food processor and pulsing until it binds together, then using your hands roll the mixture into 6 small balls and set aside.

To make the cup cake batter, add the apple cider vinegar to the almond milk and stir together then mix through the maple syrup and almond extract. In a separate m

ixing bowl add the flour, baking soda & powder and then add the wet ingredients to the dry and fold through. Spoon the batter into your 6 cupcake holders (about 3/4 full) then gently place a truffle in the center of each and press down so it touches the bottom. Pop in the oven and bake for 20 – 25 minutes, remove from heat and allow to cool completely.

To make the frosting, cream together the peanut butter and icing sugar then beat through the maple syrup and vanilla and add water very slowly until you have a frosting consistency you are happy with. Pipe onto the top of your cupcakes and enjoy!