When I say Thai Food, what do you think? Fresh, flavoursome, lemongrass, curry… I love Thai inspired food, my first girls' holiday was to Phuket back in 2000, we stayed in Karon Bay and had 3 glorious weeks of seeing the sites and eating and drinking a lot. We ate fresh pineapple on the beach in Kata Bay, sesame cashew nuts straight from the factory line in Phuket and we had more than a few Mai Thai cocktails whilst playing Jenga in the local bars of Patong. In fact, it was on our first night out in Thailand that I tried Lychees, first impressions were, they looked weird but tasted delicious.
It was an amazing time, the things we saw and did were wonderful; snorkeling on Coral Island, watching the sun set with crowds of locals and tourists alike at Promthep Cape, touring the temples of Phuket, seeing a 15m reclining Bhudda, being blessed by a Buddhist monk in Suwan Kuha Temple, speed boat rides, Phang Nga, the list is endless, we packed a lot into that holiday.
This is strangely making me want to go back for another holiday, I think I might have to just venture to a Thai restaurant in Edinburgh while I'm back there next week!
ลาก่อน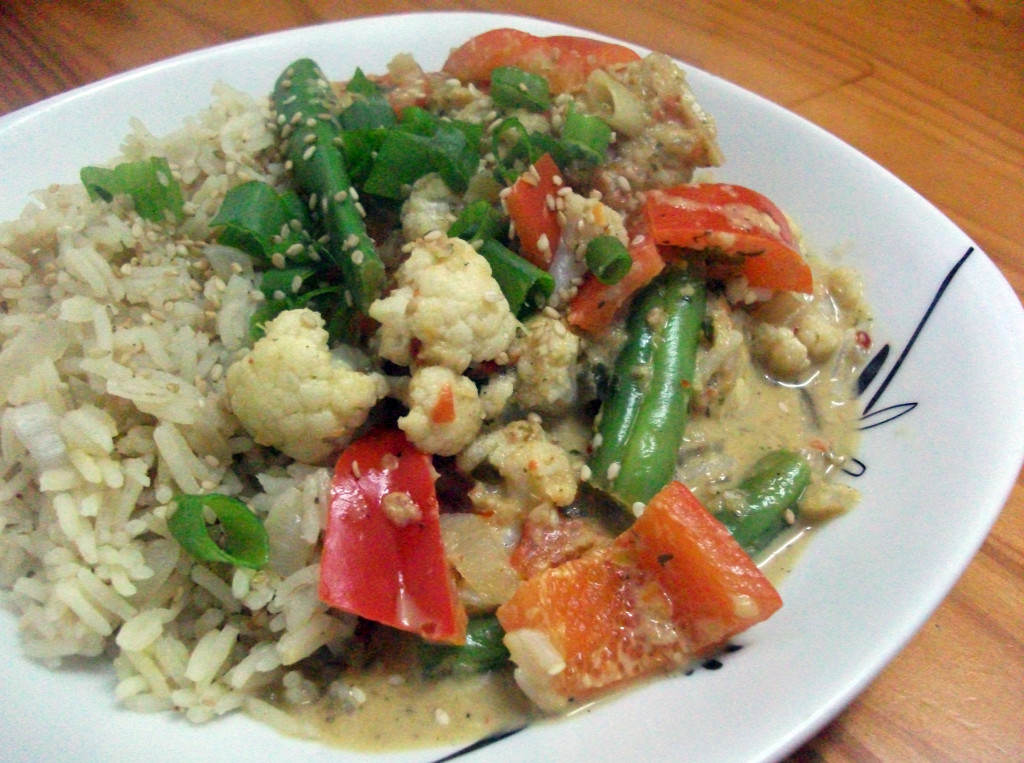 Thai Cauliflower & Red Pepper Curry with Fragrant Basmati Rice
MyInspiration Feel The Difference Range
Serves 2 (ready in 30 – 40 minutes)
For the Curry
1 onion finely chopped
2 garlic cloves minced
The juice of 1 Lime
3 cups Cauliflower florets
Handful of Green Beans
1 red pepper chopped
Can of Coconut milk
Thai curry paste (see below)
Coriander
1 tsp red chili flakes
Sesame Seeds
Spring Onions finely chopped
Method
1. Heat a large frying pan or wok then add in the onion and garlic along with a tablespoon of water and allow to sauté for 4 minutes.
2. Add the curry paste (below) and the cream from the top of the coconut milk and cook for 3 minutes before adding the remaining coconut milk, cauliflower, green beans, red pepper, chili flakes and the lime juice and stir together and cook for 6-8 minutes until cauliflower is cooked.
3. Lastly stir through the coriander and serve with the rice, topped off with the chopped spring onions and sesame seeds.
Thai Curry Paste
3 red chillies
½ onion
½ red pepper
Lime
Coriander
Ginger
2 garlic cloves
Pepper
1 tsp Ground coriander
1 tsp chili flakes
½ tbsp soy sauce
Method
Add everything to a food processor (or use a stick blender like me) blitz until smooth.
For the rice
1 cup basmati rice
2 cups veg stock
2 bay leaves
½ onion
Pinch cloves
1 cinnamon stick
Pinch saffron
Method
1. Sauté the onion in a small pan with 1 tbsp water, then add in the rice, cloves, cinnamon, saffron and bay leaves and stir together to coat the rice, then add in the stock and give it a quick stir, turn the heat right down low, cover and allow to cook for 15-20 minutes.