I was inspired by a recipe I saw that added grated cauliflower to their veggie burgers and thought that I would give it a go, I've never used it in any of my burger recipes and I do like to mix it up every now and again. You could always use broccoli instead if you preferred, or both, up to you! Made these on Friday night and now I'm looking forward to the left overs for lunch today as they've kept perfectly in a Tupperware box in the fridge so don't be frightened to make bigger batches.
Going to make some homemade pizza tonight, so will start my dough this afternoon I think, so I'm not rushing around, also need to make my cheesecake and I STILL haven't decided on the flavour yet…. it'll come to me, I'm going to go have a look around the fruit market and see what catches my eye! Ideally I'd love some fresh berries but we just don't get them here, might also see if there are some figs to make some of my fig & oat squares again as I did love them, great for a morning snack after the gym!
Thinking of clearing out my mp3 play list and starting again, I'm finding I'm skipping far too many songs for my liking, so may need to freshen it up. No doubt I'll get rid of lots of songs that I decide in a weeks time I miss, then need to find them again! I'm so fickle with my music!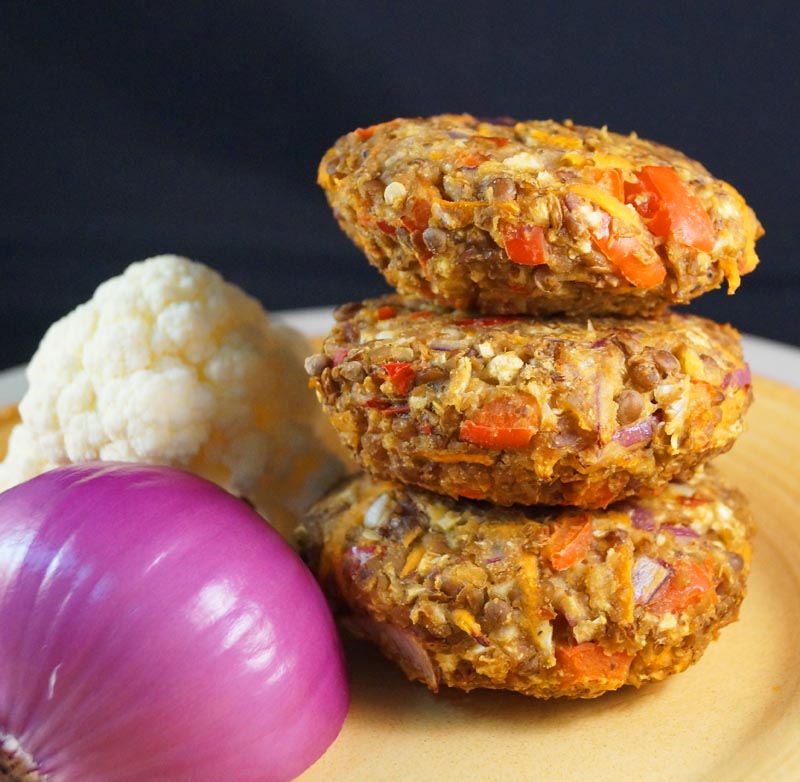 Super Veggie Burgers with Mango & Tahini Slaw (vegan & gluten free)
MyInspiration Feel The Difference Range
Makes 8 burgers – ready in 40 minutes
For the burgers
1 can brown lentils drained and rinsed

1 medium red pepper finely diced

1/2 red onion finely diced

1/2 a head of cauliflower, grated (roughly 1 and a quarter cups)

2 cloves garlic finely chopped

1 hot red chili finely chopped

1 tbsp finely chopped ginger

2 carrots grated

2 tsp dried chili flakes

1.5 tsp cumin

Black pepper to season

1/2 cup gram flour (chickpea flour)

1 tbs ground flax seed (linseed) mixed with 3 tbsp water
For the  Coleslaw
1/2 fresh mango, peeled and diced

1 large carrot grated

1/2 red onion finely diced

Small handful of coriander (cilantro)

1 tbsp tahini

1.5 tbsps cold water

1/2 tsp wholegrain mustard
Method
Preheat oven to 180 degrees celcius (356 degrees fahrenheit) and line 2 baking trays.

In a small bowl combine the flax with the water and set aside.

In a large mixing bowl, add all the burger ingredients apart from the gram flour and flax mixture and toss this all together to get the spices mixed through, now add the flax mixture (from step 2) along with a further 1/2 cup cold water and mix this together until fully combined before adding in the gram flour and folding this through the mixture. If you feel the mixture is too wet to handle add a further 2 tbsp of gram flour and stir through.

Using your hands grab small handfuls of the mixture and press into a patty shape in the palm of your hand, making sure they are nice and compact, then place on the baking tray and pop in the oven for 15 minutes, flip them over and bake for a further 7 minutes, they should feel quite firm to the touch when ready.

While the burgers are in the oven you can prepare the coleslaw by adding the mango, red onion, carrot and coriander to a small mixing bowl, in a little cup mix together the tahini, water and mustard to make the dressing and pour this over the top and mix thoroughly together, add a twist of black pepper and you're done.
Inspiration from Vegan Richa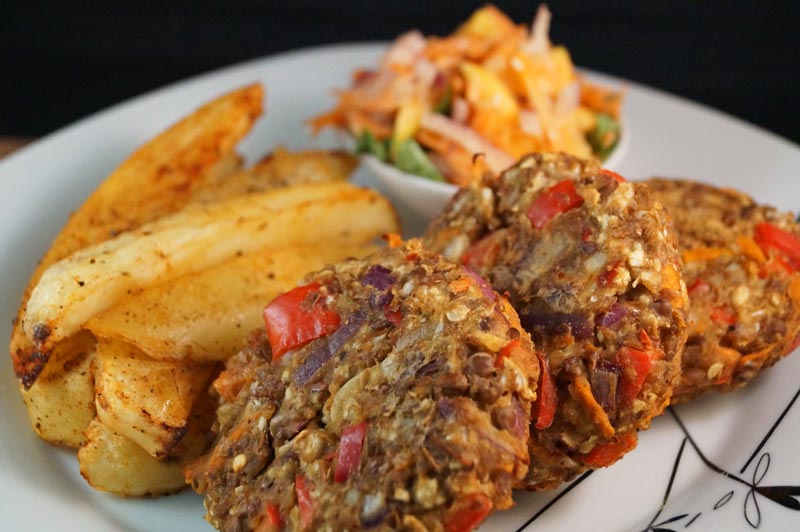 Approximate Nutrition per burger: Calories 82 – Carbs 14g – Fat 1g – Protein 5g