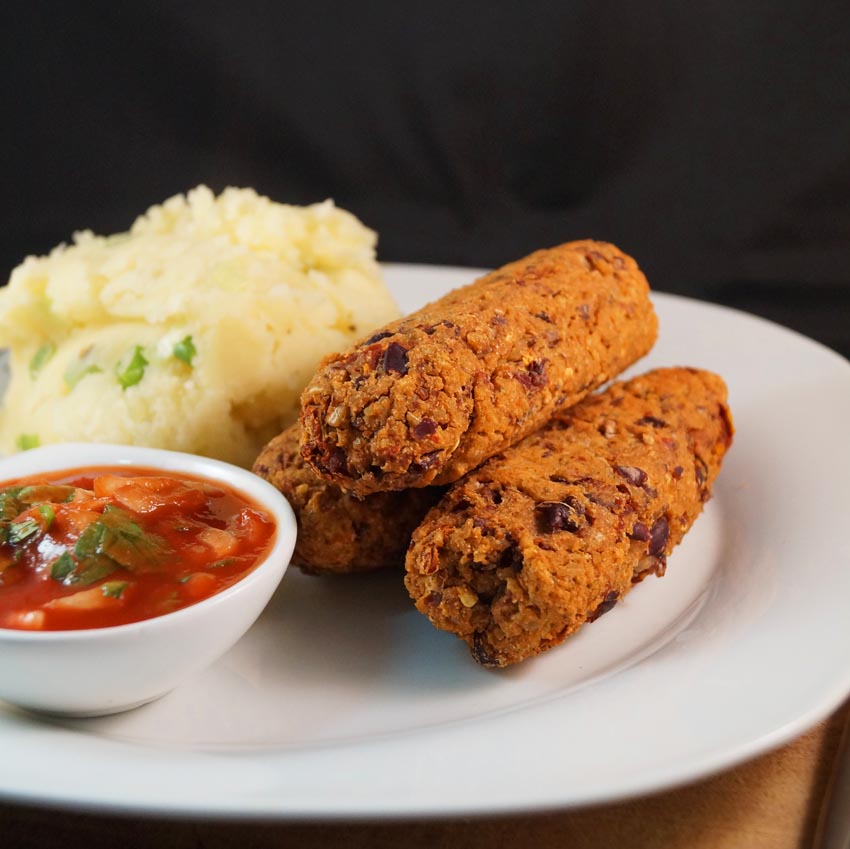 I've had to take matters into my own hands! I can not for love nor money buy Linda McCartney sausages, the UK freezer shops used to stock them but they've liquidated and now we're left with no sausages! There is a light at the end of the tunnel though as it would seem someone else is looking to stock them but not until December, where I may have to buy a huge freezer, camp outside the shop and buy every pack they have! Greedy I know, but I do like those sausages.
So, to taking matter into my own hands, I had a go yesterday at making my own sausages. They turned out pretty well, not perfect I might say, but they were tasty and I will be making them again. The flavour was just right, it's the consistency that I'll need to work on as these were quite dense (just to warn you!), I think I might have another go next week and use a little less flour, maybe go for just over 1/2 a cup (but I'll need to test this as I don't want the sausages to fall apart!). But that's not to say that you can't have a go at this recipe, any left overs will be fantastic chopped up and used in pasta or as a pizza topping.
I'm currently reading a book by Dean Bakopoulos called Please don't come back from the Moon, it's not my usual genre of book, but it's a great read, well written and I'm really enjoying it. I'm going to order Naoki Higashida's The Reason I Jump as it was featured on The Daily Show by Jon Stewart and he was raving about it, so it's gone on my to read list.
Spicy Veggie Sausages with Spring Onion Mash and Tangy Tomato and Onion Salsa (vegan & gluten free)
MyInspiration Feel The Difference Range
Makes 6 Sausages (big ones) ready in 45 minutes
For the sausages
1/2 onion finely sliced
3 cloves garlic finely sliced
2 hot green chilis
½ tbsp dried red chili flakes
6 sun dried tomatoes, roughly chopped
1 tbsp Tomato paste
1 tbsp red wine vinegar
Juice 1/2 lime
1 tsp oregano
1 tsp ground coriander
1 tsp paprika
1 tsp cumin
1/2 tsp chili powder
½ tsp cayenne pepper
Black pepper to taste
2 cups kidney Bean (1 can) mashed
1 cup Gram flour (chickpea flour)
1/4 cup bulgur wheat cooked – (for GF use Quinoa or Millet)
1/2 tbsp flax with 1.5 tbsp water (egg replacer)
Method
Preheat oven to 180 degrees celcius (356 degrees Fahrenheit) and line a baking tray with parchment.
Start off by cooking your bulgur wheat by adding 1/2 cup bulgur to a small sauce pan, add 1 cup of water and bring to the boil, stirring occasionally, cook for 4 minutes then turn off the heat and set aside.
Add 2 tbsp water to a large sauté pan over a medium heat and add the onion, garlic, chopped chili and sun dried tomatoes and cook for 2 minutes before adding in the tomato paste, chili flakes, oregano, coriander, paprika, cumon, chili powder, cayenne and black pepper, stir this all together, cook for 2 minutes then transfer this to a food processor (or use a stick blender like me) and pulse until the mixture forms into a paste. Now stir through the vinegar and lime juice and set aside.
In a large sauce pan, combine the mashed kidney beans, gram flour and bulgur wheat, add the paste from step 3, then add the flax mixture and stir this all together until completely combined. Now dampen your hands and grab a decent handful of the mixture (roughly 3 tbsp worth) and firstly shape into a ball, then roll it between your palms until it's in a sausage shape you are happy with, place on the baking tray and repeat with the rest of the mixture, I got 6 and a bit sausages from my mixture, you can make yours smaller if you like.
Pop in the oven and cook for 20 – 25 minutes turning half way.
Spring Onion Mash
3 white potatoes, peeled, chopped and boiled for 12 minutes
2 spring onions (scallions) finely chopped
1 tbsp vegan margarine
Black pepper to season
Method
Once you have boiled your potatoes for 12 minutes, drain and mash them, then add in the margarine, spring onions and black pepper and using a spoon stir this all together to form your mash. Make sure to get rid of any big lumps.
Tomato & Onion Salsa
½ cup passatta (pureed tomatoes)
¼ white onion finely chopped
1 green chili finely chopped
Small handful of coriander chopped
Squeeze of lime juice
Method
Gently heat the passatta in a sauce pan over a low heat, and stir through the remaining ingredients, you don't want this piping hot, just warmed through. Serve on the side of your sausage and mash.