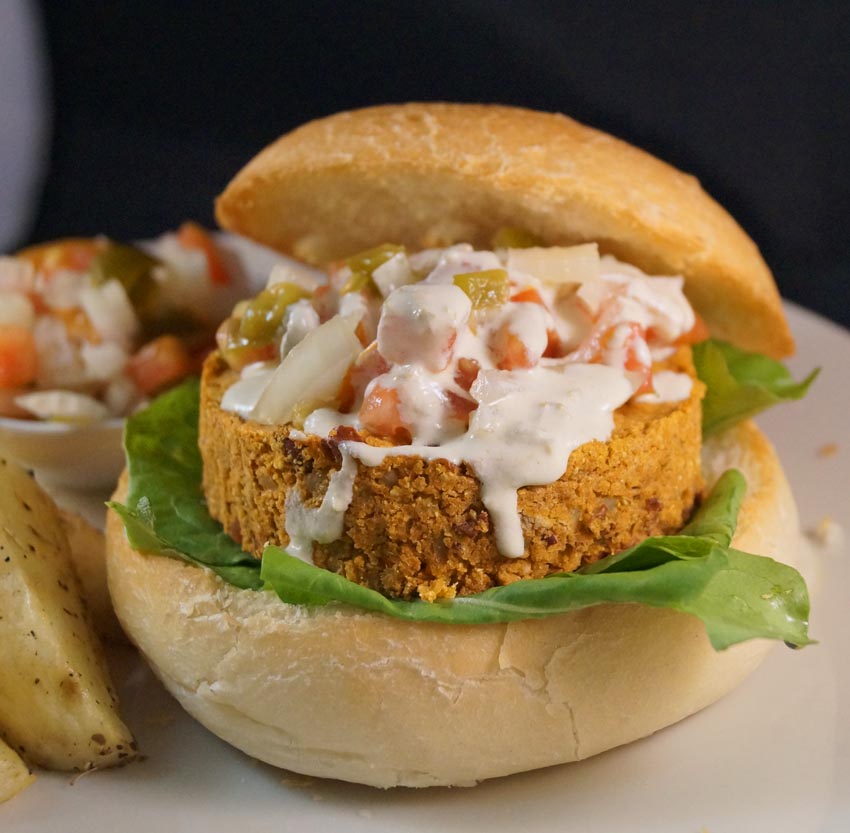 I'm not sure which part of this dish I liked the best, the burgers were big, tasty and spicy, the wedges crispy on the outside and fluffy on the inside and the sauce, oh the sauce was just to die for. I'm not even sure what made me mix jalapenos through the tahini but it just felt like something I had to do, so I did and I'm glad I tried it as it's fabulous. The reason I know it's good is Martin didn't even touch the bottle of Encona or Nando's sauce that was on the table and those are his usual burger accompaniments!
When I put the burger mixture together I did worry a little that they would dry out and fall apart once baked and I was sorely tempted to add some flax mixture or a little stock to moisten it, but I threw caution to the wind and just went with it, what's really the worst that can happen? It's still going to be edible even if it's falling apart. But I didn't have to worry, they kept their shape perfectly well and didn't dry out or fall apart, so I'm glad I stuck to my initial idea.
Looking forward to lunch today as I had 2 burgers left over from last night, so we're going to have them with some baked beans with button mushrooms and black olives, I'm so very hungry now! Ooh, also, going to have a go at a Tropical Fruit Cheesecake this afternoon, I bought some beautiful fresh papaya and star fruits yesterday so can't wait to use them, hope some of it makes it into the cheesecake and I don't just eat it all while I'm slicing it up!
Spicy Veggie Quarter Pounder with Pico de Gallo, Jalapeno Tahini Sauce and Herb Potato Wedges (vegan & gluten free)
MyInspiration Feel The Difference Range
Makes 6 burgers – Everything ready in roughly 45 minutes
For the burgers
½ cup polenta
1 cup mashed potato
1 can borlotti beans (2 cups worth)
½ onion finely chopped
½ tbsp dried chili flakes
3 cloves garlic finely chopped
1 tbsp tomato puree
1 tsp cumin
2 tsp smoked paprika
Small pinch cinnamon
½ tbsp oregano
½ tbsp apple cider vinegar
For the Pico de Gallo
½ white onion finely chopped
1 large tomato finely chopped
1 tbsp chopped jalapeno peppers
Squeeze of Lime juice
For the Jalapeno & Tahini Sauce
2 tbsp Tahini
1 – 2 tbsp chopped jalapeno peppers
2 tbsp water
Black pepper to season
For the Wedges
2 large potatoes peeled and cut into wedges
½ tbsp olive oil
1 tbsp dried thyme
½ tbsp dried rosemary
Black pepper to season
Additional
2 burger buns (for gluten free make sure GF buns)
Mixed leaves
Method
Preheat oven to 180 degrees celcius (356 degrees fahrenheit).
Make the mashed potatoes for the burgers and prepare the potato wedges – Wedges: Add the chopped potato into a pan of boiling water and cook for 4 minutes, drain and drizzle over the olive oil, transfer to a large baking tray then sprinkle over the thyme, rosemary and pepper and give it a good shake together and pop in the oven for 35 minutes, turning occasionally. For the mash, just add a large chopped potato into a pan of boiling water and cook for 8 – 10 minutes, drain and mash.
For the burgers – Add 2 tbsp water to a small sauce pan over a medium heat and add the onion, and garlic and cook for 2 minutes then add in the apple cider vinegar, tomato paste, cumin, chili flakes, paprika, cinnamon and oregano and cook for a further 2 minutes. Take a stick blender and blitz this mixture until it's a nice smooth-ish paste and set aside.
In a large mixing bowl mash the borlotti beans until all broken down, then mix through the mashed potato, the paste from step 3 and the polenta, really give this a good mix so that everything is well blended. Now line a large baking tray with parchment and take a serving ring or cookie cutter (around 3.5 inches across) and pack the mixture into the ring (on the parchment) until it's almost an inch high. Repeat with the remaining mixture (I got 6 burgers) pop in the oven for 20 – 25 minutes until cooked through, you don't have to flip these over as they cook all the way through.
Now make the Pico de Gallo – Simple really, just add all the ingredients into a bowl and mix together.
For the Jalapeno Tahini sauce, just add the tahini and jalapenos to a bowl, get a stick blender and pulse until smooth (or pop in your food processor, whichever is easiest for you), give it a little taste here and decide if you want add more jalapenos and blitz again, when you're happy with the taste, add the water and black pepper and stir through.
To serve – I toasted the burger buns, then layered on some mixed leaves, popped one of the burgers on and then topped with a little Pico de Gallo and Jalapeno Tahini sauce and served the wedges and remaining Pico de Gallo on the side. The rest of the sauce went in a bowl to add when needed.