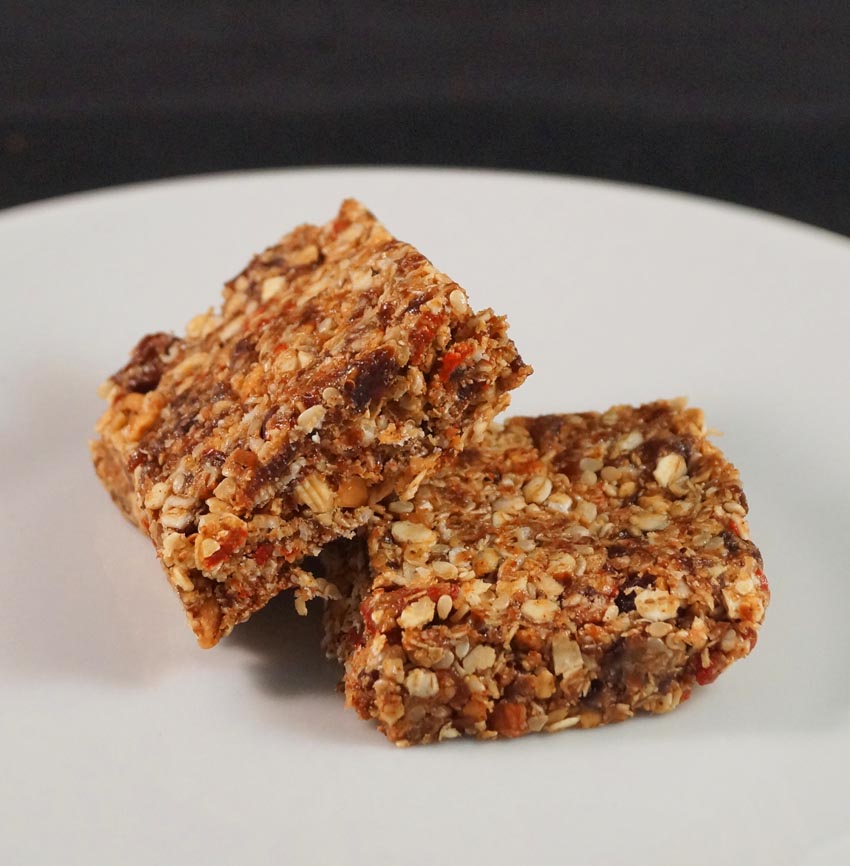 This is a super short and sweet recipe to give you a little something to nibble on if you get an afternoon snack attack. I literally flung in what I had in my cupboard and with the added bonus of the almond butter (which I am loving) that I bought at Holland and Barrett last week, I was no doubt onto a winner!
Do not despair if you haven't got all the same ingredients, you can easily use peanut butter, cashew nut butter or any nut butter really and swap the goji berries for some raisins or cranberries and if you are feeling exceptionally decadent, you could mix through some dark chocolate chips, but I leave that up to you!
Started a great class last night at the gym, our instructor is a Judo champion and she has started up boxing style classes which in theory I love but my biggest problem is that I can't seem to stop grinning while we practice the different combinations. I don't know if it's a nervous thing or perhaps it's my attempt at unnerving my possible opponent with a crazed manic look, who knows, but I just can't seem to stop it! It is however a lot of fun and I like classes where I can get exercise and have a bit of a giggle while learning something new!
No Bake Goji Energy Bars (vegan & gluten free)
MyInspiration Feel The Difference Range
Makes 6 bars
3 tbsp Almond butter

½ cup sultanas

2 tbsp maple syrup

¾ cup oats

3 tbsp shredded coconut

2 tsp sesame seeds

3 tbsp goji berries
Method
Using a stick blender pulse together the almond butter, maple syrup and sultanas until a nice thick paste has formed, then mix through the remaining ingredients, press into a freezerproof dish (make sure it's well compacted) pop in the freezer for an hour or 2 and then cut into 6 squares.
* I just leave it in the freezer and take out a bar when I want one (which is all the time!)
Just arranging a lunch out with a friend of mine tomorrow, I did think we were going to Wagamama's as I know I can get something to eat there, but we're off to another restaurant where I've emailed them to check there will be something I can eat as there is no vegan options.  They've assured me they will whip up something lovely for me, so now I'm looking forward to it without any faffing about while I try and order tomorrow. I can sit back and enjoy an afternoon with lots of sunshine, good food, good company and perhaps a little drink or two, yipee!
Seriously, my belly is now rumbling with all this talk of food and Martin is currently in the kitchen trying out something new for lunch which smells awesome! Feed me now!