Now, I've been to Rome once before, 10 years ago and although the landmarks have remained the same the amount of tourists milling about the place hasn't! So when we got to Rome (about 5pm) we decided to have a relaxing evening and set out early in the morning. Armed with our map and kitted out in trainers (very important if you've planning a day of sight seeing) we left the apartment at 6.30am, jumped on the Metro and 5 minutes later we were walking down Viale Manzoni and onto Via Labicana heading towards the Colosseum.
Apart from a few early morning joggers the traffic was light and there wasn't another tourist in sight.  We took a load of photos around the Colosseum and the Arch of Constantine with no one else in them and the lighting at that time of morning was spectacular and gave a dramatic effect to our pics.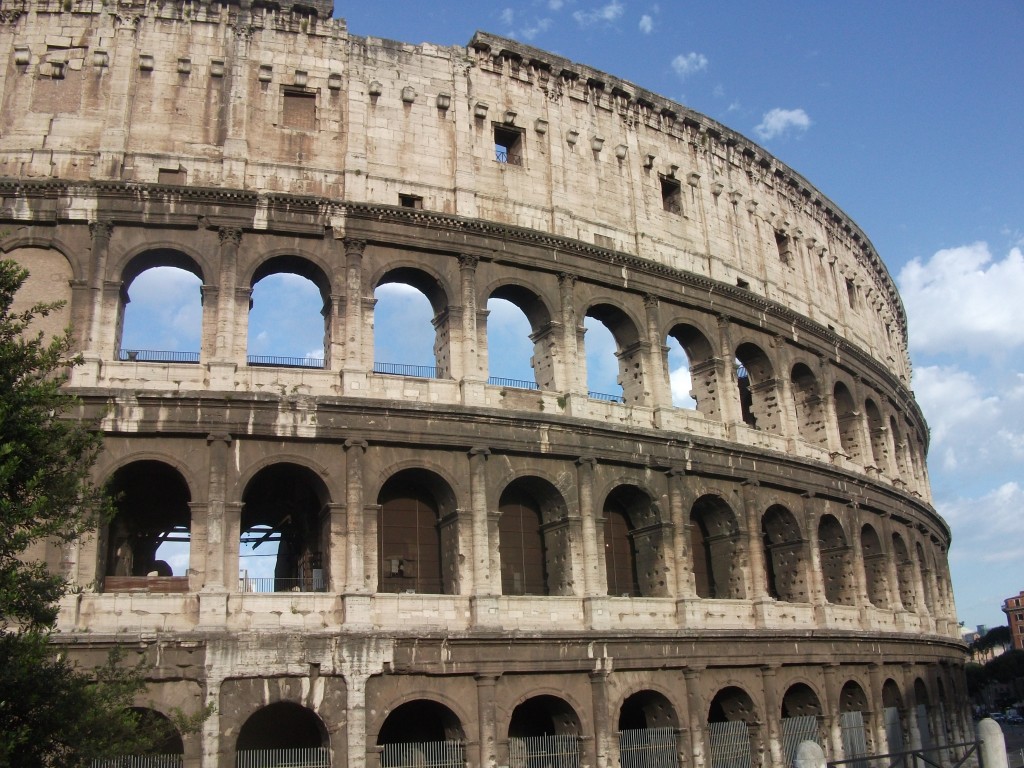 We then strolled down Via dei Fori Imperiali to see the Monument of Victor Emmanuel, this is a seriously impressive building, it's sheer size never seems to be captured properly in our photos, but you can't help but stand and stare at the magnificent feat of architecture.
It was still very early morning so the gates were closed but you can still get some great photos and then go back later when it's open to go up to the balcony area and get some beautiful views over the Colosseum and the rest of Rome.
There's also a lovely cafe/bar upstairs (head towards the elevator, it's just passed this) where you can grab a coffee or a drink and some snacks.  If you are wondering what the fabulous orange drink everyone seems to be having (like me!) it's an Aperol Spritz and it's delicious! It's made up of Aperol, Prosecco, soda water and a slice of orange and it'll set you back 7.50 euros and a beer was 5 euros but it's worth it, you get a lovely big bowl of olives and mini sandwiches along with it and a view you can't put a price on.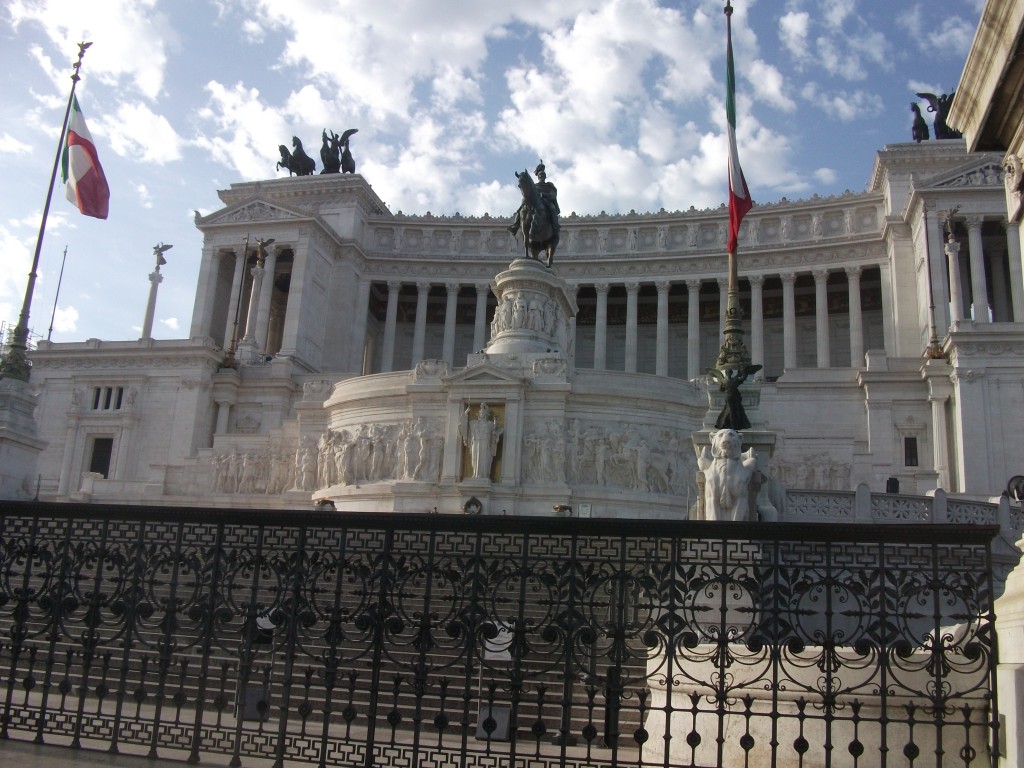 Leaving behind the monument we trekked down Via Del Corso and on towards the Fontana Di Trevi, again the last time I'd been here it was chock full of tourists and you couldn't get a good shot of the fountains (I ended up buying a post card) but when you get there early, it's just incredibly peaceful and beautiful and well worth getting out of bed early, then it was a short walk to the Spanish Steps which were deserted – perfect!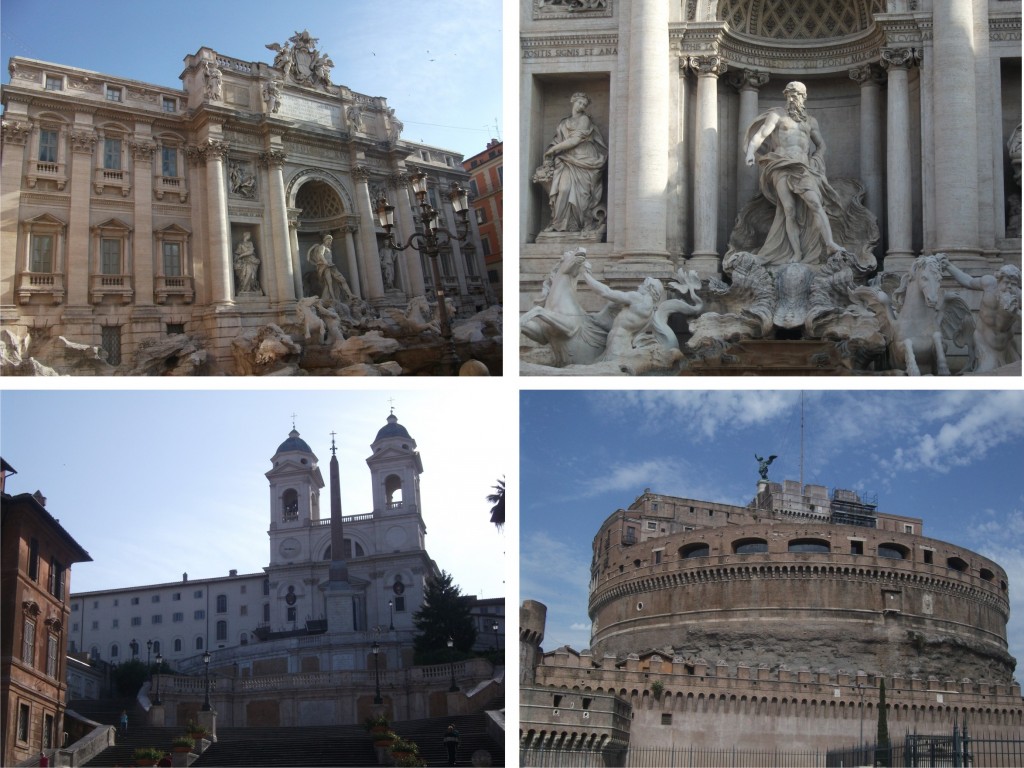 From the top of the Spanish Steps we turned left and headed up towards Pincian Hill and took a stroll through the beautiful gardens, we ended up coming out at Piazzale Flamino and from there it was a short walk to cross the river at Ponte Regina Margherita, then take a left and walk along the riverside towards Castel Sant'Angelo.
There is a market place just outside that was just setting up as we walked past, they sell all the usual tourist products and there's quite a few little vans where you can buy ice creams or water etc.  The price varied wildly in Rome for a bottle of water from 5o cents to 2 euros! The closer you are to a tourist landmark the more expensive it will be.
Don't forget when you're viewing the Castel Sant'Angelo (especially if you came the route we did) that the bridge leading to it (Ponte Sant'Angelo) is equally as impressive with imposing statues  leading the way. (I love statues by the way!)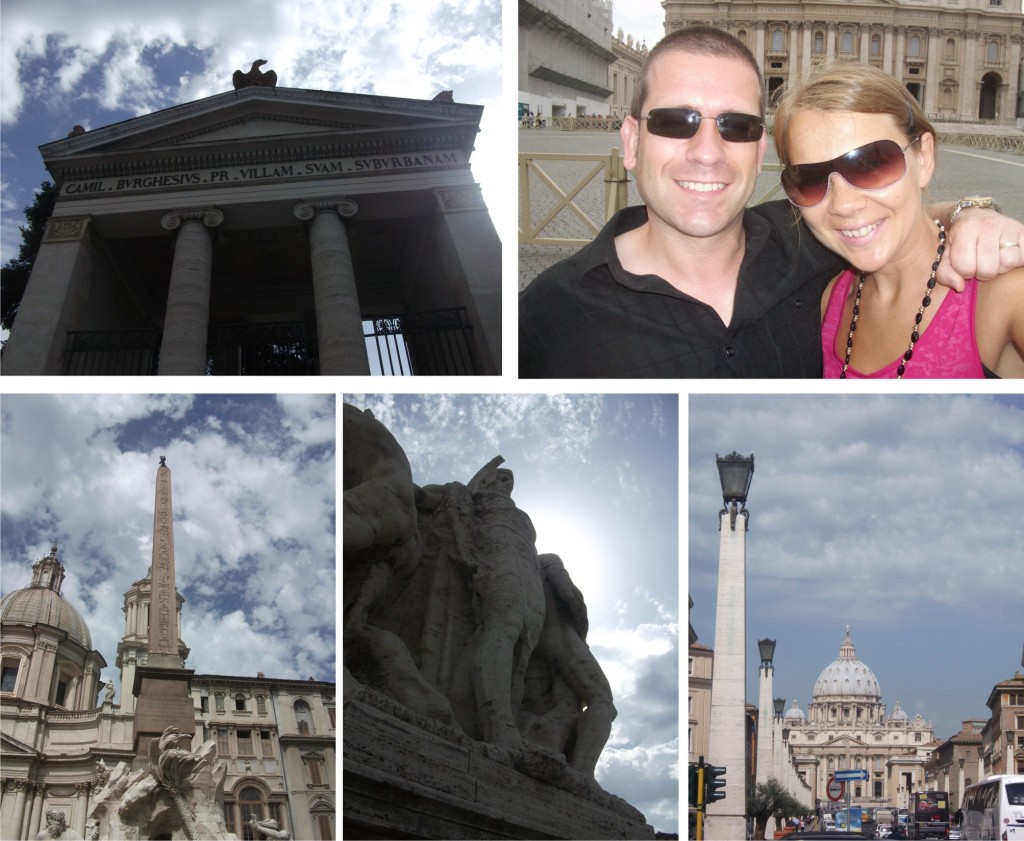 When you stand outside the Castel Sant'Angelo you get a lovely view of Via Della Conciliazone leading to the Vatican and St Peter's Basilica, again almost deserted early in the morning, so a great time to get a few snaps in, once the tourist buses arrive you can barely see a thing.
We were pretty spent after our walking tour so decided to head back home for a siesta via Piazza Navona but by the time we got there it was crazy busy with street cafes, stalls and artists lining the length of the square, still quite nice if you want to grab a coffee and people watch for a while.
We left our visit to the Vatican until the day after and I do recommend you get there early as the queues were VERY long, it's probably best to get your ticket on line and print if off rather than waiting in line to get it.
Bottom line, for the best photos, get up early and beat the crowds, you can always return later in the day if you want to go into these places, Colosseum, Victor Emmanuel Monument etc.
We managed to walk around all the tourist landmarks (and a few off the beaten track) in around 5 hours comfortably, so don't feel you need to jump on the hop on hop off bus to see things, everything is much closer together than you would think.