This dish, I shan't lie, is divine… the flavour you get from the tapenade is incredible, it's deep and rich and moreish. I'm still gushing about it now,15 hours later, it was that good.
The dish itself is fast and easy and would suit everyone (well those who like olives I suppose) you might want to reduce the portion size a little and serve with some crusty toasted bread rubbed with garlic, or even save some of the tapenade to put on the toast, up to you. We just went with a good sized pasta portion with the tapenade stirred through, plus a spoonful on top to keep my cherry tomatoes in place. I'm actually getting hungry just typing this out…
It was another victory last night for the mighty Newcastle United, with Papiss Cissé scoring the winning goal seconds before the final whistle, if you haven't already guessed, I am a big Newcastle United fan! So that's us through to the quarter finals of the UEFA Europa League. WooHoo!!! It was smiles all round last night, so glad it didn't go to extra time and penalties, I needed to get up early this morning for bootcamp!!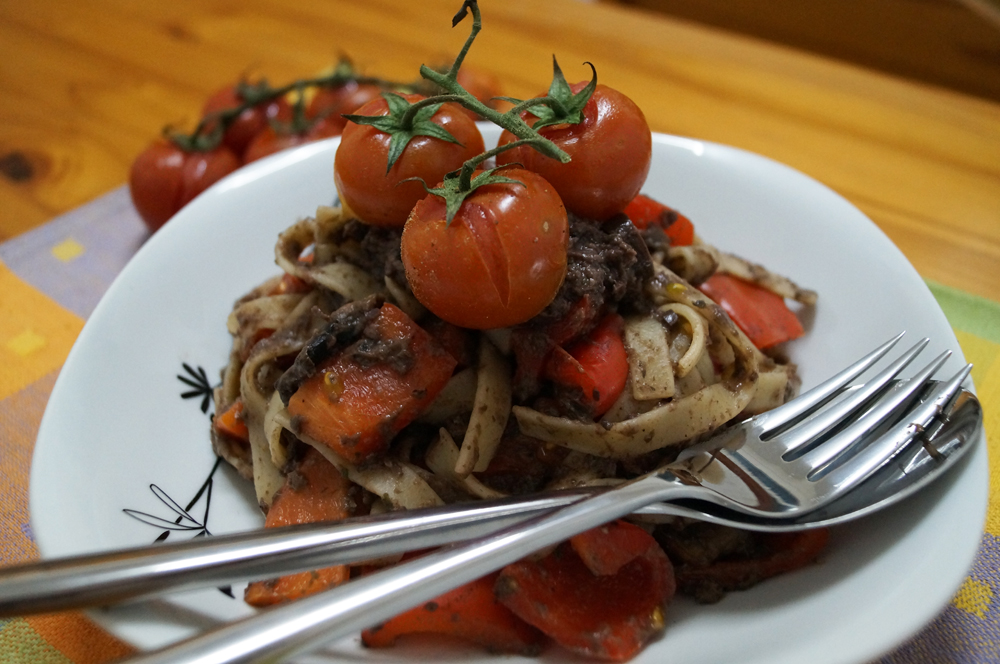 Roasted Red Pepper & Cherry Tomato Tagliatelle with Mushroom & Olive Tapenade
MyInspiration Feel The Difference Range
Serves 2 – ready in half an hour
2 large red bell peppers chopped
8 cherry tomatoes (preferably still on the vine)
1 clove garlic, finely sliced
Black pepper
250g tagliatelle pasta
Method
1. Prepare the pasta by adding the tagliatelle to a pan of boiling water and cooking for 12 – 15 minutes until al dente.
2. In the meantime, turn the grill on to medium high (180 degrees celsius on my oven) and place the chopped peppers and the cherry tomatoes on to a baking tray, sprinkle over the garlic and black pepper and pop under the frill for 10 minutes, checking to make sure that nothing burns. Remove from heat and set aside and make the tapenade – below.
Mushroom & Olive Tapenade
3/4 cup pitted and sliced black olives
3 button mushrooms chopped
1 clove garlic finely chopped
1 tsp dried parsley
1/2 tsp tarragon
1/2 tbsp lemon juice
6 almonds chopped
Method
1. Place everything into a food processor (or use a stick blender) and pulse until the mixture is smooth
2. Once the pasta has been drained, pop it back into the pan, add 3/4 of the tapenade, the roasted red peppers, add some black pepper and stir everything together, scoop into a bowl, and top the dish with a spoonful of the tapenade and place the cherry tomatoes on top, serve and enjoy!
This whole dish is around 460 calories per serving (and it's a good sized serving!) – the majority of the calories are from the pasta.