These super tasty fudge bites are packed with goodies and taste, oh I don't know how to describe them, delicious, fabulous, moreish! I made these while I was waiting on my cupcakes to bake in the oven, so they take practically no time at all to make and you just pop them in the freezer and take them out whenever you want one, just give it a couple of minutes to soften slightly. When I tried one, I did think that you could take it a step further, freeze it in a rectangular block, cut into bars and then coat in chocolate and pop back in the freezer, that would make a great candy bar. But they are truly scrumptious served like this without the additional chocolate and they are just a nice size for after dinner!
I coated mine in sesame seeds, but you can choose anything, including shredded coconut, cocoa powder, cinnamon, crushed almonds etc whatever you like sound of!
Popping out for lunch today as it's the in-laws last day today :(, it's been great having them here and being able to cook some of treats for them, they also liked my White Bean Cannelloni and the Mushroom Bourguignon Pie, so a success all round! We spent last night at a local Bar/Restaurant that has a fantastic roof garden and we watched the sunset while enjoying a lovely cool drink and just let the day unwind, so peaceful and the sunset was beautiful too (I might do another post with some pics!).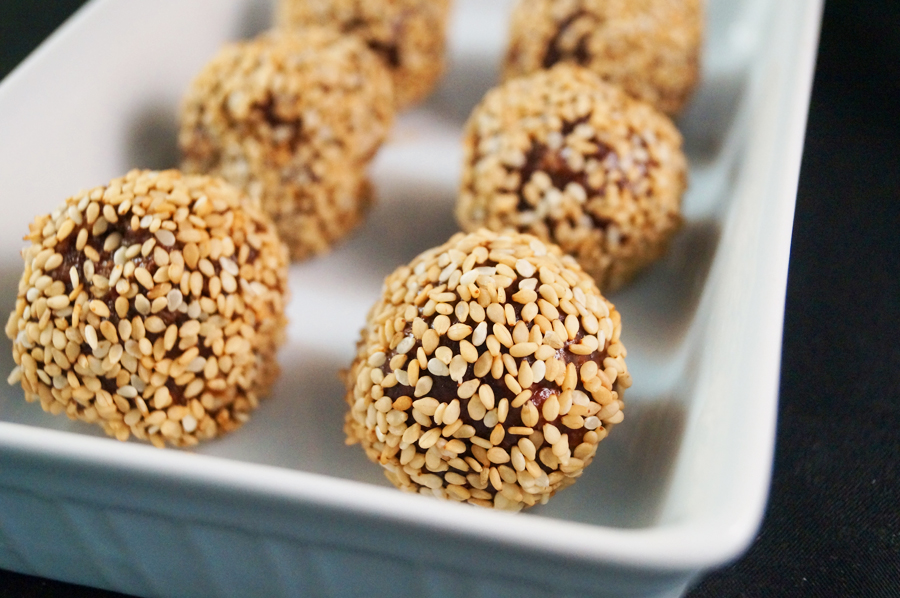 Raw Almond Fudge Bites (Vegan & Gluten Free)
MyInspiration Feel The Difference Range
Makes 6 truffles (remember, just double or triple up the ingredients if you want a bigger batch, they keep well in the freezer)
1/2 cup of almonds

12 dates

3 tbsp sultanas

1 tsp Almond Extract

1 tbsp Maple Syrup

1.5 tbsp Cocoa Powder (or use Cacao)

Sesame Seeds to coat
Method
Super Easy – pop everything apart from the sesame seeds in a food processor and pulse until it comes together nicely, now wet your hands slightly (this makes it easier to roll the mixture as it's quite sticky) take heaped teaspoon of the mixture and roll into a smooth ball and toss in the sesame seeds until evenly coated and pop on a piece of parchment paper in a little freezerproof dish. Place in the freezer for at least an hour and eat as and when!!
You can easily double, triple, quadruple the ingredients to make a nice big batch of bites.