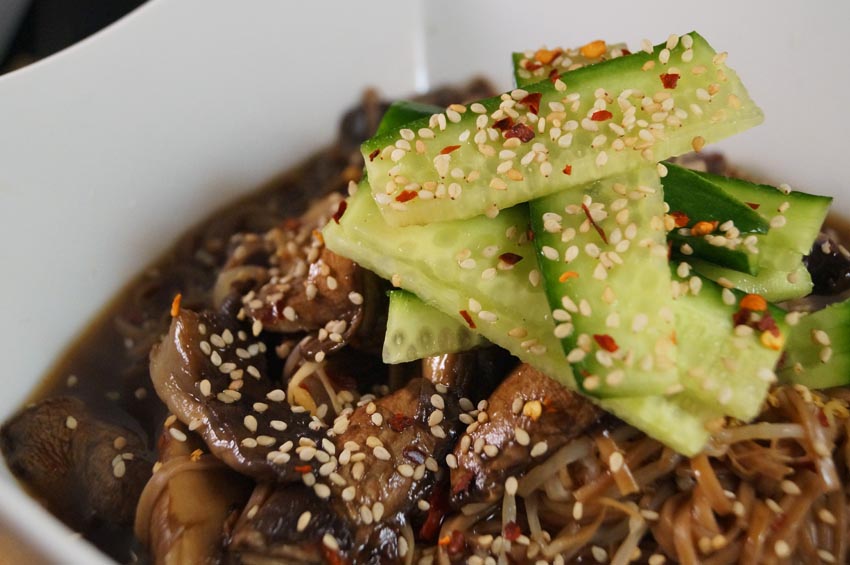 I'm always amazed at how quickly you can make a delicious meal. When I sauntered through to the kitchen to make this dish, I'd planned at least 45 minutes to make it and I was happily surprised when it was ready and on the plate in under half an hour, what's not to like about that. Using simple ingredients that take no time at all to prepare and cook you can be sure to minimise your time in the kitchen.
I'd originally thought about just mushroom teriyaki, but, and I mention this in my notes, no matter how many times I used Portobello mushrooms I always seem to forget how much they shrink when cooked. So I have this massive bag of portobellos, thinking I've got this sussed and then half way through cooking I think "hang on a minute, this needs to feed 2 of us!" and I reach for the beansprouts which worked out pretty perfectly. I think when I make this again I might add in some broccoli florets as I am a big fan of broccoli with soy sauce, not sure why I love it so much, I just do, so if you've got some in the kitchen, I say throw it in!
I've been having a lot of fun on Instagram lately, I know, I know, it's been around for ages, but I have only just managed to drag myself into this century and got myself a smart phone, so I've been adding photos of my recipes and also photos from our travels through Italy and the UK. I might actually be a little addicted to it as I follow lots of Yoga bunnies on it and there are so many tutorials which are fabulous. I look at some of the poses and think it looks quite straight forward and manageable only to try and do it myself and realise I actually really need to practice a LOT more. I'm all bruised on the back of my arm from trying to perfect the crow pose. I can do the pose, it's just I want to get my knees right in under my arm pits so I can work on straightening my arms more, hence my big bony knees are causing a little bruising where I am pressing on my arms! Practice Yvonne, practice!
Mushroom & Beansprout Teriyaki with Soba Noodles (vegan & gluten free)
MyInspiration Feel The Difference Range
Serves 2 – ready in 30 minutes
For the sauce
¼ cup mirin
¼ cup soy sauce
1 tbsp brown sugar
¼ cup water & 1 tsp corn starch mixed through
For the mushrooms
2 tbsp soy sauce
2 tbsp mirin
1 tsp brown sugar
1/2 tbsp red chilli flakes
8 large Portobello Mushrooms destemmed, scraped and sliced
2 cups bean sprouts
1 large Cucumbers cut into matchsticks
2 tsp sesame seeds
A further ½ tsp red chilli flakes to sprinkle on top
Pack of gluten free Soba Noodles ( I used the buckwheat noodles) Approx 200grams
Method
Prepare the mushrooms first, destem them and scrape the gills from inside and wash thoroughly before slicing into nice thick strips. Wash your cucumber, chop in half and cut into thick matchsticks.
Make the sauce – add the mirin, soy and sugar into a small sauce pan over a medium heat and whisk until the sugar has dissolved, now add in the cornstarch mixed with the water and keep whisking for a minute or 2, turn off the heat and leave.
You can now make the soba noodles as they take only 5 minutes, just add the noodles to a pan of boiling water and cook on low heat for 5 minutes, drain and set aside.
In a large sauté pan or wok, add the 2tbsp soy and mirin and the 1 tsp of brown sugar and chilli flakes, over a medium heat let the sugar dissolve before adding in your chopped mushrooms and coating completely, add in the bean sprouts and half of the sauce you made earlier and let this cook for 3 or 4 minutes, I know the mushrooms looked like a lot in the pan but when it starts to soak up all the liquid they reduce dramatically in size!
Finally add in the cooked soba noodles and mix this all together and serve in a nice big bowl, pour over the remaining sauce and top with the chopped cucumber, 1 tsp of sesame seeds each and a sprinkling of chilli flakes (if you don't like spicy hot food, then leave off the chilli flakes on top).
(I used a lot of the soba noodles, you can reduce this slightly if you wish and throw in some broccoli florets or some other veggies, it's up to you) Do NOT underestimate how much your mushrooms will shrink when cooking, so don't be shy with them!