I wanted something quick and easy to make last night as I had been out for a long lunch and had spent quite a few hours just gossiping and enjoying the sunshine, so it was quite late but the time I got home. So the every trustworthy pasta dish was served up in half an hour and all was well with the world! You can add in other bits if you like, maybe chop up some mushrooms, red peppers etc and serve it up with some toasted bread rubbed with garlic, whatever your pasta fancies are!
I had a lovely lunch out, but I really do wish that there was more than one thing for me to choose from on the menu, I go quite frequently now and the salad they do, albeit lovely, is starting to get a bit boring, I might ask them to prepare me something from a selection of the other dishes… let's see what they say!
I've got a back log of recipes I need to put up as well, I bought those great cherries I mentioned the other day which I made into Cherry Muffins and a Raw Cherry Slice, both scrumptious and easy peasy to make as well. The raw cherry slice is a great snack…. is it snack time now… I think it might be, I must go now to the kitchen… I may be some time!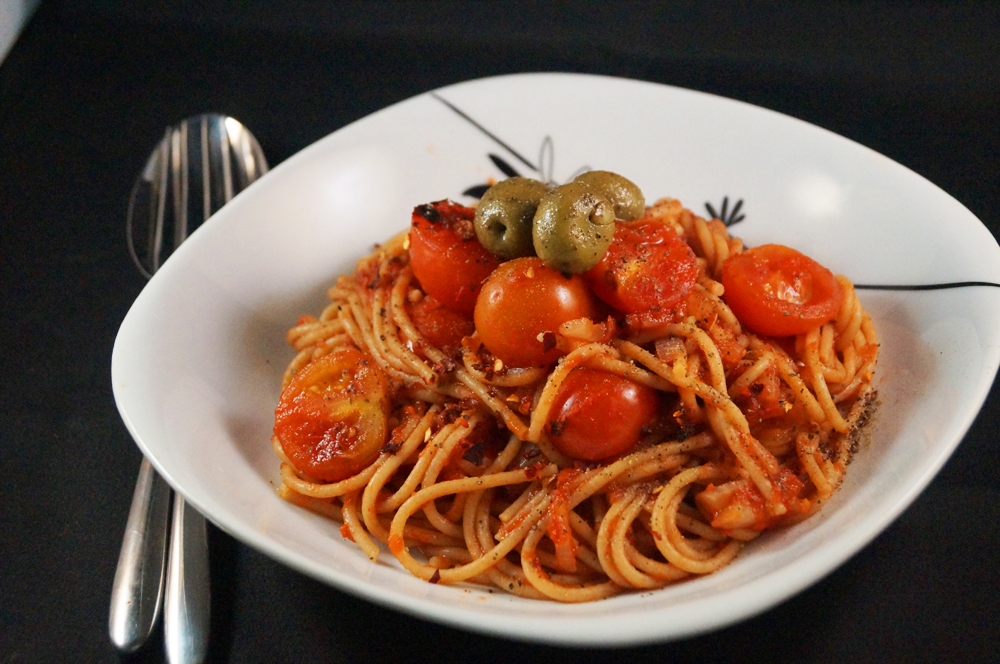 Quick & Easy Spaghetti Arrabiata (Vegan & Gluten Free Option)
MyInspiration Feel The Difference Range
Serves 2 – Ready in 30 minutes
200g Wholewheat Spaghetti (For GF Use Gluten Free Pasta)
2 cloves garlic finely chopped
1 onion finely chopped
2 tbsp red chili flakes
2 green chillis finely chopped
15 cherry tomatoes halved
1.5 cups passatta
1 tbsp balsamic vinegar
Black pepper to season
Method
1. Prepare the spaghetti (add the pasta to a pot of boiling water and cook for 12 – 15 minutes, drain)
2. Heat 2 tbsp water in a large saute pan over a medium heat and add the onion, garlic, green chili and chili flakes and cook for 5 minutes, then add in all the remaining ingredients, turn the heat down slightly and let this cook for 12 minutes, stirring occasionally.
3. Add the drained spaghetti to the sauce and mix through and serve in a bowl with a sprinkling of black pepper.
Told you it was easy!