Even typing the title of this post got my mouth watering, I have to say that I have fallen in Love with my Peshwari Polenta, I love Peshwari Naan and I love polenta so I thought about combining the 2 to come up with a beautiful and delicious alternative to the bread version, I hope you love it as much as I do!
I injured myself yesterday. If there was a female version of Rowan Atkinson's Mr Bean, it would be me, we went back down to the beach for another swim in the sea yesterday… I know I'm brave, twice in a row now for me! Anyways, I'm about waist high deep and I trip over an enormous rock, face first into the water, very unceremoniously might I add, then if that wasn't bad enough, I felt my toe throbbing so grabbed my foot out of the water to have a look…… I was BLEEDING….IN THE WATER!!!!! BLEEDING. Well, if my fear of sharks wasn't already making me nervous, I went into full JAWS panic mode trying to hobble back to shore! (Note: where we are swimming there aren't actually any sharks.. that we know of…. swimming close to shore, but you never know, you just never know!)
This morning I went to Zumba at my gym, excellent class, although I am a shy lass and shimmying doesn't come too naturally to me, but it's really high octane and a good workout, although I had a sad face on too as it's replacing my beloved BOOTCAMP, alas, I shall shimmy onwards!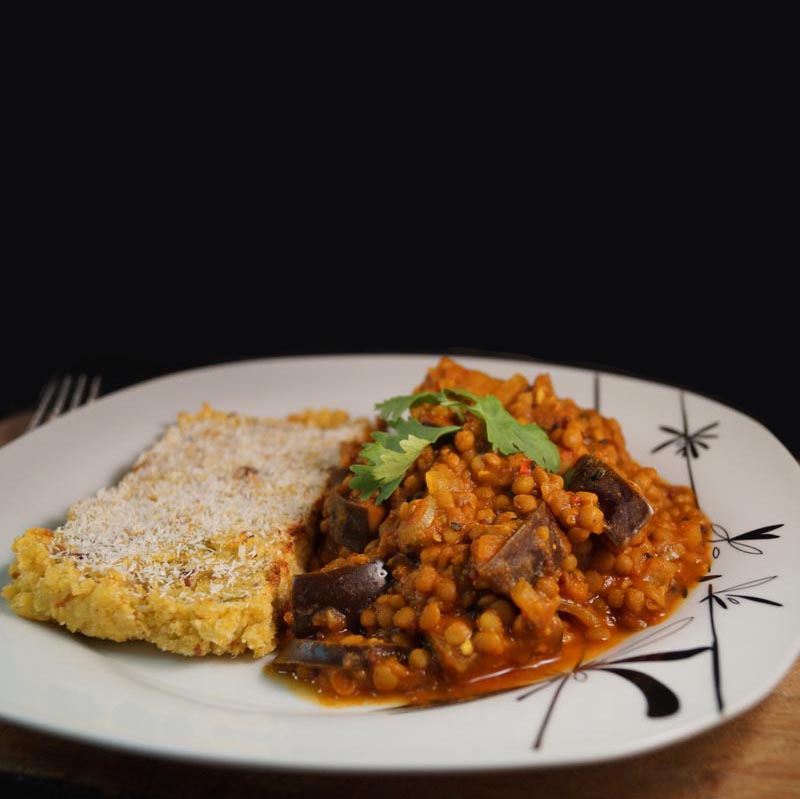 Quick and Easy Aubergine Dhal served with Peshwari Polenta (vegan & gluten free)
MyInspiration Feel The Difference Range
Serves 2 – Ready in 45 minutes
For the Aubergine Dhal
2 cans brown lentils, drained and rinsed

1 onion finely chopped

2 cloves garlic finely chopped

1″ cube ginger finely chopped

1 hot red chili finely chopped

1 cup vegan stock

1 cup passatta (pureed tomatoes)

Handful fresh coriander (cilantro)

1 medium aubergine (eggplant) chopped into cubes

1 tsp cumin seeds

1 tsp Madras curry powder

1 tsp ground cumin

2 tsp mustard seeds

1 tsp Garam Masala

1 tsp Turmeric

2 bay leaves

1/2 tbsp lemon juice
For the Peshwari Polenta
3/4 cup polenta

3/4 almond milk

3/4 cup water

10 almonds

12 pistachio nuts (deshelled)

2 tbsp raisins

2 tbsp shredded coconut

Pinch cinnamon
Method
Let's start with the Peshwari polenta – In a food processor or using a hand blender pulse together the almond, pistachios, raisins, cinnamon and 1 tbsp of coconut until it resembles breadcrumbs. Now in a saucepan add the milk and water and cook over a medium heat until it's warm through before pouring in the polenta and the nut/coconut/cinnamon mixture and keep stirring the mixture until it starts to thicken. Transfer this mixture to a lined baking tray and smooth out into a rectangle shape about half an inch deep, sprinkle the remaining 1 tbsp shredded coconut on top, pressing down with a spoon and leave to set.

Preheat oven to 180 degress celcius (356 degrees fahrenheit)

Now for the Dhal – Add the onion, garlic, ginger and chili, plus 1 tbsp of the passatta to a food processor and blitz until smooth.

Add 2 tbsp water to a deep sauce pan over a medium heat, add the onion/garlic mixture to the pan along with all the spices (turmeric, garam masala, madras powder, cumin seeds, cumin & mustard seeds) and let this cook for 2 minutes before adding in the aubergine and lentils and stirring together until evenly coated. Now add the stock, lemon juice, passatta and bay leaves, mix this all together, cover and let this cook for 20 minutes, stirring occasionally. Before serving, stir through the coriander and remove the bay leaves.

While the dhal is cooking, pop the polenta in the oven for 15 minutes to cook through.

To serve, cut your polenta in half, and serve on the side of the dhal, maybe add a little mixed pickle or mango chutney on the side if you like.