Are Jalapeno Chili Peppers addictive???  I think they might be, as I opened a jar for our nachos on Saturday night and I'm almost through them! That's probably the reason I made the 3 bean chili last night, it goes perfectly with my pile of jalapenos… did I mention I love Jalapenos?
There was a bit of a debate the other day about canned beans/lentils vs dried beans/lentils and from a personal stand point I find the canned beans & lentils perfectly adequate for my dishes. In fact when it comes to kidney beans and brown lentils I prefer the canned (avoiding the cans that have sugar added to them of course), they are quick, easy and in my case buy one get one free, so cheaper. I'll use the dried red lentils no problem and also dried black beans, but when you come in from work and you fancy something quick and healthy, the last thing you can afford to do is wait hours on end to soak your beans/lentils (unless you prepare in advance and cook a big batch of beans and pop them in the freezer which is what I might do this week).
One of the reasons I wanted to share my recipes was to encourage those who don't usually have 'meat free' dishes to try something new by showing that you can have quick and budget friendly meals that taste great and are simple to make. So sometimes that will mean that we use canned beans/lentils but I'll give the equivalent in dried as well, so best of both worlds.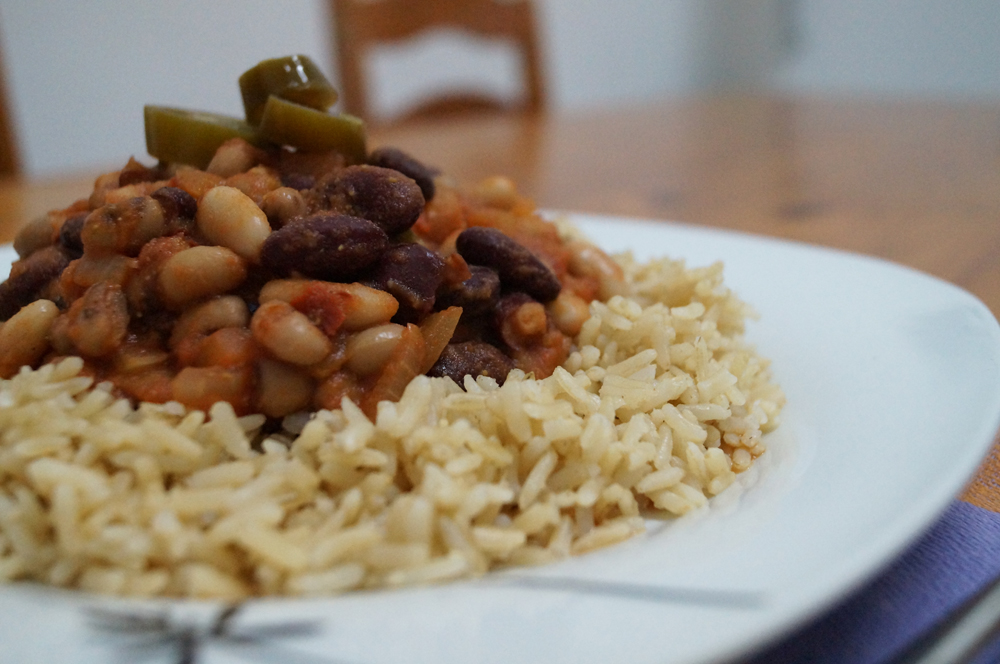 Simple 3 Bean Chili served with Brown Basmati Rice
MyInspiration Feel The Difference Range
serves 2 – Ready in half an hour
1 onion finely chopped
2 cloves garlic, minced
1 hot green chili pepper, finely chopped
1 can kidney beans, rinsed and drained (or 1 cup dry kidney beans soaked over night and cooked)
1 can black eyed peas rinsed and drained (or 1 cup dried peas that have been cooked for an hour)
1 can cannellini beans rinsed and drained (or 1 cup dried beans soaked for 4 – 5 hours then cooked)
2 1/2 cups passatta
2 large tomatoes diced
1 tsp lemon juice
1 tbsp maple syrup
1 tbsp cumin
2 tsp red chili flakes
1 tsp paprika
1/2 tsp Tabasco (Hot) Sauce
1 cup brown basmati rice
Method
1. Prepare the rice by adding 1 cup of basmati to 2 cups of boiling water, bring back to the boil, reduce heat to low, cover and simmer for 12 – 15 minutes, stirring occasionally.
2. In a deep sauce pan, add 1 tbsp water over a medium heat then add the onion, garlic and green chili and cook for 3 minutes until the onion starts to soften, then add in the chopped tomatoes, cumin, paprika and red chili flakes and mix together to coat everything.
3. Add in all the beans along with the passatta, lemon juice, maple syrup and Tabasco sauce and give it a good stir
4. Cover with a lid and allow to cook for 20 minutes then serve along with the basmati rice and a few jalapeno peppers on top.