I'd completely forgotten about the pack of Matcha Green Tea Powder I got a while back, it's been hiding at the back of my cupboard and I rescued it the other day and put it to good use.  I've only used it once before in a cookie recipe and thought I'd give it another go but this time in a cake. I quite like the idea of the green frosting which I think will be quite fun in the run up to Halloween, maybe some spooky cupcakes will be made in this house, we shall see!
Martin said that this is the sweetest cake I've ever made, but I think that's the combination of the papaya and the frosting, but to be sure I shall be making this for the in-laws when they are next over as they love sweet cakes and I aim to please! If you don't have any papaya then try using some other dried fruits, figs, apricots, dates, raisins, cranberries etc the papaya was beautiful and the whole cake was just a delight to eat! If you're short on time, this cake will be absolutely fine without the frosting, just dust with a little icing sugar and serve as a fruit cake.
I've decided I really need to leave the safety net of the auto mode of my camera, I'll start reading up on how to do things manually so that I can take some pics that use different functions, blurred backgrounds, making more use of light,  etc, not sure how long it will last as the auto mode has served me well thus far, but I'd really just like to see what my camera is capable of, seems a waste not to at least try!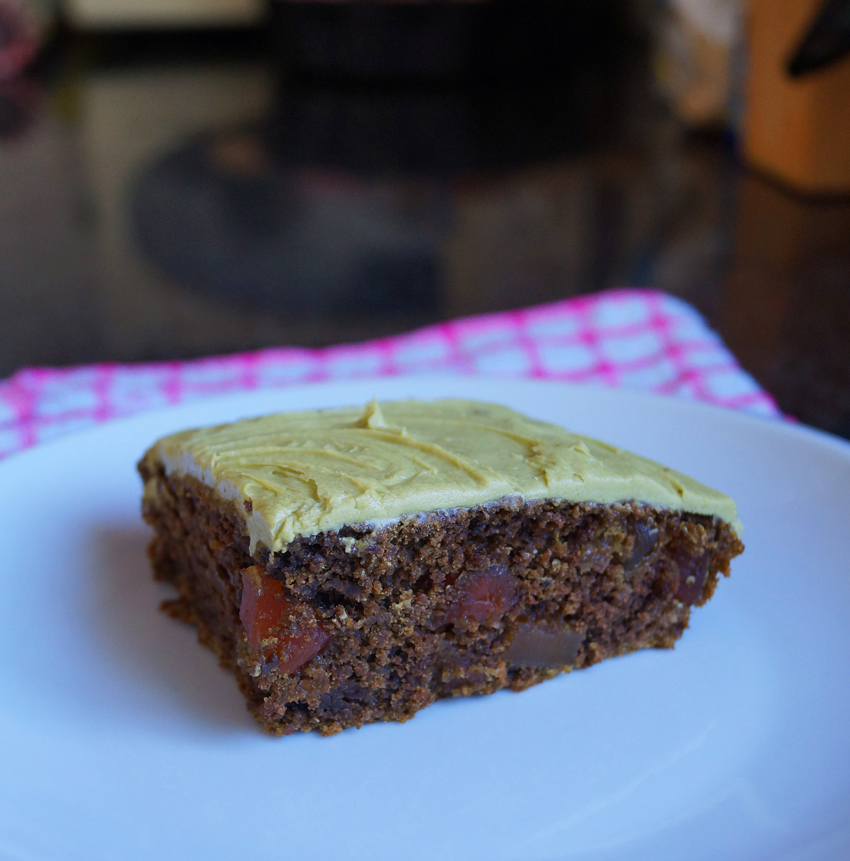 Papaya & Matcha Tea Cake with Green Tea Frosting (vegan with gluten free option)
MyInspiration Feel The Difference Range
Serves 8 – Ready in an 90 minutes (cooling time needed for frosting)
1 cup rye flour (for GF use Buckwheat or favourite gluten free brand)

2 tsp baking powder

¼ tsp baking soda

1 tbsp matcha green tea powder

¼ cup chopped dried papaya, finely chopped

1 cup non dairy milk (I used alpro hazelnut milk)

1 tsp Almond extract

3 tbsp maple syrup

2 tbsp margarine, melted
For the frosting
¾ tbsp vegan margarine

¾ cup icing sugar

½ tsp Match Green tea powder
Method
Preheat oven to 180 degrees celcius (356 degrees Fahrenheit) lightly oil a 9" round cake tin.

In a mixing bowl combine the flour, baking powder, baking soda and matcha powder, make a well in the center and pour in the melted margarine, maple syrup, almond extract and milk and fold the mixture together, then throw in the chopped papaya pieces, stir the mixture together (it should be quite a loose batter, add more milk if too stiff).

Pour batter into the cake tin and smooth out using a spatula, pop in the oven and bake for 25 – 30 minutes, until a skewer comes out clean. Cool completely.

For the frosting, cream together the margarine, matcha powder and icing sugar until it forms a nice thick paste, you can add a little more icing sugar if it's too gooey. (You need to beat this mixture for a while before it loosens up properly, don't be tempted to go right in and add some liquid), now take a spatula and smear this over the top of the cooled cake – It's vital that the cake has cooled completely, otherwise the frosting will just melt and slip off). Enjoy!