This is a little recipe from Saturday night that I made after being inspired by some of the meals I had while back in the UK. We had some Nacho burgers (they were from the frozen section of the supermarket) and it got me thinking about different coatings for my own recipes, so I put a plan in action and came up with this spicy and delicious dinner. It served 2 of us very well, but with no left overs, which is unusual for me as I always tend to over cater when making burgers and falafel.
We've eaten all the mini tarts I made on Saturday as well and I have to say that the banana fudge was just divine and again I was surprised that I managed to eat it. I haven't been able to eat banana since I was a child, I would get a splitting headache and chest pains if I ate a banana raw. However, I have realised this past year that if I cook banana I am fine and now it would seem if I blitz it with a food processor I am also fine… dare I try to eat a banana… we shall see, maybe I can tolerate it now. Martin thought that the banana fudge tart was a little rich for his taste, but if you're sharing it's more than manageable and a decadent treat. I might need to try and make it into an actual hard fudge and slice them into little squares, but that's for another day.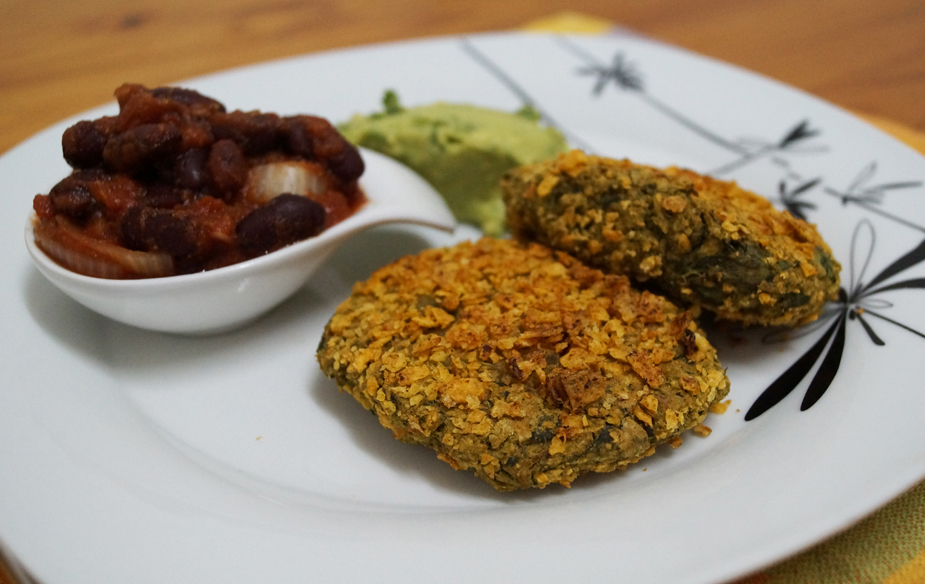 Nacho Coated Spinach Falafel served with Tomato Chipotle Kidney Beans and an Avocado & Coriander Dip
MyInspiration Feel The Difference Range
Serves 2
For the Falafel
1 onion finely chopped
2 cloves garlic, minced
1 can chickpeas drained and rinsed (or 1/2 cup dry chickpeas soaked and cooked)
2 cups spinach
1 1/2 tbsp cumin
1 tsp cayenne pepper
1 tbsp red chili flakes (if you don't want too spicy reduce to 1 tsp)
1 tbsp lemon juice
1/2 cup oats
For the coating:
1 small bag of your favourite vegan nachos (we had chilli pepper doritos) crushed
Method
1. Preheat the oven to 180 degrees celcius and line a baking tray with parchment paper.
2. In a saute pan, add 1 tbsp water and cook the onion and garlic over a medium heat for 4 minutes, then add the onion mix and all falafel ingredients apart from the oats into a food processor or a large container and use a stick blender and pulse until the mixture is almost smooth, then stir through the oats. If the mixture is too wet, add more oats.
3. Now get in there with your hands and shape the mixture into 6 large patties then sprinkle over the crushed nachos and place on the baking tray, pop in the oven to bake for 20 – 25 minutes carefully turning them half way through, be careful though as the patties are soft, they will hold together nicely but just be gentle. Sprinkle over any remaining nachos when you have turned them over to make sure they are coated well.
Tomato Chipotle Kidney Beans
1/2 can chopped tomatoes
1 garlic clove minced
1/2 onion finely sliced
1 tsp cumin
1 tsp red chili flakes
1 tbsp tomato paste
1 tbsp water
1 can kidney beans, drained and rinsed
1/2 tsp Tabasco sauce
Method
1 Add all the ingredients to a sauce pan over a medium heat and cook for 12 – 15 minutes stirring occasionally until the beans are heated through
Avocado & Coriander Dip
1 ripe avocado
Small handful of fresh coriander washed and chopped
1/2 lime juiced
Method
1. Scoop out all the avocado meat and mash then add the coriander and lime and mix together.