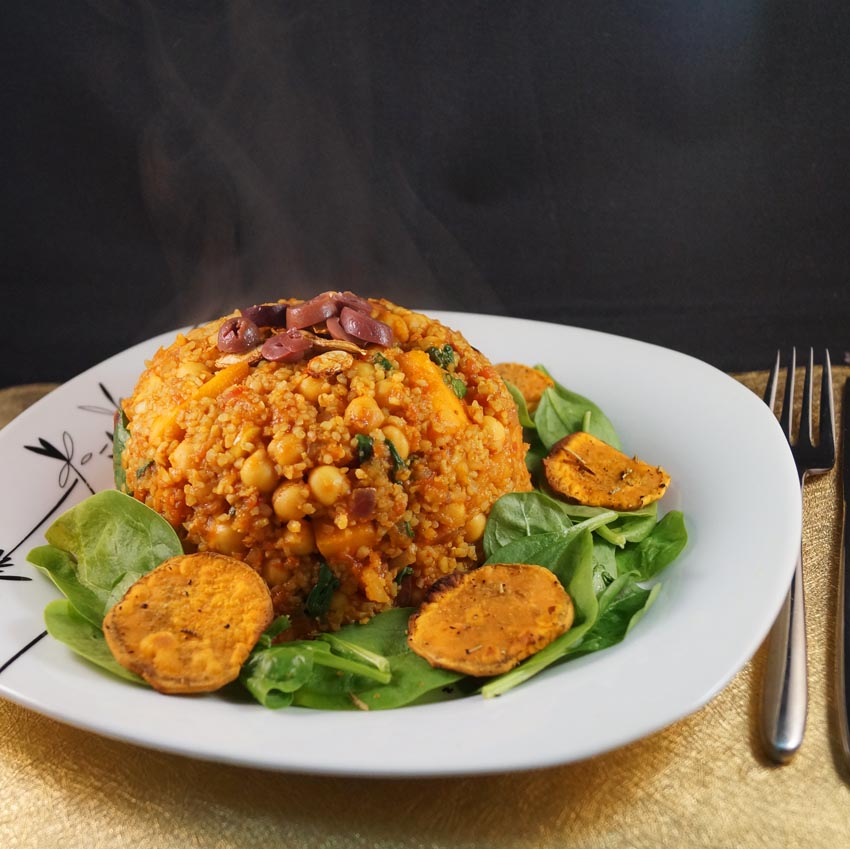 This dish will tantalise the tastebuds and keep you feeling lovely and toastie this winter. Packed with beautiful herbs and spices, this simple little dinner recipe is just yummy and fabulously healthy. I love Moroccan inspired dishes, the smell from the kitchen is always beautifully fragrant and I can't wait for it to be ready so I can devour it. The addition of the sweet potato chips was a last minute call for me, I really fancied having a few different textures on the dish, so these chips/crisps and the roasted squash seeds were just ideal and the ingredients all worked perfectly together.
I have been in my kitchen element this week, I found some wonderful chocolate moulds and some mini bundt tins that I'm thinking might be perfect for making my individual Christmas puddings in, I also got all festive and bought a santa mug that I shall be filling, to the brim, with mulled wine on Christmas Eve. I wasn't going to bother making mulled wine this year as I tried it last year and it didn't turn out the best, but I think it's because I used a cheap bottle of wine, but I was at a lovely gathering last night where the hostess made the most delicious mulled wine I have tasted, so I'm determined now to give it another go!
I STILL haven't decided what to cook on Christmas Day, I'm hoping inspiration will hit me this weekend and I'll just know what to do. We need to go hunting for some parsnips on Monday and Martin wants some Brussel Sprouts (eughhh!) everything else is pretty much taken care of, so it's just me deciding on the main and we're good to go. I bet I make the roulade again like last year, it was awesome, so it wouldn't be a bad thing to repeat it, but I really want to try something new, perhaps a different filling for the roulade, we'll see, I've got a couple of days to make up my mind!
Moroccan Spiced Hot Pot served with Sweet Potato Chips (thin crisps) and Minted Tahini Cream (vegan with gluten free option)
MyInspiration Feel The Difference Range
Serves 2 – Ready in 40 minutes
For the Bulgur Mix
1 cup bulgur wheat
2 cups vegetable stock
½ tsp cumin
1 tsp red chili flakes
2 cloves garlic finely chopped
1 tsp freshly grated ginger
1 can chickpeas (approx 1 ¾ cups)
1 can chopped tomatoes (approx 1 ¾ cup)
2 cups chopped butternut squash (remove and roast the seeds for a garnish)
2 red onions finely chopped
4 dried apricots chopped
1 tsp cumin
½ tsp cayenne
½ tsp saffron
1 tsp turmeric
½ tsp ground coriander
2 cups baby spinach
To garnish, some sliced black olives and roasted squash seeds
Sweet potato chips
1 medium sweet potato, peeled and cut into thin chips
1 tsp rosemary
Black pepper to season
Tahini dressing
1 tbsp tahini
1 tsp mint sauce
1 tbsp water
Method
Preheat oven to 180 degrees celcius (356 degrees Fahrenheit) and prepare a baking sheet.
Peel and chop the sweet potatoes and pop on the baking tray, sprinkle over the rosemary and black pepper and pop in the oven for 20 – 25 minutes until the start to crisp up.
For the hot pot, prepare the bulgur wheat (or use quinoa for Gluten free), I added my bulgur to a sauce pan with 2 cups vegan stock, cumin and red chili flakes, bring to the boil and then reduce heat to simmer for 5 minutes, turn off the heat, cover and leave for 15 – 20 minutes, then fluff with a fork to separate the grains.
For the veggies – take a large sauté pan or a sauce pan and add 2 tbsp water over a medium/high heat, add the garlic, ginger and red onions and cook for 3 minutes before adding in the cumin, cayenne, saffron, turmeric and ground coriander and stir this together. Next add in the chickpeas, chopped tomatoes, butternut squash and apricots, mix together so everything is nicely coated, and cook for 15 – 20 minutes, lastly fold through the spinach, it will wilt in the mixture, add it a little at a time to make it easier.
To serve, add the bulgur to the veggie mix and toss together, pop on a serving plate and garnish with some sliced black olives and I also added in some roasted squash seeds, place some baby spinach around the dish and place some of the sweet potato chips around the plate. (I made a min tahini dressing to drizzle around although it's not on the photo, just whisk together the ingredients and serve on the side).