Burgers, burgers, burgers! It's BBQ season here and there is nothing better than rocking up to your friends and family BBQ's with your own ready made burgers to enjoy! Careful though, you might find them disappearing to some curious and hungry dinner guests.
We thought that eating a plant based diet would be difficult and possibly isolate us from socialising in the summer, it's very hard to turn up to a family gathering only to find there is NOTHING you can eat, the times I've heard, "you eat tuna right?" or to find that all the vegetables have been generously doused in butter or the salad is more feta than greens, so it's absolutely ideal to have a little batch of your favourite veggie burgers at the ready so that you can also enjoy your afternoon/evening and not be rushing to get away for something to eat! (Ideally take some home made ice cream/sorbet too!!)
I thought that I'd have ran out of burger combinations by now, but no, it's pretty much endless, this time I opted to add 2 cheeky tablespoons of wholegrain mustard through my burgers just for the heck of it and it's fabulous, don't be shy with it, you want to get that little hint of heat from the mustard.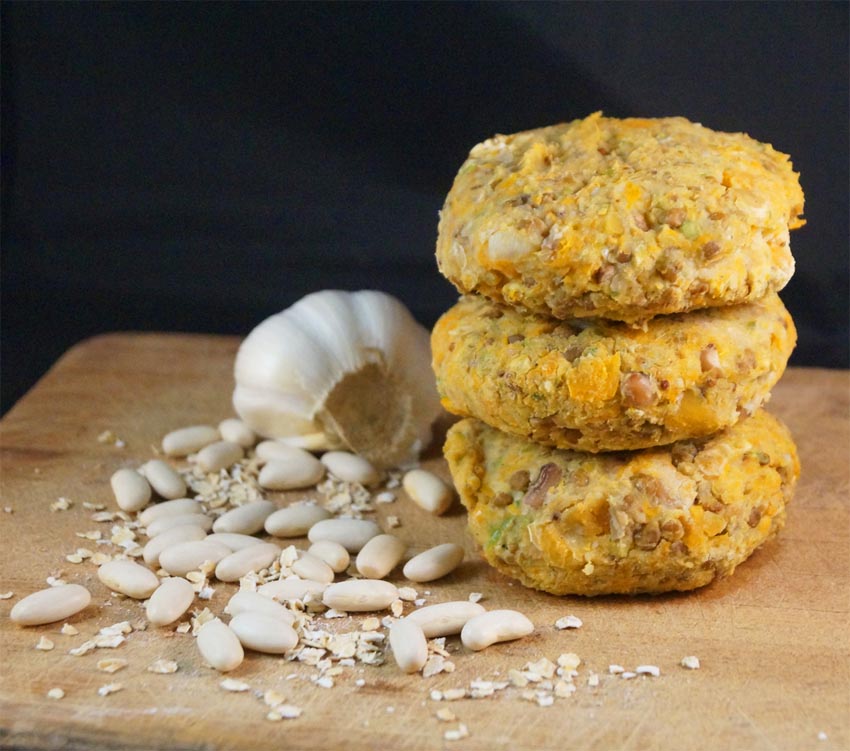 Lentil, Sweet Potato & Mixed Bean Burgers with a hint of Wholegrain Mustard (Vegan & Gluten Free)
MyInspiration Feel The Difference Range
Makes 12 Burgers – Ready in 40 minutes
2 medium sweet potatoes, peeled and chopped

1 onion finely sliced

2 cloves garlic finely sliced

2 green peppers (capsicums) finely diced

1 can butter beans (or white beans), drained and rinsed (about 2 cups worth)

1 can black eyed peas, drained and rinsed (about 2 cups worth)

1 can brown lentils drained and rinsed (about 2 cups worth)

2 tbsp wholegrain mustard (just double check it's GF)

1 tbsp dried thyme

Pinch black pepper

1/2 cup oats

3/4 cup brown rice flour
Method
Preheat oven to 180 degrees celcius (356 degrees Fahrenheit) and line 2 baking trays with parchment paper.

Bring a large pot of water to the boil then add the chopped sweet potatoes and cook for 12 minutes until soft, drain, mash and set aside.

Add the onion, garlic, 1 of the green peppers and half a can of butter beans to a food processor and pulse until it becomes smooth.

In a large mixing bowl add the sweet potato mash, the other half can of butter beans and the can of black eyed peas and then mash these all together, then add in the onion mixture from step 3 along with the 2nd finely diced green pepper, mustard, thyme, black pepper, oats and rice flour and mix this all together, it should stiffen up slightly and become manageable with your hands. If the mixture is too soft/wet, add in some more oats a table spoon at a time.

Shape into 12 burgers and pop on the baking tray and cook for 25 minutes. You can turn them over after 20 minutes to give them 5 minutes cooking time on the other side.