I had a real hankering for a hot chili yesterday, we'd already bought a big bag of tortilla chips and I had some beautiful hot red chillis just screaming to be used, so I put them to good use in this chili senza carne (chili without meat), I even flung in some jalapenos at the end just for good measure! This chili has a great kick to it and would go great with a nice big dollop of homemade guacamole.
You could make a big pot of this and keep the left overs for dinner another day, the flavours will only intensify when they are left overnight. It's what I love to do with chili and curries, so much so, I've made a great big vat of madras curry tonight, I only meant to make enough for 2 days, but it looks like I might be eating Madras all week, it's huge!
We started Body Pump Release 86 at the gym last week and it's fantastic, there are more sets where you don't use the bar and it's more plyometric than the usual releases, I feel fantastic and I've only done 1 of the new classes, so looking forward to Thursday's class already! But tomorrow is Yoga and Bootcamp, which I love doing, this set of classes suit me just perfectly!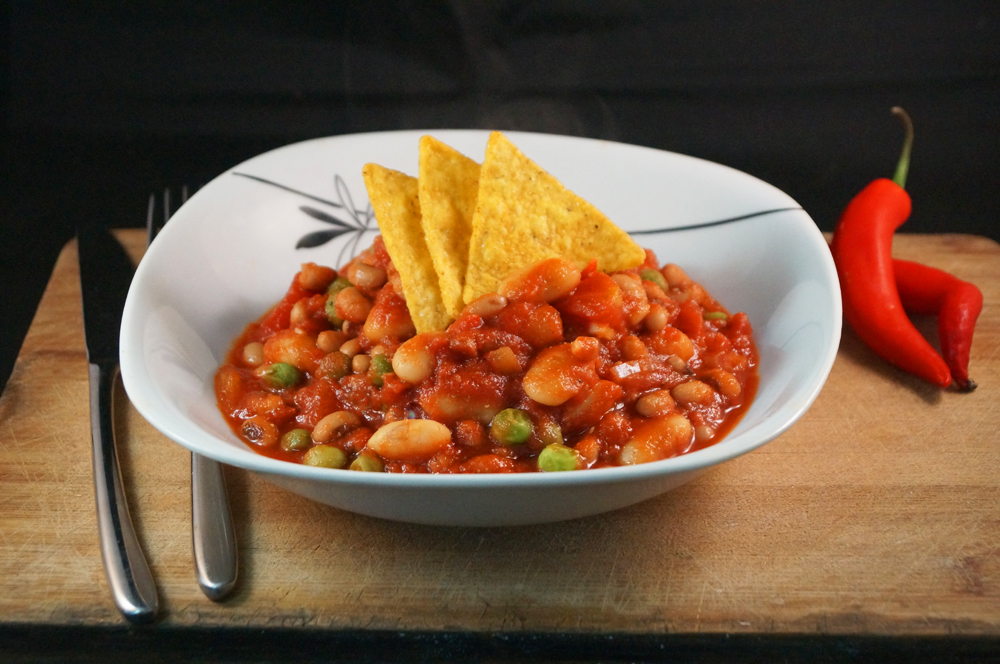 Hot & Spicy Chili Senza Carne (vegan & gluten free)
MyInspiration Feel The Difference Range
Serves 2 – Ready in 30 minutes
 

1 onion finely chopped

1 onion finely chopped

2 cloves garlic finely sliced

2 hot red chillis very finely sliced

1 can black eye peas drained and rinsed (or 1 ½ cups dried beans soaked overnight)

1 can butter beans drained and rinsed (or 1 ½ cups dried beans soaked overnight)

1 can chopped tomatoes

2 cups passata (tomato puree)

2 tbsp tomato paste

1 cup frozen peas (thawed for 15 minutes)

1 tbsp ground cumin

1 tsp paprika

2 tsp chili powder

1 tbsp balsamic vinegar

Pinch black pepper

 
Method
Heat 2 tbsp water in a deep sauce pan over a medium heat and add the onion, red chili and garlic and cook for 3 minutes before adding in the cumin, chili powder and paprika and stir together to coat the onion mixture.

To the same pan add the chopped tomato, tomato paste, balsamic vinegar and mix well together and finally add the butter beans, black eye peas and peas, turn the heat up slightly to bring to the boil and then reduce the heat once more to medium/low, cover and cook for 15 minutes (you can cook this for longer if you like, it's even better simmered for 30 – 40 minutes, but is still absolutely delicious after 15 minutes)
Serve with some vegan tortilla chips and throw in some jalapenos for an extra bit of heat!