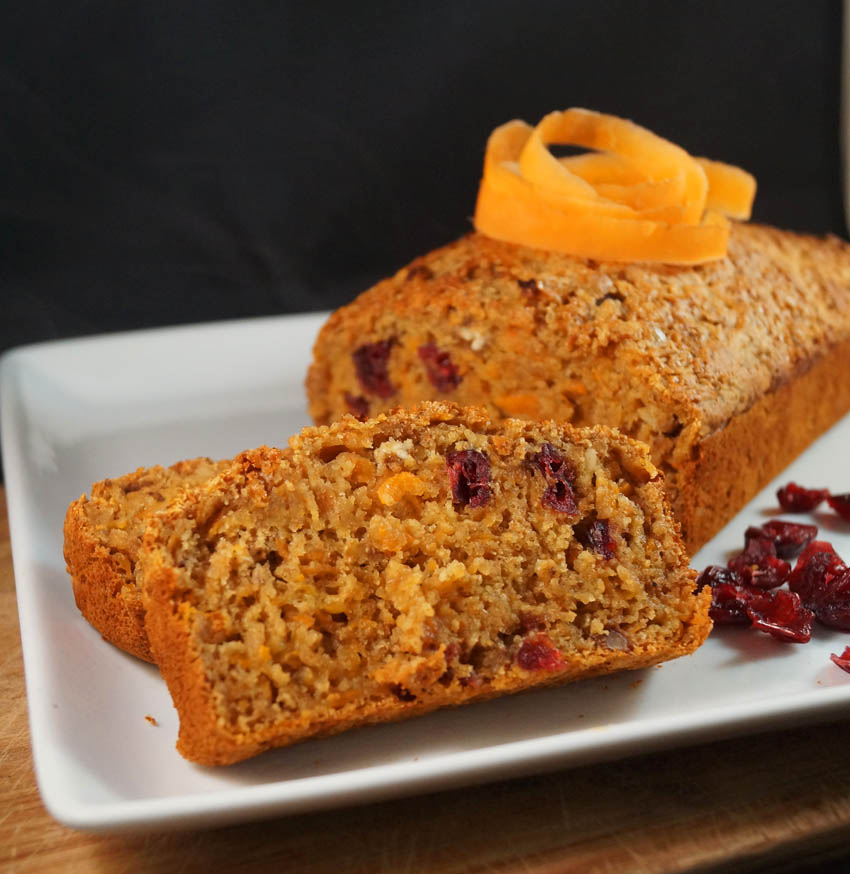 To the trusty loaf tin I return, oh how I have missed thee! (Sorry, been reading Robyn Young's Insurrection and feeling suitably theatrical), I've been making a lot of muffins and cookies lately and wanted to get back to a nice loaf cake, plus I had a real hankering for some carrot cake. I had visions of icing the cake, but it seriously doesn't need it as it is gorgeously moist and delicious all on it's own, fling in the cranberries and you have a ruby jewel effect which looks so wintry and comforting, especially accompanied with a cup of earl grey tea.
I'm visiting the folks this week and preparing Martin to meet his little nephew. I'm wondering if he's safe to go in without any shin pads, I at least know the signs of an incoming Emir assault, you can see it in his eyes, he goes all sly looking with a big grin on his face, gives you time to run for cover (that's my nephew, Emir, I'm talking about, not Hubby Martin!). I may have also made a slight error in judgement with the Mike the Knight sword we sent for Christmas. Watch this, I bet he's good as gold after this character bashing, he's only 2 and half after all!
The sun has poked it's head out this past 2 days and I have been drinking in the vitamin D, I think it might be a while before we see it again as we prepare to battle the Scottish weather. On a huge plus note, we have found a few different vegan eateries we're going to try while we're there, be rude not to wouldn't it? Let's not forget the January sales too, might be a little trinket or two I can pick up while I'm back. I'm off now to finish that cake!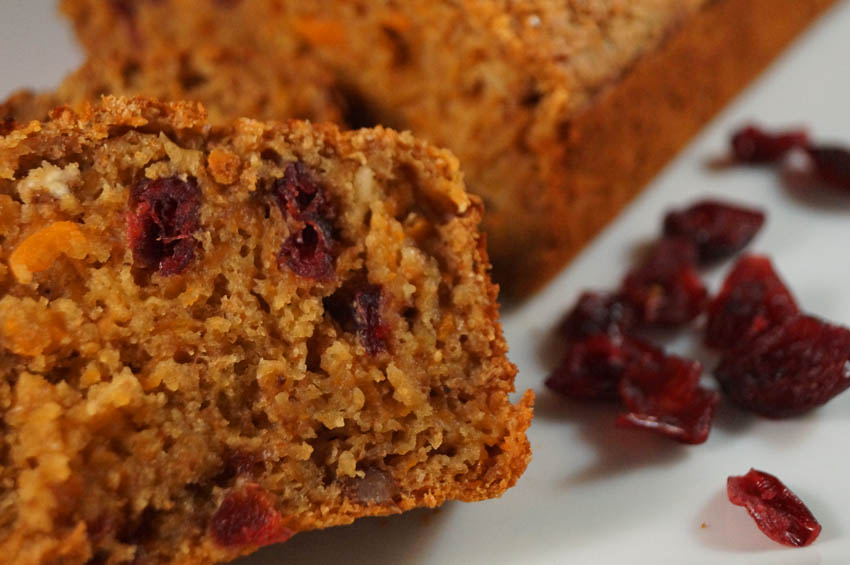 Carrot, Walnut & Cranberry Loaf (Vegan with Gluten Free Option)
MyInspiration Feel The Difference Range
Makes 8 – 10 slices – Ready in 45 minutes
1 ¼ cups whole wheat flour (or use favourite GF flour)
2 tsp baking powder
½ tsp baking soda
½ tsp Ground All Spice
¾ cup non dairy milk ( I used coconut) mixed with 1 tsp apple cider vinegar
3 tbsp maple syrup
1 tbsp carob syrup (or use one extra maple if no carob)
2 cups grated carrot
¼ cup cranberries
8 walnut halves chopped
¼ cup fresh orange juice
1 tsp demerara sugar to top
Method
Preheat oven to 180 degrees celcius (356 degrees Fahrenheit) and lightly oil a loaf tin.
In a small bowl combine the coconut milk and apple cider vinegar and leave for 5 minutes before adding the maple syrup and carob syrup. Then in a large mixing bowl combine the flour, baking powder, baking soda, ground all spice, grated carrot, cranberries and walnuts and mix together. Add the milk mixture along with the fresh orange juice and stir until it is all well combined.
Pour the batter into your loaf tin, sprinkle the demerara sugar on top and bake for 35 minutes until skewer comes out clean.
This cake is ideal for a quick snack or if you're feeling suitable decadent, mix up a batch of your favourite hot custard and have as a delicious pudding. This cake keeps well in tupperware for 4 – 5 days.