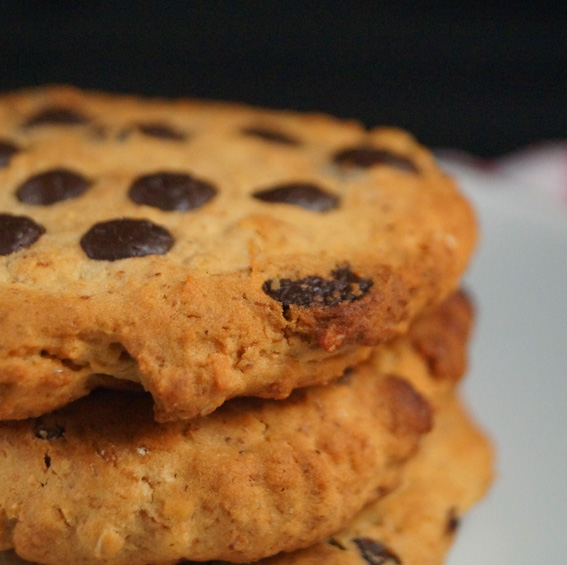 Well I hope that 2014 is treating you all well so far and 3 days in I still have a back log of recipes to share with you, so hoping to get them all on this next week. I thought I would start off with a cookie recipe, there are no diets in this house, no need when we can enjoy good food that doesn't make you hate the scales the next morning! I'm using up the dried fruits I have left over in the pantry from making Christmas pudding, so expect to see a few different cookie combinations, I've still got a load of figs, dates, apricots, cranberries, raisins, prunes. Yes quite a bit to get through!
I loved these cookies, they were crumbly and tasted quite a bit sweeter than normal and just delicious, you could make these easily without the choc chips if you wanted, but I just thought I'd give it a go and see what happened. Bellissimo! I've used figs, but you could sub them for raisins, sultanas, goji berries etc whatever dried fruits you have in. Or just go with the chocolate chip and miss the dried fruits, it's totally versatile that way!
I think I might make some Dark Chocolate Drizzled Apricot Cookies this afternoon, yes, yes, that sounds about right. It's miserable outside and I think a spot of baking will bring a little sunshine into the kitchen! I might even add some coconut into my half of the cookie share. I've just totally talked myself into a baking fest today, ah well, I suppose I could manage it!
Figgy Chocolate Chip Oat Cookies (vegan with a gluten free option)
MyInspiration Feel The Difference Range
Makes 6 large cookies – Ready in 30 minutes
3 tbsp vegan margarine

½ tbsp carob syrup

2.5 tbsp maple syrup (if not using carob just add an extra ½ tbsp maple)

1 tsp vanilla extract

3 dried figs finely chopped

1 cup whole wheat flour (for GF use Buckwheat or other GF brand)

½ tsp baking powder

½ cup oats

¼ cup vegan dark chocolate chips
Method
Preheat oven to 180 degrees celcius (356 degrees Fahrenheit) and prepare a baking tray

In a large mixing bowl cream together the margarine, maple, carob and vanilla until smooth then add in the flour, baking powder, oats, figs and chocolate chips and give this a good mix until it comes together in a nice dough, it's a little sticky to handle but don't be tempted to throw in a lot more flour as it'll dry them out. If it is too wet though, add a tbsp of flour at a time until you're happy you can manage them.

Moisten your hands before rolling the dough into 6 balls, pop on the baking tray and using the back of a dessert spoon dipped in flour, press the balls down to flatten into cookie shapes. I then sprinkled over some chocolate chips, pressed them down gently and popped in the oven for 15 – 20 minutes until golden. Cool (they will harden up as they cool so don't worry).