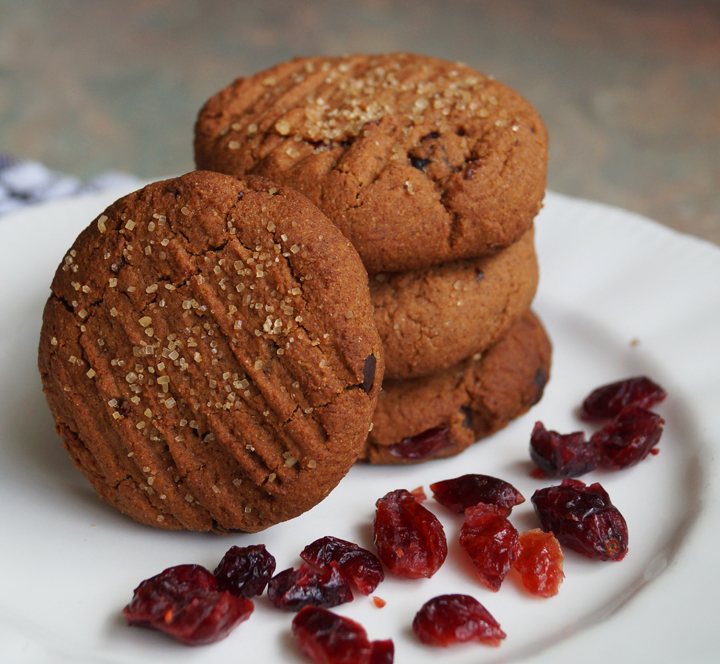 It was raining all day yesterday so what is a girl to do…. but BAKE, woo hoo! I love having time on my hands to just get in the kitchen, have a mooch around and see what I can make with what is in my borrowed kitchen cupboards (staying at my in-laws just now). I completely forgot about the pack of dried cranberries I bought the other week, I was going to make cherry muffins I think, but opted for Blueberry and just put the cranberries away and I've just found them! Bonus.
These cookies are a lot sweeter than I'm used to making, purely because I'm baking for a lot more people who like "sweet" things, if anything they were a little too sweet for me, so please feel free to reduce the golden/maple syrup by a tablespoon, but it's completely up to you and your own palette.
I'm counting down now to our trip to Bath and Bristol next week, looking forward to exploring the surrounding areas and going for lovely long walks along the river, so excited, hope the rain holds off, but I'll be taking my umbrella just in case!
Double Choc Chip Cranberry Cookies (vegan & gluten free)
MyInspiration Feel The Difference Range
Makes 10 cookies – ready in under 30 minutes
2 tbsp vegan margarine
4 tbsp golden syrup (or maple syrup)
1.5 tsps vanilla extract
3 tbsp cocoa powder
3/4 cup rice flour
1/3 cup self raising flour (for gluten free, remember to get the GF brand)
2 tbsp vegan chocolate chips
2 tbsp dried organic cranberries roughly chopped up (or you could use cherries!)
Top cookies with a tiny sprinkling of demerara sugar (I use Tate & Lyle) this is optional.
Method
1. Preheat oven to 180 degrees celcius (356 degrees Fahrenheit) and lightly oil a large baking tray or line with parchment.
2. In a large mixing bowl blend together the margarine and golden syrup, then add the vanilla extract and the cocoa powder and beat this mixture together. Add the rice flour, self raising flour, choc chips and chopped cranberries and thoroughly mix together until everything is well combined. If the mixture is too wet to handle, then slowly add some extra self raising flour 1 tbsp at a time until you can easily handle the cookie dough, don't add too much though, it shouldn't be a stiff mixture.
3. Using a spoon gather approx 1 heaped tbsp of the dough, then using your hand, roll into a ball and place on the baking tray, do this until you have got 10 cookies. Now take a fork and press gently down on the cookie balls to flatten them out, then if you like, sprinkle over the demerara sugar, pop the cookies in the oven for 12 minutes, then let them cool and serve.
** even with the full quota of golden/maple syrup, these cookies are only approximately 100 calories each.